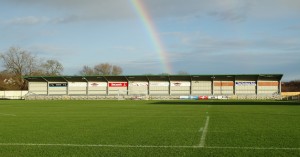 Where's the ground?
Darlington Football Club play home games in the Vanarama National League North at Blackwell Meadows, where we are tenants of Darlington Rugby Club.
Thanks to some tremendous fund raising of over £500,000 by Darlington fans in recent years, the ground has been transformed to hold a crowd of 3,100. The postcode of the ground is DL1 5NR.
Where do the home fans stand?
Most of the home fans congregate in the "Tin Shed" behind the goal at the town end. This is an area of standing covered accommodation which holds 900 fans, and is a reconstruction of the Tin Shed stand which was behind the goal at Feethams, the club's first ground. Fans have the flexibility in non-segregated games to stand at the end that Darlington are attacking.
Other fans stand behind the barriers around the side of the pitch.
Please not that unfortunately away fans are not allowed to stand in the Tin Shed.
Can fans sit and watch the game?
To accommodate fans who wish to sit and watch the game, there is a covered seated stand with a capacity of 588. Some of these seats are for season ticket holders, and there are also seats available for disabled, families and away fans. There are some seats available for sale on the day of the match.
Where do the away fans stand?
When games are segregated, there is capacity for 800 away fans standing at the western end of the ground. When games aren't segregated, away fans are welcome to walk around the ground.
Is there anywhere to eat or drink?
There are two catering outlets inside the ground, and there is also access to the bar in the clubhouse. The club also offers hospitality packages in the Feethams Lounge.
Can I buy tickets in advance?
Yes, you can, by visiting our online ticketing website -- you receive a £1 off the matchday gate price.
Most of all, we'd like you to enjoy your day at Darlington FC!