Here are details of another talent ID day coming soon at the February half term
https://darlingtonfc.co.uk/news/academy-id-talent-day-coming-soon
===================================================
16th January
Guiseley 4 Darlington 1
The Academy were beaten 4-1 at league leaders Guiseley on Wednesday in the National League Under 19 Youth Alliance – but they weren't disgraced.
High-scoring Guiseley are one of the best teams in the country, let alone the division, and Darlington kept them on level terms for the first hour.
Head coach Alan White said; "It was a similar game to last time when we played them – we held them for an hour, and they scored two in double quick time.
"I thought there were some good performances, and Cameron Holliday, who scored our goal to make it 2-1, was our man of the match at right back.
"But then Guiseley scored again to make it 3-1, and they scored another late in the game. We made mistake that cost us goals.
"Again though, our lads were up against players a year older than them, and you could see the difference in maturity."
The goal that Cameron scored was only the eighth goal that Guiseley have conceded this season in ten league games.
The Academy lads, who are ninth in the league, are in action next Wednesday against Halifax at Blackwell Meadows, kick off 1.30
============================================
19th December
Darlington 1 Eccleshill 0
Harry Stansfield (right)
Darlington 1 Eccleshill 0.
The Academy lads won their second game of the season in the National League Under 19 Alliance thanks to a second half goal by skipper Harry Stansfield.
The midfielder scored a great free kick from 30 yards, to crown a great couple of days for himself, after skippering the team in the Durham Challenge Cup on Tuesday night.
The win lifts Quakers above Eccleshill into eighth place in the table.
Academy head coach Alan White said; "It was great to finish the year on a real positive, and we have an opportunity when the fixtures restart to close the gap on the other clubs and finish in the midtable pack. It would be good to finish nice and strong in this league, especially as the lads are up against teams who are mainly a year older.
"Harry's goal was very good. The main thing to do with free kicks is to hit the target. He struck the ball firmly, went for the target and bent the ball around the wall.
"It finished off a good couple of days for him, after playing for the first team in the Durham Challenge Cup on Tuesday night. He's had two good games in two days, slugged it out and given 100 per cent.
"There were good performances by several of the other lads. We have plenty to work with for the second half of the season."
Team: Hall, Kaba, Hoare, Lycett, McNab, Shaw, Lingthep, Stansfield, Buckley, Morrison, Holliday
Subs: Harland, Nunes, Muchemedzi
======================================================
14th December 2018
Gateshead 4 Darlington 1.
The Academy lads worked hard again, but were unlucky to go down 4-1 at Gateshead on the 3G pitch next to the International Stadium.
They were level 1-1 at one stage, but a more experienced home side scored three times without reply for victory.
Head coach Alan White said; "It was like groundhog day – we were the better team, but we didn't deserve to lose the game 4-1.
"Gateshead's players were all third year students, all of ours except one are first years.
"They took the lead with a shot that hit the post and went in off our keeper, but Brandon Morrison scored a good equaliser.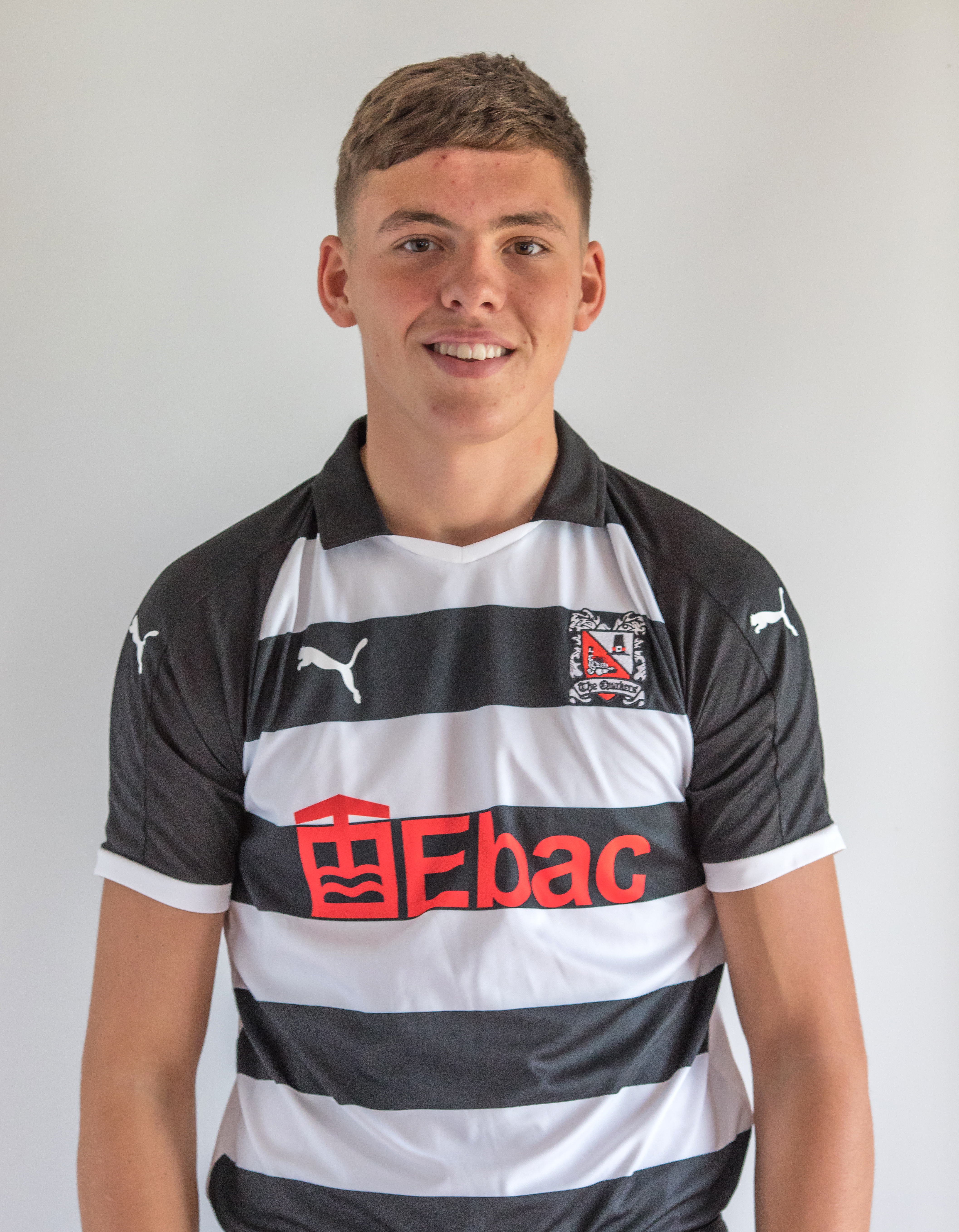 "Maybe we overplayed on occasions, but we still had some good chances after that – we had a header cleared off the line, a penalty shout turned down and a couple of other close misses.
"It was disappointing that we lost, but the lads are switching off at vital moments. We're getting lots of good feedback from opposing teams, but that isn't much of a consolation when you lose."
The lads' next game is at home to Eccleshill on the back pitch at Blackwell Meadows on Wednesday 19th December, kick off 1.30pm
Here are the details of our Academy ID talent day coming up on December 11th!
https://darlingtonfc.co.uk/news/academy-id-talent-day-coming-soon
==============================================
Reports and reaction from the Academy games are below!
================================================
Wednesday 21st November
Darlington 1 York City 0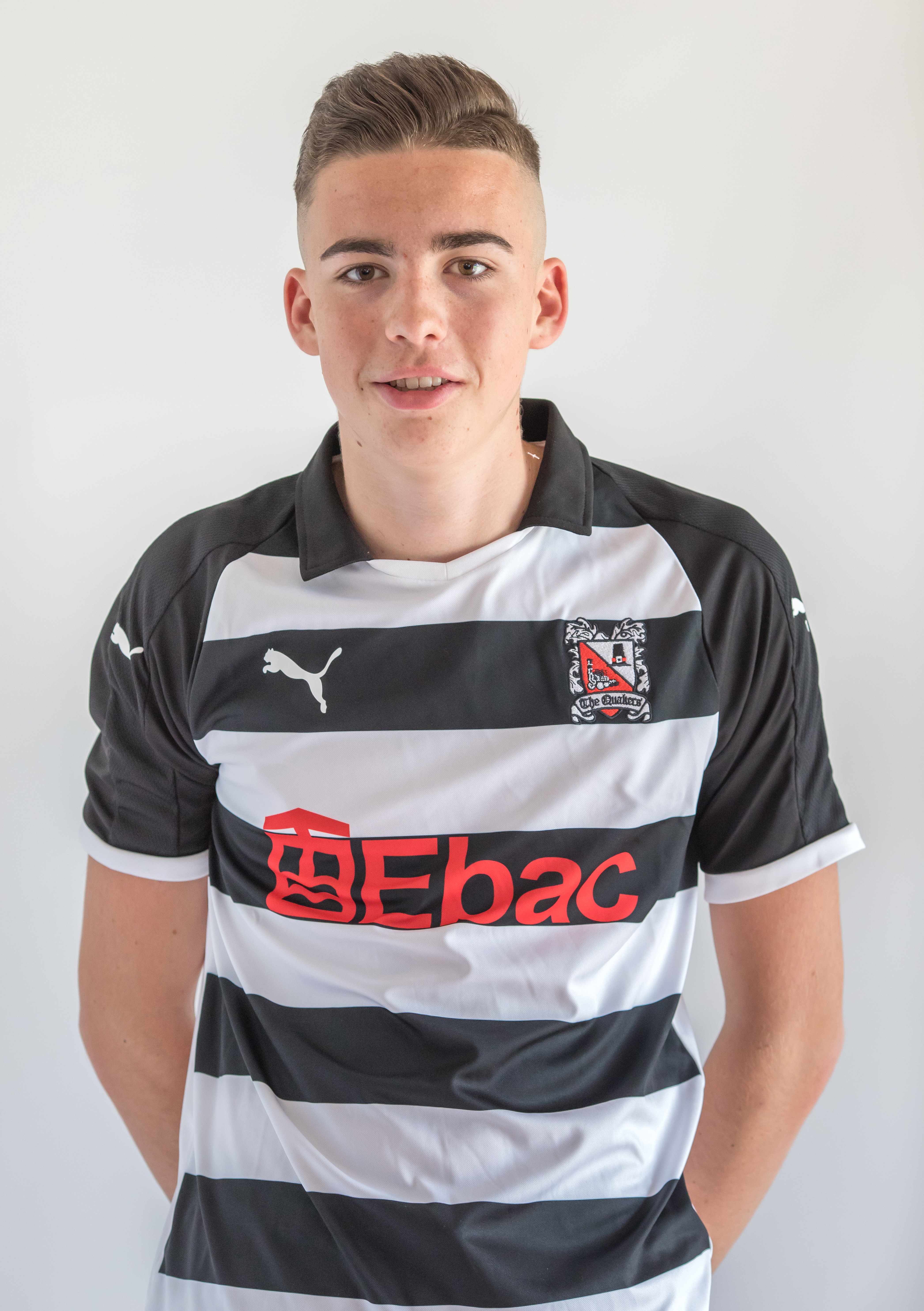 Matchwinner Brandon Buckley
Congratulations to our Academy team!
The lads won their first ever game in the National League Youth Alliance when they beat York City with a late winner at Blackwell Meadows this afternoon.
The lads did very well under the circumstances, considering that they had a man sent off in the early stages of the game.
They held on against some strong pressure from York – who were third in the table and unbeaten before the game – with the defence coping well.
The moment they'd all been hoping for came with just a minute or so left, when Cameron Holliday controlled a crossfield pass from Harry Stansfield and fired across the face of goal, where sub Brandon Buckley came charging in to knock the ball past the keeper.
There were a couple of anxious moments after that, but the lads held on well as the stoppage time dragged on and when the final whistle went, there were some happy scenes as the players celebrated their first win of the season.
We're sure that everyone is delighted for the Academy lads, whose hard work under the guidance of Alan White and Tommy Wright has finally paid off.
Their next game is away to Guiseley next Wednesday.
Head coach Alan White spoke after the game
https://darlingtonfc.co.uk/news/whitey-is-delighted-with-the-academys-first-win
Keeper Cameron Hall also chatted after the game to the official website
https://darlingtonfc.co.uk/news/academy-keeper-cameron-great-feeling-in-the-dressing-room
and so did Mitch Glover
https://darlingtonfc.co.uk/news/mitch-it-was-a-great-performance
Wednesday 14th November
South Shields 3 Darlington 2
The Academy lads put in another hard working performance against South Shields, but were unlucky to come back home without a point in the National League Under 19 Youth Alliance.
The lads again played some great football and scored two good goals through Sanny Lingthep and Cameron Holliday, but an older and more experienced Shields team just managed to edge them out by 3-2.
Head coach Alan White said; "It was a better performance than last week. The lads worked on being more aggressive and competitive, and that showed against a really good team. They defended well as a group, and were more robust.
"South Shields included several players who were a year older and more experienced, plus some of them had been playing for Newcastle before they went to Shields.
"We didn't expect to get as close as we did to Shields, so it shows how well our lads did. They scored two great goals, had another cleared off the line, and went close to an equaliser in the closing minutes.
"There was lots of positive stuff, and as far as I'm concerned, it's a big step forward.
"We still need to improve in one or two areas, but the lads will get it, I'm sure they will. We're looking forward to the next game already."
The Academy's next game is at home to York City next Wednesday afternoon, 21st November, on the back field at Blackwell Meadows, kick off 2pm.
Wednesday 7th November
Darlington 0 Guiseley 4
Darlington Academy 0 Guiseley Academy 4
The Darlington youngsters gave a great account of themselves, but couldn't stop a 4-0 home defeat by an older and more physical Guiseley team.
Guiseley had scored 18 goals in their previous two league games, but Quakers held them to 0-0 and then 1-0 for long periods, and it was only in the closing stages of the game that the last three goals went in.
Head coach Alan White said; "It was 0-0 for a while, and then we let a goal in that could have been avoided. We were 1-0 down at half time, and we were disappointed about that.
"We conceded a goal midway through the second half which was avoidable, and then we missed chances through Brandon Buckley and Miguel Nunes to pull a goal back.
"Guiseley then scored twice late in the game. The third was sloppy from our point of view, and the fourth was a setpiece.
"There were lots of positives to come out of the game, I really think that these lads aren't far away from turning the corner. They worked realy hard throughout the game, none of them gave up.
"They maybe lack a little bit of aggression and physicality, but that's because they're playing against lads who are a year older than them."
Team: Hall, Kaba, Halliday, Gardiner, Lynas, Lingthep, Glover, Alderson, Dunn. Morrison, Nunes.
Subs: Harland, Cranston, Naisbett, Buckley, Muchemedzi
The lads' next game is at South Shields next Wednesday afternoon, kick off 2pm
Wednesday 24th October
Durham Challenge Cup
Esh Winning 1 Darlington 3
A mixture of youngsters and first teamers travelled to Northern League Division Two club Esh Winning.
Quakers took the lead in just the 3rd minute, when Harvey Saunders got away from his marker and turned in a right wing corner.
Quakers stayed on top after that, and scored the second on 20 minutes, a powerful left foot shot by Alex Henshall into the bottom left hand corner from the edge of the box.
Esh showed plenty of spirit, and pulled a goal back with an excellent volley by Daniel Bennett from a left wing cross, but just on half time Mitch Glover restored Quakers' two goal cushion when his low left wing corner deceived everybody and went into the net.
The highlight of the second half from a Darlington point of view was a 45 yard effort by Mitch Glover that the Esh keeper just managed to hold on to as a he backpedalled, while Darlington keeper Cameron Hall pulled off a couple of good saves.
Cameron Hall, Lewis Alderson (sub Abdoulayah Kaba 79), Cailan Banks, Liam Hughes (sub Kieron Dunn 60). Jonny Burn, Jack Vaulks, Sanny Lingthep, Mitchell Glover, Harvey Saunders (sub Brandon Morrison 60), David Syers, Alex Henshall
Subs: A Burn
Wednesday October 17th 2018
he Academy were beaten 3-1 by Carlisle at Chester-le-Street on Wednesday afternoon.
They conceded two early goals in the game and also lost Tom Lycett because of injury, but they kept battling away and pulled a goal back early in the second half through Miguel Nunes from a great diagonal ball by Lewis Alderson.
However, Carlisle made it 3-1 midway after 70 minutes. Despite that, they kept going to the end with Sanny Lindthep standing out.
Here's the view of head coach Alan White
Burn, Alderson, Lycett, Kaba, Shaw, Stansfield, McNab, Nunes, Lindthep, Dunn, Morrison
Subs: Buckley, Cranston, Lynas, Muchemedzi, Harland
===================================================
Wednesday October 10th 2018
Darlington 0 Halifax Town 1
Quakers Academy were beaten by Halifax in the League Cup at Blackwell Meadows by a first half goal.
Once again, the lads put in loads of effort and Mitch Glover was outstanding
Halifax had the better of the first 20 minutes and Darlington keeper Aaron Burn made two good saves and Halifax also hit the bar, but Quakers came more into the game towards half time.
Mitch Glover fired a 30 yarder just over the bar as they mounted some good pressure, but Halifax took the lead just on half time.
They caught Quakers flat footed from a swift breakaway, and the full back beat Burn with a right foot shot.
In the second half, Quakers had more possession and played some good football, but they didn't trouble the Halifax keeper enough.
Team:
Quakers: Burn, Gardiner, Lycett, Kaba, Alderson, Stansfield, Glover, Shaw, Lindthep, Dunn (sub Lynas 70), Morrison (sub Nunes 46)
Subs: Cranston, McNab, Buckley
Academy head coach Alan White talked about the game afterwards
https://darlingtonfc.co.uk/news/whitey-the-lads-were-worth-at-least-a-draw
===================================================
Wednesday 26th September
Darlington 1 Harrogate Town 1
Harry rescues a point for the Academy!
The Academy lads were held to a 1-1 draw at home by Harrogate Town at Blackwell Meadows this afternoon.
They trailed to a free kick midway through the first half, but Harry Stansfield – who was on the first team bench last Saturday -- salvaged a draw with an excellent free kick into the bottom corner deep into stoppage time.
Head coach Alan White said; "We were the better team, we missed quite a few chances to score.
"Too many players weren't quite on their game, which is understandable because lads of this age can be inconsistent.
"We conceded a poor goal from a long ball – although their lad took it well – but our lads kept working hard and showed a great attitude. I was pleased with them.
"Harry scored a great equaliser, a lovely curling free kick. There were some very good games from Sanny Lindthep, Adam Lynas and Chris McNab as well."
The team was: Aaron Burn, Lewis Alderson, Tom Lycett, Abdoulaya Kaba, Adam Lynas (sub Liam Gardiner 46), Harry Stansfield, Elliott Shaw (sub Harry Healy 46), Chris McNab (sub Miguel Nunes 60), Sanny Lindthep, Kieron Dunn, Brandon Morrison.
Subs: Brandon Buckley, Callum Harland
The Academy would also like to thank the fans who turned up for the game and gave them their support.
======================================================
Wednesday 19th September
Darlington 2 Farsley 2
Academy head coach Alan White said Darlington's 2-2 draw with Farsley on Wednesday was a "big moment" for the youngsters.
Despite the windy conditions and playing against a team mostly a year older, the lads came back from a goal down twice to draw 2-2 at Blackwell Meadows, Brandon Morrison and Elliott Shaw scoring the goals.
"I thought the lads were outstanding," said Whitey.
"Our opponents were a contrast to Halifax whom we played last week. Halifax got the ball down and played, while Farsley had a lot of big lads and were direct and physical. Our lads played with confidence and plenty of ability, and they transferred our work on the training ground on to the pitch. We played football in the right way.
"Despite the difficult conditions, our lads passed the ball around well and created some good chances.
"We went 2-1 down with a few minutes left, but we kept working hard and equalised.
"If we had lost the game, it would have been a travesty. It's a big moment for the lads, in that they've gained their first point in only their second game, and they've taken in what we've been teaching them on the training field."
Team: Burn, Gardiner, Kaba, Lycett, Alderson, Stansfield, Shaw, Lindthep, Healy, Morrison, Dunn.
Subs: Lynas, McNab, Cranston, Nunes, Harland
Their next game is at home to Harrogate Town next Wednesday (26th September) at Blackwell Meadows.
======================================================
12th September 2018
Halifax Academy 1 Darlington Academy 0
The Academy lads lost their first game in the Under 19 Youth Alliance to a late goal at Halifax today – but they put in a very hard-working and encouraging performance.
An older and more experienced Halifax side won the game thanks to a goal just five minutes from the end, to rob young Quakers of a deserved point.
Tommy Wright, who was in charge of the team for the day, said; "I was gutetd for the lads, because they defended like absolute warriors all the way through the game.
"The individual and team performances were superb. Considering that nearly all of our lads are first year students, and all of the Halifax players are in their second year, then our lads did very well indeed.
"Halifax were really strong opposition, as they only lost twice last season. Considering that we've only had our lads for just over a week, it was very encouraging. Alan and I have definitely got something to build on."