Getting shirty 2009-10
A look back at some of our old playing kits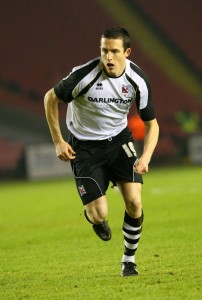 Craig Stoddart looks back at some of our old playing kits -- today's it's the 2009-10 strip.
Due to the club's financial plight at the time, Darlington did not exit administration until days before the start of the season and this had an impact on the strip. The club struggled to obtain a kit supplier to replace Vandanel so we ended up with Errea being chosen, a decision heavily influenced by the arrival of Graham Fordy as managing director. He had spent years with Middlesbrough who had Errea as their kit suppliers for a long time, but the Italian firm had been responsible for some horror shows on Teesside and a small number of offensive away kits remain memorable for the wrong reasons.
Darlington fans need not have worried though, as Errea produced some smart kits for Quakers, although this plain home kit was not their best effort. Bit too bland wasn't it, while the club crest and the manufacturer's logo were not positioned in line with each other – an Errea error, we can only presume. The hoops were dropped due to the kit deal being struck shortly before the campaign began and Errea could not produce a hooped shirt in time.
It was not long before fans were wishing the campaign had not began at all though, as Steve Staunton soon replaced Colin Todd and masterminded the worst season in the club's history. A season and a kit to forget, though this shirt is worthy of note as, after 13 seasons, it was the last to be generously sponsored by Darlington Building Society.