Darlington FC is a supporter owned club and has been rooted at the heart of the local community since its formation in 1883.
Will this be your first time ever visiting the Blackwell Meadows? Well firstly, we look forward to welcoming you to the ground and our club. If you've not quite made that decision yet then take our word for it - we hope you decide to! Either way here's a range of information that we think may help you out.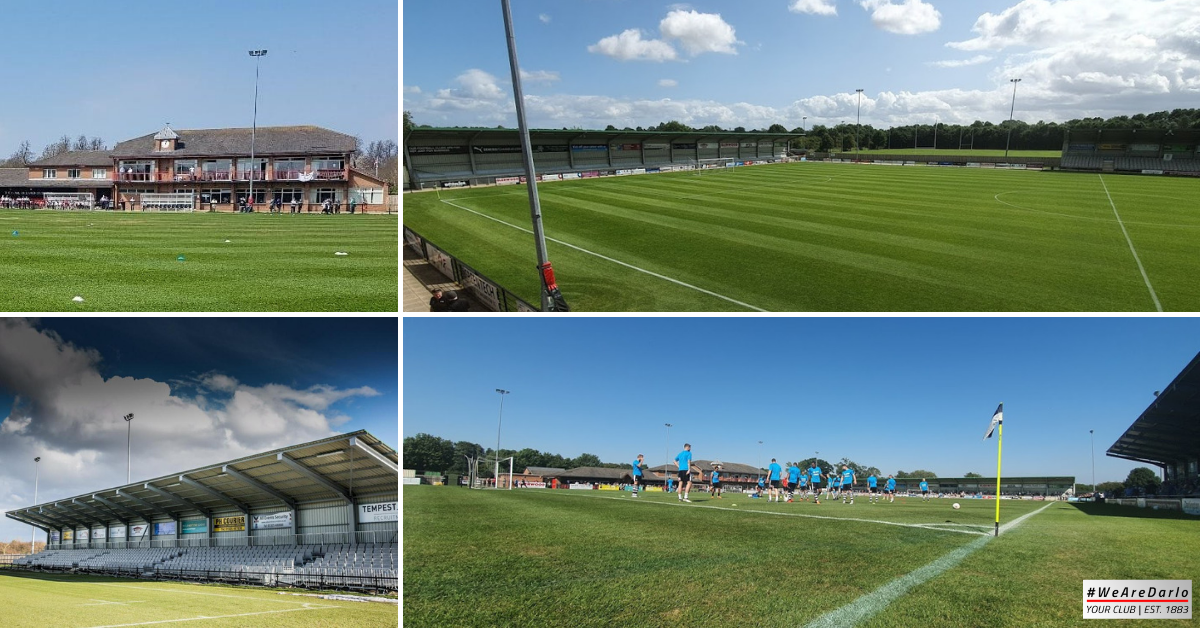 Blackwell Meadows has been our home ground since Boxing Day 2016 when we played our first match back in Darlington in over 4 years. We returned to the town thanks to raising of over £1 million by our supporter-owners and the ground has been transformed with a capacity of 3,300. The postcode of the ground is DL1 5NR.
To make your first trip to our ground the most enjoyable it can be, you may want to contact our dedicated support team on tickets@darlingtonfc.org to discuss any questions you may have. These could range from which area of the ground suits you best to how to purchase tickets and car parking - no matter what the query, our support team are on hand to help.
How To Buy Tickets
Unless a game is advertised as all-ticket in advance (this happens very infrequently) you have two choices – you can purchase in advance online or you can pay on the gate, either with cash or contactless, on the day.
We are a family friendly club and under 12's are free of charge with any paying adult or concession. Under 12's also get to use our seated stand for free, in which all unreserved seating is available on a first-come-first-served basis and we always have a couple of stewards at each end of the seated stand available to help you locate a free seat.
Please go to our ticketing page for full details on our matchday prices, on to purchase online and your payment options.
Once you get the Darlo bug we have plenty of ticketing options for our regular supporters ranging from 5 & 10 Flexi-Tickets to a pay monthly subscription to give fans the best possible value and flexibility.
Car Parking
We have on-site car matchday car parking at Darlington FC available on a first-come-first-served basis. Car parking is charged at £5 per car.
There are also a number of Blue Badges spaces available, please contact us in advance to reserve a Blue Badge space: dave.watson@darlingtonfc.org.
It can take a little while to exit the car park at the end of our games due to volume of traffic and sharing an exit with pedestrians, please be allow an few extra minutes for this. Our car park stewards will be on hand to help everyone get away as safely and quickly as possible.
Getting To The Ground
Whatever your mode of transport we have all the information we you need covered right here:
https://darlingtonfc.co.uk/about/how-do-i-get-to-blackwell-meadows
Quaker Retail
We have an ever-growing range of club merchandise on sale at home games.
Quaker Retail is situated adjacent to the home turnstiles.

The following merchandise is currently available:
Match Day Programme – £3
We'll have a match day programme on sale at every home game, containing a number of interesting articles including the thoughts of manager Alun Armstrong, CEO David Johnston and other members of the playing squad.
Replica Shirts Home & Away Shirts – £39.99
A select number of home shirts will be on sale at home fixtures.
Our full retail range is also available online: shop.darlingtonfc.co.uk
Blackwell Meadows on a matchday – your guide
On a Saturday matchday our turnstiles open at 1.30pm for a 3pm kick-off.
On a midweek night match our turnstiles open at 6.30pm for a 7.45pm kick-off.
On the walk up to the turnstiles we have our Quaker Retail unit situated adjacent to the home turnstiles plus our 50-50 & programme sellers will be on hand as you approach the ground.
The majority of our matches are non-segregated games which means that all supporters access the ground through the home turnstiles, to the left of the clubhouse nearest the Tinshed stand.
For segregated games away fans are directed towards the turnstiles at the open-end, to the right of the clubhouse, to access the ground.
When going through the turnstiles, if you haven't purchased your ticket in advance you can buy a standing ticket or upgrade to a seating ticket if you prefer. Our turnstile operators will handle all that for you.
Once inside the ground we a have a clubhouse that is open before, during and after the match serving drinks and food. Usually there is live football on the TVs in the lead up to the match as well.
Where do the home fans stand?
Most of the home fans congregate in the Tinshed behind the goal at the town end. This is an area of standing covered accommodation which holds 900 fans, and is a reconstruction of the Tinshed stand which was behind the goal at Feethams, the club's first ground. Fans have the flexibility in non-segregated games to stand at the end that Darlington are attacking.
Other fans stand behind the barriers around the side of the pitch.
Please not that unfortunately away fans are not allowed to stand in the Tinshed.
Can fans sit and watch the game?
To accommodate fans who wish to sit and watch the game, there is a covered seated stand with a capacity of 588. Some of these seats are for season ticket holders, and there are also seats available for disabled, families, our match-day experience and school's groups plus away fans. There are some seats available for sale on the day of the match, you can buy these at the turnstiles.
We are a family friendly club and under 12's can sit free of charge with any paying adult or concession. All unreserved seating is available on a first-come-first-served basis and we always have a couple of stewards at each end of the seated stand available to help you locate available seats.
Where do the away fans stand?
When games are segregated, there is capacity for 800 away fans standing at the western end of the ground and we always provide up to 90 seats for those that prefer to sit. When games aren't segregated, away fans are welcome to walk around the ground.
Is there anywhere to eat or drink?
There are two catering outlets inside the ground, one adjacent to the Tinshed and one at the opposite, open end of the ground. There is also access to the bar in the clubhouse. We also offer hospitality packages in the Feethams Lounge where you can have a meal before the match and watch the game from the balcony.
Our matchday catering for the 22/23 season is delivered in partnership with Darlington Rugby Football Club, the owners of Blackwell Meadows. Working closely together we are committed to improving the offer and service levels as the season progresses. All feedback is read after each home game and fed back to the catering team.
Does the football club get anything from food & drinks sales?
Yes, Darlington FC gets a mutually agreed revenue share on all food and beverage sales on matchdays. This is part of the agreement between ourselves & DRFC. It is a fair deal which sees the football club benefits from all sales on a matchday.