Advice for supporters travelling to Scunthorpe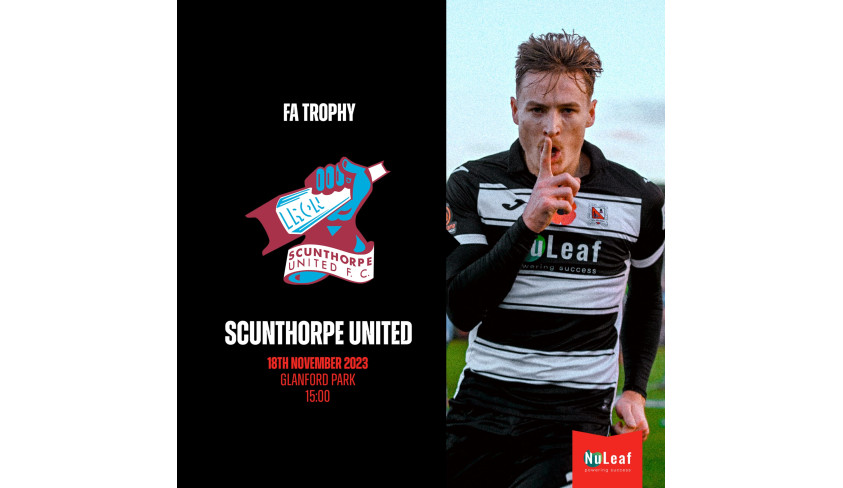 Representatives of the club
The following article is published on the official website and on other DFC platforms on the instructions of the FA, and as part of our action plan associated with the unwelcome misogyny incident in our game at Scarborough on 2nd January.
We would like to remind supporters who are travelling to our game at Scunthorpe on Saturday that they are trusted representatives of the club, and are expected to behave accordingly.
The vast majority of our supporters are well-behaved, and understand why we must satisfy the requirements of the FA and National League. We must thank them for their help and understanding.
However, should you witness any misbehaviour by a Darlington supporter at the Scunthorpe game on Saturday, then please alert the nearest steward or home official, or e mail report@darlingtonfc.org or by text on our text discrimination service 07897031883. You can also approach our Supporter Liaison Officers, Rob Duncan or Andrew Scullion, if you wish.
Darlington FC will fully support any action that is taken by Scunthorpe regarding any supporter misbehaviour.
Earlier this year, the FA charged Darlington FC for "failing to ensure that spectators and/or supporters (and anyone purporting to be its supporters or followers) conducted themselves in an orderly fashion and refrained from improper, violent, threatening, abusive, indecent, insulting and/or provocative words and/or behaviour contrary to rule E21.1 of the Rules of the Football Association." In addition, the FA alleged that the words and/or behaviour made reference to gender contrary to FA rule E21.4.
This related to a first half incident in our game at Scarborough on 2nd January in which the female assistant referee was subject to misogynistic abuse from some of our supporters. Scarborough were also charged for an incident in the second half which led to a 40-minute delay.
Both Scarborough and ourselves admitted the charges, and after submitting a considerable amount of mitigation, both clubs were fined £1,500, of which £500 is suspended until 19th June next year. Should we be charged and found guilty of any further breaches, then the £500 will be triggered on top of any separate penalty arising from any further breach. It is therefore clear that we are going to be very closely scrutinised this season and beyond by the FA and any further transgression will result in at least a much heavier fine.
We have said on several occasions, and we make no apology again, for saying that we strongly condemn the behaviour of a small number of our supporters for their misogynistic behaviour at Scarborough, and once again we apologise to the female official, the FA, our hosts Scarborough and the National League. Indeed, we strongly condemn all kinds of abuse.
Both clubs have also been instructed to implement a detailed action plan, which includes these specific items:
Develop proactive supporter anti-discriminatory prevention, deterrent and detection initiatives for usage and communication ahead of both home and away fixtures, in addressing the potential for discriminatory or other inappropriate supporter behaviour.
Develop ongoing positive dialogue with 'Kick It Out', 'Her Game Too', local police force and other local/national organisations to further enhance their relationships by seeking advice and ratification of new and developing anti-discrimination policies and procedures.
Develop additional supporter and steward educational programmes in conjunction with 'Kick It Out', 'Her Game Too' and other local/national organisations to include the issues associated with the potential inappropriate usage of words, chanting, gestures or conduct associated with ethnic origin, colour, race, nationality, religion or belief, gender, gender reassignment, sexual orientation or disability, including supporter education programmes especially in the raised awareness of acceptable fan behaviour.
Develop an auditable, effective and continuous process, whereby pre match verbal and written communications are maintained with all clubs to which Darlington FC (DFC) will be travelling for a League or Cup fixture. Such information should include previous intelligence associated with the behaviour of their travelling fans, current, expected or anticipated intelligence relating to the potential attendance and behaviour of their travelling fans, and any other useful information which may assist the host club in maintaining discipline and order amongst the crowd at the fixture.
Develop the introduction of a Club 'Supporter Liaison Officer', whose role will be to attend all DFC fixtures home and away fixtures to act as a high profile conduit between the Club and its supporters. This will help the proactive communication of the new policies contained within this action plan and also assist in the live monitoring of DFC fan behaviour, combined with an early identification of any trends of risk or threat associated with DFC fan behaviour. (We have appointed two people)
Liaise with the host club to communicate the composition of the travelling party including, players, backroom staff, directors and club guests in order to evaluate and risk assess any potential targets of discriminatory or abusive behaviour from the home supporters. Similarly, the same information associated with the host club, plus information on the composition of the match officials, should be obtained so that any appropriate risk can be assessed and acted upon prior to DFC and its supporters' arrival.
Review ticket sales policies (including away tickets) and procure data as practicable to potentially support post-match investigations and sanctions.
Both clubs must ensure that the following steps are taken:-
The new Supporter Liaison Officer shall attend every DFC away fixture to liaise throughout the fixture with the host club and its stewarding operation, provide close liaison and communication with the travelling DFC travelling fans at the stadium (appropriately risk assessed), act as a communicational conduit between the host club and the travelling DFC fans, seek to formulate evidential reports concerning any poor behaviour associated with the travelling DFC fans, and develop and collate appropriate intelligence on the travelling DFC fan base.
Continue their full liaison and auditable meetings with their local police football liaison department ahead of every away fixture, and the onward dissemination of any available intelligence to police resources where DFC and its fans will be travelling.
Endeavour to open frank and constructive communications with their DFC fan groups, and in particular groups which have a tendency to only travel to away matches. Such communications should promote and increase intelligence, appropriate consultations and be a valuable conduit to provide educational exchange of information of the Club's expectant behaviour of their fans, especially when attending away fixtures.
Develop additional fan communicational lines and resourced facilities within the Club to provide ideally 'live' or secondly 'post-match' reporting of concerning fan behavioural issues via telephone or anonymous text reporting systems. Such intelligence will help inform the Club's ongoing policies and processes in the prevention and detection of discriminatory or poor fan behaviour.
Visit and liaise with other local Non-League / EFL clubs as practical in order to obtain best practice policies associated with the prevention and detection of discriminatory and inappropriate fan behaviour.
Thereafter regularly review and develop their own policies for the prevention and detection of discriminatory and inappropriate behaviour in light of the policies and best practices of other clubs.
Develop a Club Supporter Charter which shall include relevant and specific information on discriminatory or offensive chanting, words or behaviour, in an effort to educate supporters on what language and actions are acceptable/unacceptable at their own stadium or any other away stadium.
Further develop this Club Supporter Charter, listing relevant match day offences and associated sanctions for both home and away fixtures, in particular relating to discriminatory and disorderly behaviour.
Also create a Fan webpage on their Club website which will reference the revised Charter and any relevant match communications, likely to affect supporter behaviour as appropriate.
The club already carries out some of the FA's recommendations as part of its match preparation procedures, but we are determined to meet the FA's overall requirements. We have already contacted several clubs to ask them about how they conduct such activities with their supporters, plus the National League has offered assistance.
The FA gave us credit for our swift action on the day, by posting social media messages at half time and after the match as well as contributing to the half time PA announcement, and also for our swift efforts to find eyewitnesses. They praised us for responding promptly to the charges and admitting the misconduct.
Thanks to eyewitness and steward accounts, we were able to identify one fan who shouted abuse at the female assistant, and he was banned for a year, half of which was suspended.
Darlington FC will not allow our good name to be tarnished by any individuals or group of individuals. We have established very good relationships with the FA, the National League, local politicians, local and national bodies and organisations, and we don't want them ruined.
We are now obliged by the FA to issue warnings and advice before every Darlington game, whether it is home or away. The vast majority of our supporters are well-behaved, and understand why we must satisfy the requirements of the FA and National League. We must thank them for their help and understanding.
We therefore urge you to report any kind of misbehaviour to a steward, by e mail to report@darlingtonfc.org, or anonymously during a game on our text service 07897031883.