All set for Walsall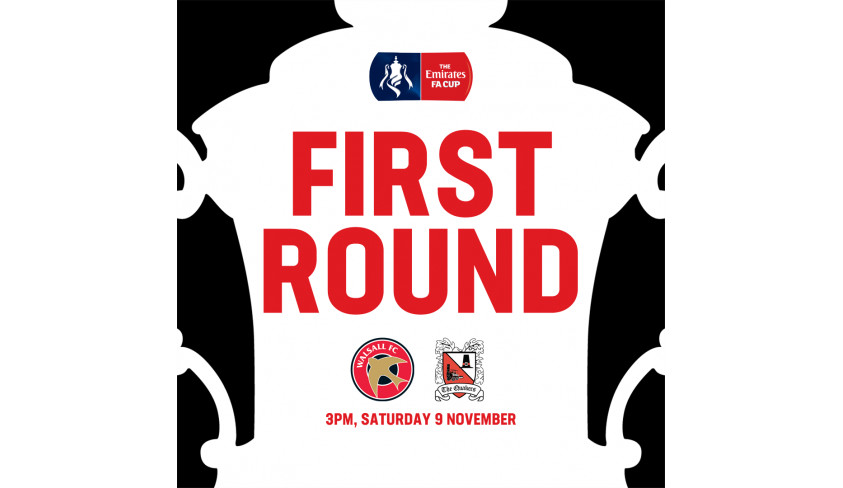 First game in FA Cup competition proper as a fan-owned club
We head to League Two Walsall for our first game in the competition proper of the FA Cup for nine years, and our first since we became a fan-owned club in 2012 -- it will be one of the biggest days in our recent history.
Well over 700 fans are expected to make the journey across to the midlands, hoping to see one of the big upsets of the first round.
The form guide is below, but basically Walsall have lost their last six, and we are unbeaten in seven.
Here's a link to the Walsall website for details on how to get to the ground
https://www.saddlers.co.uk/club/visitors-guide/
The Darlington FC advice to all our supporters to allow plenty of travel time, and get to the ground early. We hope to take at least 700 supporters, so please allow for congestion around the ground.
Admission prices are £12 adults, £6 for concessions, £15 for a family ticket
Here's your stats pack for Saturday's game
Darlington
National League North position: 13th
Away league form: played 6, won 1, drawn 1, lost 4, goals scored 6, goals against 12
Away cup form: Played 3, won 3, goals scored 8, goals against 1
Our last seven games:
November 2nd Hereford (home) drew 0-0
Connell, Hedley, Liddle, Wheatley, Storey, Galbraith, Rivers (sub Thompson 61), Hatfield, Campbell, Holness (sub Donawa 65), O'Neill
Subs: Laing, Watson, Bascome
October 30th Kidderminster (home) won 1-0 Rivers
October 19th Tamworth (away) won 3-0 O'Neill 2, Holness FA Cup 4Q
October 12th Boston (home) won 2-1 O'Neill, Campbell
October 5th Leamington (away) FA Cup 3q won 2-0 O'Neill, Donawa
September 28th Alfreton (away) won 2-1 O'Neill, Donawa
September 21st Trafford (away) FA Cup 2q won 3-1 Thompson, Campbell, Donawa
Leading scorers: 7 Adam Campbell, 7 Tyrone O'Neill, 4 Stephen Thompson
Team News: Right back Luke Trotman, striker Jamie Holmes and defender David Atkinson are all ruled out because of injury.
Tyrone O'Neill has been recalled by Middlesbrough.
Liam Connell has signed on loan until the end of the season, and he's eligible to play.
Here's what Darlington manager Alun Armstrong has to say about the game -- this interview was recorded Thursday night before training.
https://www.youtube.com/watch?v=0JT7Csk4wh4
Walsall
Position in League Two 22nd (39 places between us)
Home league form Played 8, won 1, drawn 2, lost 5. Goals for 5, goals against 12
Last six matches:
2nd November Swindon (away) lost 1-2 Gaffney
(3-5-2) Jack Rose: Zak Jules, Mat Sadler, Dan Scarr; Shay Facey, Cameron Pring, Rory Holden. Liam Kinsella, Danny Guthrie; Rory Gaffney, Elijah Adebayo
Subs: Liam Roberts, Cameron Norman, Alfie Bates, James Hardy, Gary Liddle
26th October Mansfield (home) lost 1-2 Adebayo
22nd October Oldham (away) lost 0-2
19th October Cheltenham (home) lost 1-2 Gordon
12th October Leyton Orient (away) lost 1-3 Sinclair
5th October Salford (home) lost 0-3
Manager: Darrell Clarke
Here's what he had to say about the game to the Walsall FC website
https://www.saddlers.co.uk/news/2019/november/clarke-focused-on-darlington-challenge/
And here's a piece with one of their players
https://www.saddlers.co.uk/news/2019/november/sadler-gap-between-efl-and-non-league-is-getting-smaller/
Walsall's recent FA Cup record
Walsall reached the third round proper last season, when they beat two previous FA Cup winners in the previous rounds.
They beat Coventry City 3-2 in the first round, and then Sunderland in a replay. They lost to Bolton by 5-2 in the third round.
The furthest they have been in the competition is the fifth round, which they've achieved on six occasions: in 1938-39, 1974-75, 1977-78, 1986-87, 2001-02, 2002-03.
Walsall's FA Cup record over the last ten years
2010-11 1 Fleetwood Town A 1-1
1r Fleetwood Town H 2-0
2 Torquay United A 0-1
2011-12 1 Exeter City A 1-1
1r Exeter City H 3-2
2 Dagenham & Redbridge A 1-1
2r Dagenham & Redbridge H 0-0
Dagenham & Redbridge Won 3-2 On Penalties
2012-13 1 Lincoln City A 1-1
1r Lincoln City H 2-3
2013-14 1 Shrewsbury Town H 3-0
2 Leyton Orient A 0-1
2014-15 1 Shrewsbury Town H 2-2
1r Shrewsbury Town A 0-1
2015-16 1 Fleetwood Town H 2-0
2 Chesterfield A 0-0
2r Chesterfield H 0-0
Walsall Won 5-3 On Penalties
3 Brentford A 1-0
4 Reading A 0-4
2016-17 1 Macclesfield Town H 0-1
2017-18 1 Newport County A 1-2
2018-19 1 Coventry City H 3-2
2 Sunderland H 1-1
2r Sunderland A 1-0
3 Bolton Wanderers A 2-5
Admission prices: Adults £12, Concessions £6 family tickets £15,
Last time we met
Coca Cola Cup 2008
Walsall 1 (Ricketts) Darlington 2 (Kennedy, Clarke)
If you're not going to the game, follow the match on Darlo Fans Radio, the official website and official Twitter!