Kevin Luff / 23rd February 2018
Buy your Early Bird season ticket now!Darlington FC are delighted to announce the launch of our Earl...
---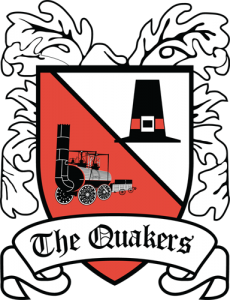 Buy your Early Bird season ticket now!
Darlington FC are delighted to announce the launch of our Early Bird season ticket sales with a great discount for purchasers.
Season ticket holders have the chance to buy theirs now, before they go on general sale on March 1st.
As ever, supporters are rewarded for committing early. Adults will get over five games free when they purchase their season ticket by April 30th, under-16s can watch the Quakers for less than £3 a game whilst for the first time next season all under-11s get free entry - -so this is a fantastic opportunity for families to come and watch Darlington FC at Blackwell Meadows!
HEADLINES
5 games free (see note 1)

Seated season tickets available in new seated stand

U11s now go FREE (see note 2)

2 Ambassador vouchers per season ticket (see note 3)

Launch of Junior Quaker Club
Note 1: Based on Adult Standing season ticket price, other price categories vary from 4.21 games free (seated concession) up to all 21 games free for U11's
Note 2: All U11s get free entry with Adult/Senior. £20 fee for a junior seated season ticket
Note 3: Ambassador vouchers sold with Adult / Senior / Student season tickets only. Entitles season ticket holder to purchase 2 standing match tickets at half the standard admission price
[gdlr_button href="http://darlingtonfc.co.uk/wp-content/uploads/2018/02/Early-Bird-DFC-season-ticket-form.pdf" target="_self" size="large" background="#cc3300" color="#ffffff"]DOWNLOAD YOUR SEASON TICKET APPLICATION FORM HERE[/gdlr_button]
e mail your completed form to seasontickets@darlingtonfc.org or follow the instructions at the bottom of the form
This season has been one of change on and off the pitch. Thanks to the magnificent backing of our fans we have seen the construction of our new seated stand during February. This has doubled the seating capacity to almost 600 at Blackwell Meadows and allows us to sell seated season tickets for the 2018/19 season, with the previous stand having been sold out. As a result, we have reduced the price premium for a seat over standing to £40 for all adults/senior/student/disabled and just £20 for all juniors.
We've enhanced our family friendly prices; under-16s can attend for less than £3 per match whilst all under-11s now go free when accompanied by an adult, senior or student. Alongside this we are launching a Junior Quakers club for our fans aged under 11. They will receive a membership pack and there will be various activities and incentives throughout the season – please go to the Junior Quakers section here on our website to find out more.
We are also working hard to enhance the matchday experience for all our fans - there are projects in place to improve our retail offering, matchday catering, bar service and car park management. We know from supporter feedback that these are key areas and we are working hard to ensure a better experience next season.
Speaking about the Early Bird season ticket launch Chief Executive Officer David Johnston, said: "We want to reward the loyalty of those supporters who come and watch us week in, week out and I hope they take advantage of the early bird period.
"As a supporter-owned club, Darlington FC's business model relies heavily on the money it gets from gate receipts at Blackwell Meadows, but it is also crucial that we offer value back to our fans who regularly come through our turnstiles and back the team.
"The squad has been reshaped since the arrival of Tommy Wright and has shown a fantastic run of run of form recently that has moved us up the table. Our manager is building an impressive squad, blending experience with exciting young players. With a full pre-season behind them I am sure Tommy, Alan and the lads will be able to continue to improve and progress.
"We hope that you will join us on that journey as we seek to create more memorable moments at Blackwell Meadows next season."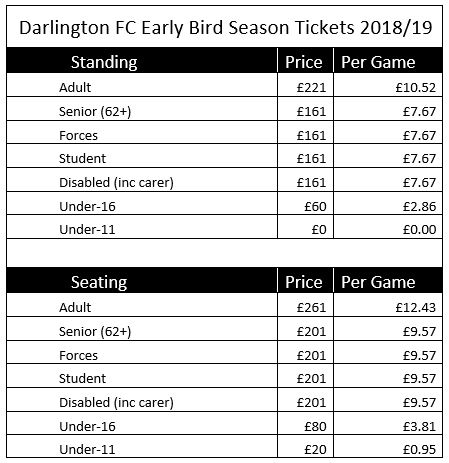 In setting the prices we have attempted to strike the right balance between offering good value to our fans whilst generating sufficient revenue to support Tommy Wright in putting a competitive team on the pitch for next season. Your decision to purchase an Early Bird season ticket will be crucial in determining what budget the directors can make available to Tommy next season.
In season 2017-18 an Early Bird adult standing ticket got you 3.5 games free (based on £12 admission price at the time) – next season you will get 5.21 games free. There have been some relative price rises in the concession season ticket categories to bring consistency to the pricing and ensuring a fair discount to all groups.
The biggest change for next season is that Under 11s receive free entry to all our games when accompanied by an adult. This is an extension from free entry for Under 5s this season. Please note a seated season ticket for any fan under 16 is subject to a charge of £20. We are also launching a Junior Quakers Club for our Under 11 fans and will be undertaking a series of initiatives throughout the summer and next season to attract more families to our matches – please click here to find out more about the Junior Quakers.
You can purchase your season ticket in a number of ways:
The early bird campaign will run from March 1st until April 30th 2018.
Season ticket FAQ's can be found by clicking here.
Until June 1st, all current seated season ticket holders can rest assured that their existing seat will remain reserved. After that date, however, the seat will become available for anyone to buy or move to if they've already purchased a season ticket and want to swap the seat they were allocated.
*Based on admission prices at time of Early Bird sales (£12/£8/£5 in 2017, £14/£10/£5 in 2018)
Share this