Contribute to Boost the Budget 2022-23!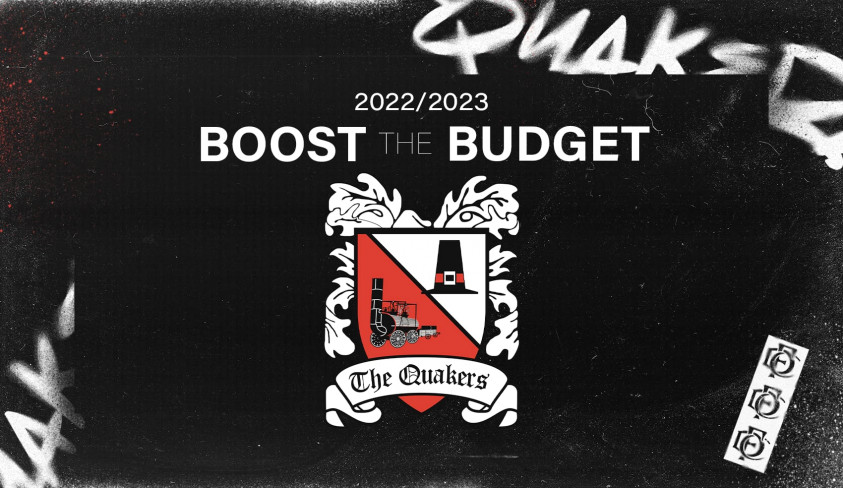 Help Alun build a squad to compete with the full time clubs in our league
Welcome to Boost the Budget for season 2022-23!
Since its inception five years ago, Boost The Budget investors have contributed almost £500,000 to the club's playing budget in that time -- a staggering contribution and the very definition of "fan ownership".
The 2022/23 scheme is now officially open and will run until midnight on Tuesday 31st May. You can contribute here: https://yourclub.darlingtonfc.co.uk/
This year we celebrate a decade of Darlington Football Club being 'fan owned' and it is amazing to think how far we have come collectively since 2012.
But there is much more to be done. It certainly doesn't feel like twelve months have passed since we opened our last Boost The Budget investment window in May 2021, when we asked the fans to assist Alun in effectively rebuilding the squad off the back of a second season that had been ravaged by the Covid-19 pandemic.
Last May the fans collectively raised a staggering £138,465. Whilst this allowed Alun to instantly attract Tommy Taylor, Kallum Griffiths, George Smith, Kevin Dos Santos, Alex Purver and Jake Cassidy for the start of the 2021/22 season, the budget was put to great use throughout the season.
David Wheater, Jack Lambert, Danny Ellis, Jake Lawlor and Adriano Moke, not to mention loan signings Jake Cooper, Tyrone O'Neill, Danny Rose, Cameron Thompson and Nathan Lowe, all arrived at different points in the season with the help of last May's Boost The Budget contributions.
Indeed, had Alun had the squad that ended this season back in August 2021, who knows what might have happened and where we would have finished?
By mid-April the side sat seventh in the table and ahead of York City and Spennymoor. Only a couple of disappointing results thereafter prevented us from potentially securing a play-off spot.
Chief Operating Officer David Johnston talks about this season, the prospects for next season, and other club matters.
For possibly the first close season in Alun's time as Darlington manager, this won't be a summer of rebuilding. Quite the opposite, in fact.
Key players David Wheater, Jake Lawlor, Tommy Taylor, Ben Hedley, and Adriano Moke are already tied down for next season with more players to be announced shortly, including several on whom we have options in the club's favour to extend their contracts.
This year's Boost The Budget will allow Alun to add a small collective of new players to that core, attract players from further afield, facilitate an additional training night (to work on match analysis) and help push the club to somewhere between part-time and full-time.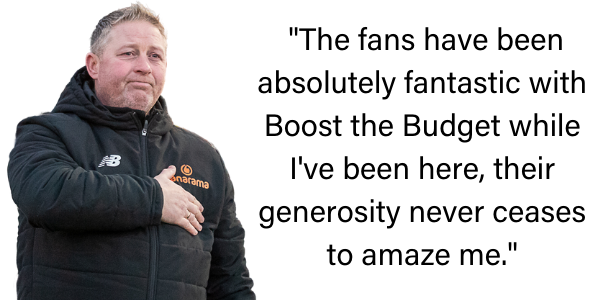 (There will be a Zoom interview with Alun on Boost the Budget after the end of the season)
This is where you, a DFC fan, can play an integral part in helping us achieve future success. The fans, ultimately the Club's owners, dictate the level of ambition and ability of the squad by setting a significant chunk of the manager's playing budget.
As we launch Boost The Budget 2022/23 with a target of £120,000 we're asking Darlington fans to help Alun build on his hard work across 2021/22 in pulling together an exciting squad and allow him to go into 2022/23 with a group of players that can kick on from the second half of last season and compete against the full time clubs in our division.
The 2022/23 scheme is now officially open and will run until midnight on Tuesday 31st May.
You can contribute here:
https://yourclub.darlingtonfc.co.uk/
In these ongoing difficult times with both 'cost of living' pressures and everyone still getting to grips with life post-pandemic, we know that making a financial commitment to the Club may not be possible at the level at which you have invested previously, or even at all. It is important we all ensure that we're in a position to look after ourselves and our families first and foremost.
However, if you are fortunate enough to be in a position to invest for the coming season it will make a material difference to the playing budget and the target's that Alun is aiming to secure. You can contribute any amount you like, no matter how large or small, just like previous years.
Thank you, once again for your support!
You can contribute here:
https://yourclub.darlingtonfc.co.uk/