Preview: First ever meeting between Quakers and Tadcaster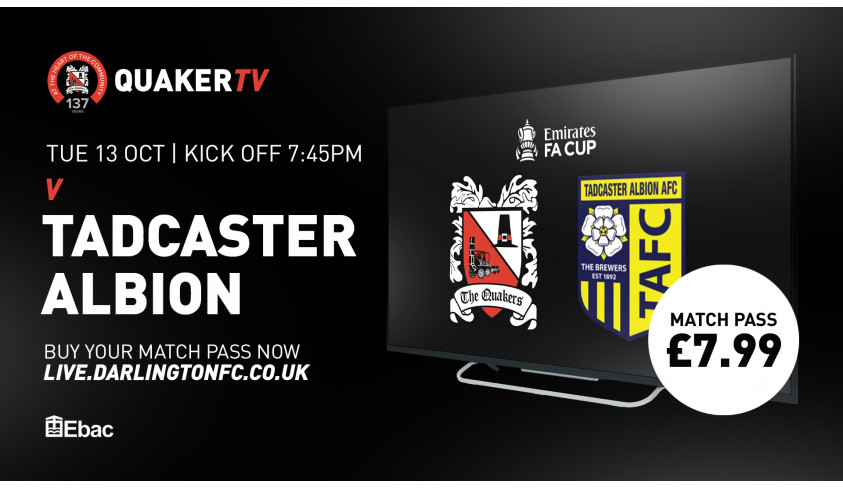 FA Cup fourth qualifying round place at stake
Tuesday's game is being televised on Quaker TV, and can be viewed in the UK. Unfortunately, we are not allowed by FA rules to screen the game outside the UK.
Match passes are available here:
https://live.darlingtonfc.co.uk/
Match programmes are available here
https://live.darlingtonfc.co.uk/
and 50/50 tickets here
https://darlingtonfc.co.uk/news/tadcaster-albion-virtual-5050-draw
We would like to thank Longfield Group for being our virtual match sponsors
Tonight's game will be the first ever meeting between the two clubs, but unfortunately it will be behind closed doors.
Quakers have reached this stage by beating Prescot Cables on penalties in the last round after a 2-2 draw -- you can watch those highlights here:
https://www.youtube.com/watch?v=YH9Tc2tZOTk
Since that game, we have lost 1-0 at Fylde, and last Saturday we lost 3-1 at home to Kidderminster.
We have several problems, with Jamie Holmes, David Atkinson, Adam Campbell, Dan Maguire and Will Hatfield all missing for one reason or another. New signings, striker Levi Amantchi and midfielder Theo Hudson are included in the squad.
And here are assistant manager Darren Holloway's thoughts on the game
https://darlingtonfc.co.uk/news/video-big-reaction-needed
Tadcaster are from the Northern Premier League North and West Division -- the same league as Prescot Cables, whom we met in the previous round.
They are currently 12th in the table, with one and two draws from their four games so far -- two places above Prescot Cables.
They have already played three times in the FA Cup this season, beating Guisborough (away) 2-1,
Litherland REMYCA (home) 7-2
https://www.youtube.com/watch?v=ZO_DmYicHVM
and Mossley 5-4 on penalties after a 1-1 draw.
Here's the shootout from the Mossley game:
https://www.youtube.com/watch?v=yAknGRBF9zI
They have only played once at this stage of the competition before, in season 2012-13, when they lost to Boston United.
They have two former Darlington players in their squad -- keeper Michael Ingham, who was on loan to us in the 2002-03 season and played a blinder when we won 1-0 at Hull City on the day Hull played their last game at Boothferry Park -- and defender Andrew Milne, who played on loan for us from Leeds United in the 2009-10 season.