Farewell to Feethams on line part 2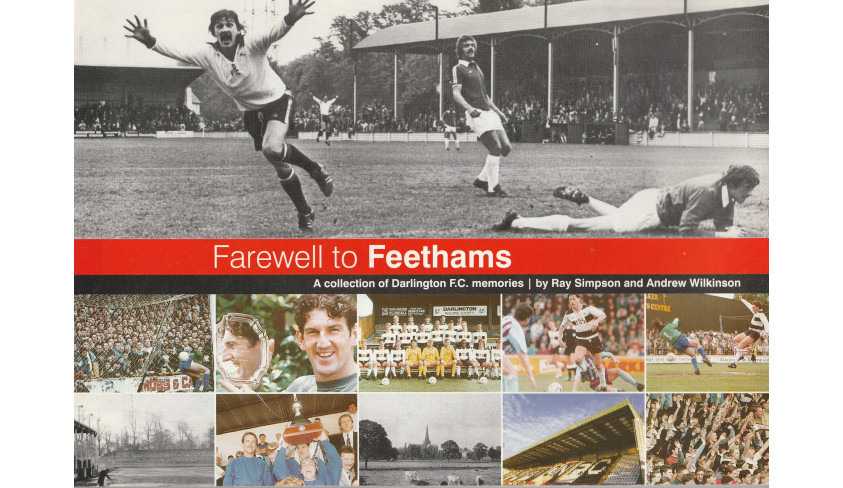 The second part of the 2002 best selling book
In 2002, as the club was preparing to leave Feethams, the Farewell to Feethams book, written by Andrew Wilkinson and RS, was published.
The book was a compilation of memories from fans, officials, managers and players who had served the club over the years, and in turn that revived many further memories of the club's exploits, especially with an emotional parade of former players at Feethams in May 2003.
The book, which was published in conjunction with the Northern Echo, has now been adapted for the Darlington website, and will appear over the next few months whilst we wait for football to restart.
We hope that the adaptation will revive more memories -- write to us, if you want, at media@darlingtonfc.org with your memories, and we'll do our best to publish them.
Today's second part covers the fire in the old West Stand in 1960.
You can read the first part here:
https://darlingtonfc.co.uk/news/farewell-to-feethams-a-brief-club-history
August 29th 1925 was the date of the first Division Two game at Feethams and 12,868 supporters saw a goalless draw against Nottingham Forest.
Quakers finished 15th, not realising that it would be their highest-ever placing in their history. The average league crowd at Feethams was 9047, with clubs such as Southampton, Portsmouth, Wolves, Fulham and Stoke City visiting .
The following season they were relegated, and have never returned to the top two divisions. In a nail biting finish they had to beat fourth placed Chelsea at home, and hope other results went their way. But Chelsea equalised 40 seconds from time in a 2-2 draw.
The following season there was little to cheer other than a record 9-2 win over Lincoln City at Feethams, Tom Ruddy missing a penalty to deny Quakers double figures. At the end of the season Jack English, manager since Darlington joined the league, left for Nelson.
In 1933 Darlington finished bottom of the Third Division North for the first time, and had to apply for re-election, a feat achieved with 47 votes, Scarborough being the nearest challengers with just four.
A year later Darlington won the Third Division North Cup - a tale told later on the website.
The 1939/40 season was cut short by Hitler (not some over zealous referee, but the real Adolf Hitler). Darlington had been unbeaten in their opening three games, when Football League activity was suspended on September 3rd.
Regional leagues were formed, and star names played for Darlington, many from Catterick Army Camp. They were paid 30 shillings a game, and among them were Jack Robinson, Sheffield Wednesday's international forward. During the war years Darlington were in the same league as Newcastle United, Leeds and Huddersfield, so they played these clubs for the first time.
Among memorable victories for Quakers were a 6-2 triumph against Boro at Ayresome Park, and a 5-4 win at St James's Park.
Darlington then hammered the Magpies 8-2 in the League Cup, with a team full of guest players. It was: Tapken (Manchester United), Tooze (Coventry), Dowen (Hull City), Wharton (Portsmouth), Thyne, Birse (Hibernians), Rudkin (Grimsby), Billingham (Burnley), Brown (Brentford), Stubbs, Mullen (Wolves).
In October 1944 Bob Thyne became the first Darlington player to be picked for an international. He played for Scotland against England, replacing Bill Shankly.
During war time football, the match programme advised fans (who had to carry their respirators) that in the event of an air raid they should go home if they lived near the ground. Otherwise they were to spread around the ground and not crowd together.
In the final season of war time football, the leagues were split again, and Darlington won their league of 10 teams. Harry Clarke scored 40 goals that season, and was later sold to Leeds for £5,000
A few years later manager Bob Gurney snapped up Brian Henderson, Ken Furphy and Ron Greener, who went on to make massive contributions, Charlie Wayman came from Middlesbrough. He was a prolific scorer who held the league post war goalscoring record of 342 before he joined Darlington, where he added 14 in 23 games before retiring.
Darlington made history when their FA Cup game at Carlisle in November 1955 became the first between two league sides to be played under floodlights. The game finished in a goalless draw.
The 1957-58 season was the final one before the new national third and fourth divisions were introduced. But Quakers finished 20th and found themselves in Division Four. Coventry were the first visitors in the new league.
In 1958, Quakers had one of the best FA Cup runs in their history, beating Rochdale, Boston and Norwich before defeating First Division giants Chelsea 4-1 in a fourth round replay. Quakers lost at Wolves in the fifth round.
The following season Brian Cheyenne' Redfearn became one of the few players to score four tìmes in a game for Darlington. His feat came in the 5-2 win over Notts County at Feethams in December 1959. Up to 2002, Colin Sinclair, Alan Walsh and David Cork all netted four in a game.
Floodlights were installed, the West Stand was destroyed by fire, and a new stand was built and became known as the Tin Shed.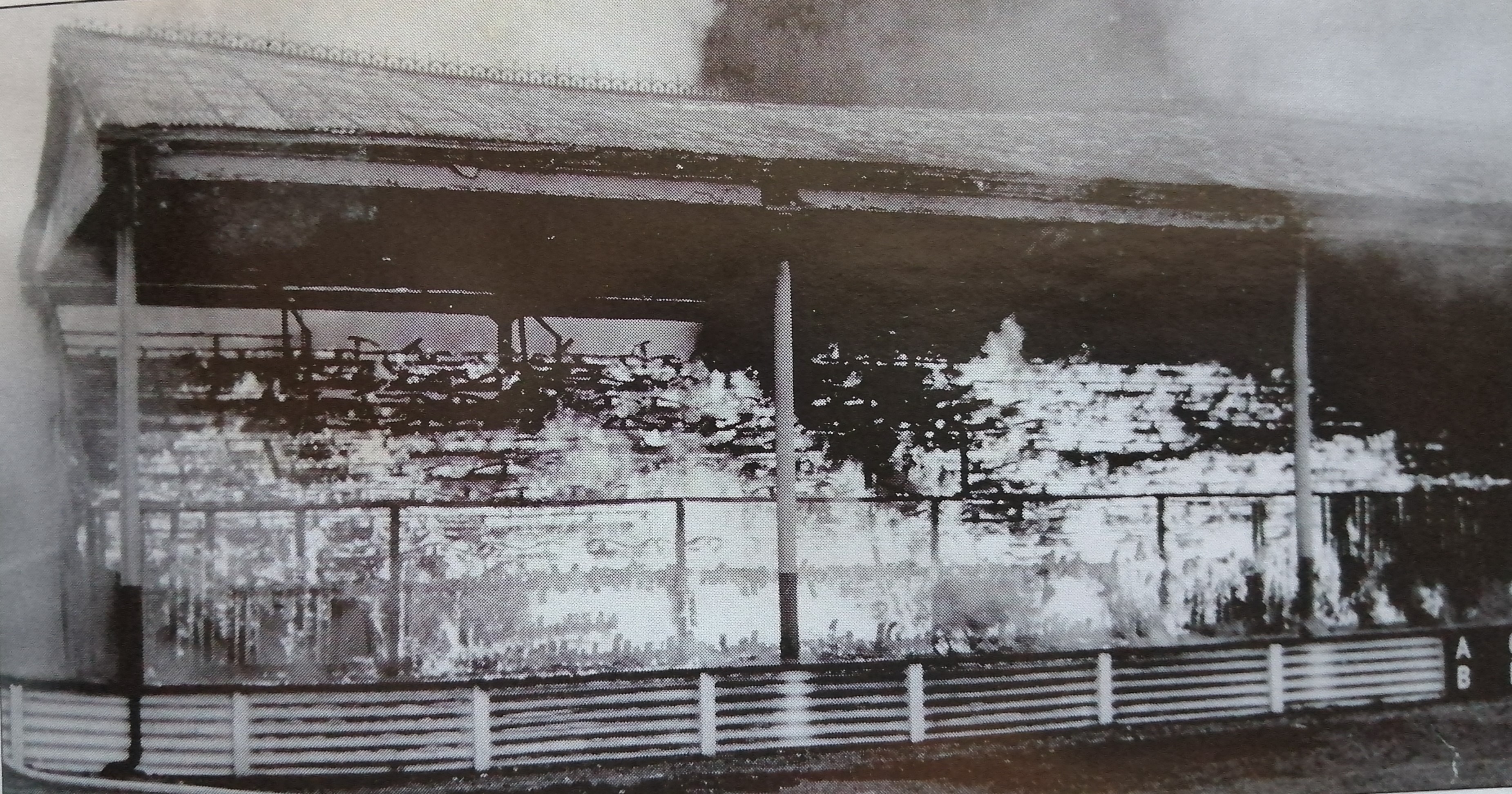 A couple of seasons later Jim Lawton set a club record by scoring in nine consecutive league games. The games were spread over many months as the big freeze prevented Darlington from playing at Feethams between December 22nd and March 11th.
Quakers suffered their heaviest ever defeat in 1964, losing 10-0 at Doncaster. But in 1965/66 Darlington won promotion for the first time in 41 years, but were pipped for the title on goal average by Doncaster Rovers.
Strangely the first Third Division manager to visit Feethams was former player Ken Furphy whose Watford side were beaten 1-0, John Peverell scoring. But Darlington were relegated after a string of injuries. Bobby Cummings broke his leg, Les O'Neill broke an ankle, and winger George McGeachie's career ended with a knee injury.
In 1969, under Ray Yeoman, Darlington missed out on promotion by a single place, after being unbeaten for the first 14 games. They were the last unbeaten team in the entire league, and didn't lose an away game until February 24th. They led the table until March before losing five in a row.They could have clinched promotion on the final day of the season by beating Bradford City at Feethams, but City won 3-1. In the following two seasons, the club had to seek re-election.
Next time: The Evening Despatch appeal and two play off finals.
Here's part 1: https://darlingtonfc.co.uk/news/farewell-to-feethams-a-brief-club-history