Fixtures for the 2022-23 season -- Gloucester at home first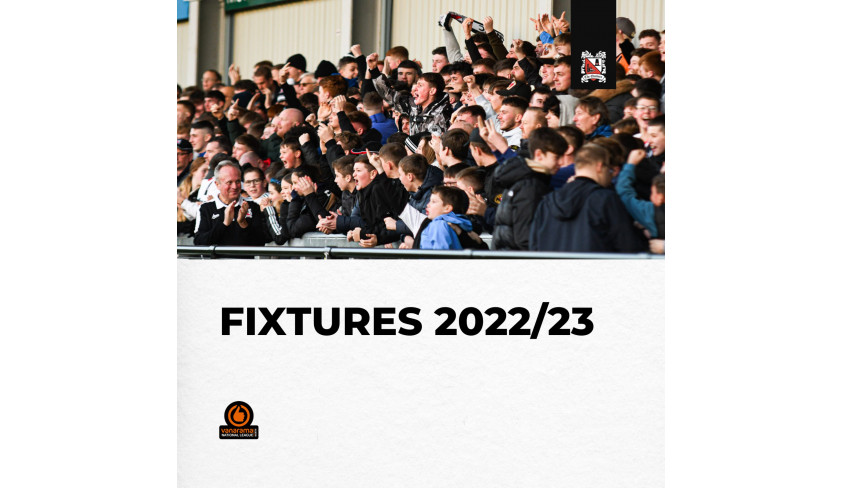 Our National League North fixtures for the full season
Quakers will play Gloucester City in the first game of the National League North, which begins on Saturday 6th August.
The Gloucester game is then followed by away games at Chorley and Southport.
This season's festive opponents are newcomers Scarborough on Boxing Day and New Year's Day.
There are two extra clubs in the league this season, hence there are more midweek games.
Saturday and Bank Holiday kick offs are 3pm, midweeks are 7.45.
The full list of fixtures is:
Saturday 6th August: Gloucester City (home)
Saturday 13th August: Chorley (away)
Tuesday 16th August: Southport (away)
Saturday 20th August: Banbury (home)
Saturday 27th August Spennymoor Town (away)
Monday 29th August: Farsley (home)
Saturday 3rd September: Boston United (home)
Saturday 10th September: AFC Telford United (away)
Monday 12th September: Bradford Park Avenue (away)
Saturday 17th September: Emirates FA Cup 2Q
Saturday 24th September: Peterborough Sports (home)
Tuesday 27th September: Blyth Spartans (home)
Saturday 1st October: Emirates FA Cup 3Q
Saturday 8th October: Chester (away)
Saturday 15th October: Brackley (home) FA Cup 4Q
Saturday 22nd October: Kings Lynn (away)
Tuesday 25th October Buxton (away)
Saturday 29th October Leamington (home)
Saturday 5th November: Kidderminster (away) FA Cup 1
Tuesday 8th November Alfreton (home)
Saturday 12th November: Fylde (home)
Saturday 19th November: Isuzu FA Trophy 2
Saturday 26th November: Hereford (away) FA Cup 2
Satturday 3rd December: Kettering (home)
Tuesday 6th December: Curzon Ashton (away)
Saturday 10th December: Gloucester City (away)
Tuesday 13th December: Southport (home)
Saturday 17th December: Isuzu FA Trophy 3
Monday 26th December: Scarborough Athletic (home)
Sunday 1st January: Scarborough Athletic (away)
Saturday 7th January: Chorley (home) FA Cup 3
Saturday 14th January: Farsley Celtic (away) Isuzu FA Trophy 4
Saturday 21st January: Banbury United (away)
Saturday 28th January: Spennymoor Town (home)
Saturday 4th February: AFC Telford United (home)
Saturday 11th February: Boston United (away) FA Trophy 5
Saturday 18th February: Leamington (away)
Tuesday 21st February: Buxton (home)
Saturday 25th February: Kidderminster (home)
Saturday 4th March: Alfreton (away) FA Trophy 6
Tuesday 7th March: Curzon Ashton (home)
Saturday 11th March: AFC Fylde (away)
Saturday 18th March: Hereford (home)
Saturday 25th March: Kettering Town (away)
Saturday 1st April: Chester (home) FA Trophy semi final
Friday 7th April: Blyth Spartans (away)
Monday 10th April: Bradford PA (home)
Saturday 15th April: Brackley (away)
Saturday 22nd April: Kings Lynn (home)
Saturday 29th April: Peterborough Sports (away)
Sunday 21st May FA Trophy final