Jarrett: "The boss will bring the best out of the players"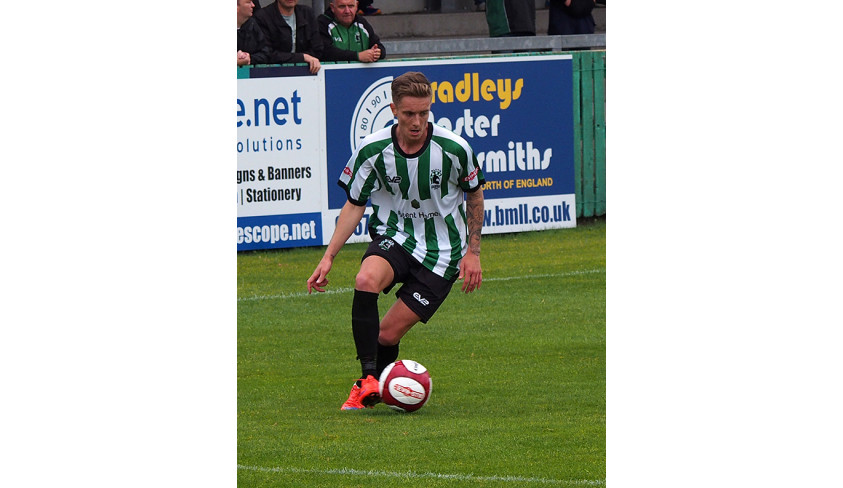 New signing talks about his move
New signing Jarrett Rivers says that he is really looking forward to playing for Quakers after moving from Blyth – and that new boss Alun Armstrong will bring the best out of the players.
He chats to the official website about his career so far, and what fans can expect from new manager Alun Armstrong.
Winger Jarrett started his career at Middlesbrough and worked his way through the youth system before being released in 2013 and joining Northern League club Whitley Bay.
He moved up two divisions a year later and joined Blyth, who were then in the EvoStik Premier. He played against us for Blyth in the 2014-15 FA Cup when they beat us in a replay, but he became a Darlington hero of sorts later in the competition when he scored the winning goal for Blyth in the second round of the FA Cup at Hartlepool.
He grabbed the spotlight when he scored the winner in the second round against Hartlepool at Victoria Park, a game that was covered live on television. There were three divisions between the two clubs at the time, but Blyth enhanced their reputation as FA cup giantkillers
"That was a great run, although it was some season overall to be fair" he said.
"Because I worked in my parents' newsagents at the time, I got loads of calls from the press and was labelled as the paperboy who scored the winner, but I never went out delivering papers – I just helped behind the counter!
"I'll always remember the game in the third round at home to Birmingham. We led 2-0 at half time against a Championship side who didn't give us many problems, but then they scored three times in ten minutes straight after half time, and we couldn't get back into it. But for a club like us to reach the third round was fantastic, a great experience for us all."
At the end of that season, Jarrett was transferred to Blackpool. "I don't think I got the move just because of the FA Cup games, I think it was because I'd played well all the way through the season -- I got double figures in terms of goals.
"The pity was, that I was chosen for England C for a game at the end of the season, but I had to pull out of it because of injury and couldn't go.
"Lee Clark signed me for Blackpool, but I only met him once and he quit within a week of me signing! Neil McDonald took over from him as manager and I played 13 games for them, but I didn't really get the chance to play regular football. They were after more experienced players."
Jarrett returned to Blyth for the start of season 2016-17, and helped them win promotion to National League North under Alun. Since he rejoined, he has teased opposing defences week in and week out, setting up and scoring goals regularly and eventually helping Blyth into the NLN play offs last season.
"Alun knows what I'm about. He's a great man manager, and knows how to get the best out of players. He likes to play attacking, high-energy football. We were conceding a few goals at one point last season, but he shored things up at the back and that helped us a on a great unbeaten run near the end of the season.
"We were really unlucky against Altrincham in the play offs. We were 2-1 up going into the last minute of normal time, and then they equalised in the 94th minute. They beat us on penalties, which are always a lottery.
"I'm really looking forward to playing for Darlington, the fanbase here is brilliant – I've seen how much the fans have raised with Boost the Budget.
"I'm also looking forward to playing in front of crowds of over 1300, it should be a great atmosphere. Anything in this division over 1,000 is really good."