Liam returns and Thommo reaches 250 as Quakers prepare for Blyth test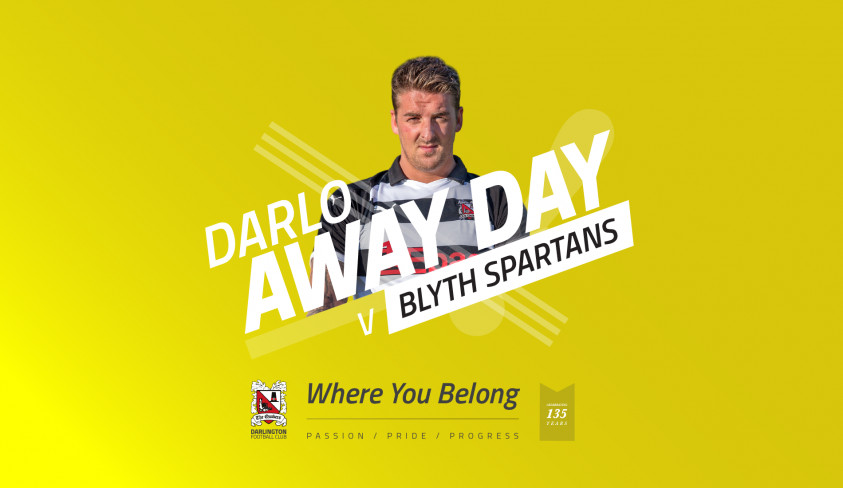 Two new signings in the squad as well
Darlington striker Stephen Thompson is all set to make his 250th league start when Quakers go to Blyth on Saturday.
Thommo signed from Durham City in September 2012 in the Northern League season, and has established himself as a firm crowd favourite with some fantastic displays and has scored 89 goals.
Back in the squad on Saturday is defender Liam Hughes, who has had a leave of absence for the last four weeks.
And also included in the squad is striker Wilson Kneeshaw, who has just been signed for the second time, and defender Sam Muggleton who has just arrived on loan from Chesterfield.
We travel north looking to pick up our first away win since October.
Under Alun Armstrong's management, Blyth sit in 11th place three points off the final playoff spot and seven better off than ourselves. The side struggled at the start of the season, however, a long unbeaten run which only ended recently at home to Hereford has seen them move into playoff contention.
We met early on this season at Blackwell Meadows, a game which despite dominating we were only able to take a 1-1 draw from the game thanks to Reece Styche's goal.
While we were without a game last weekend, Blyth travelled to National Premier side Leyton Orient in the last 16 of the FA Trophy, but they fell to a 1-0 defeat.
Our two recent trips to Croft Park have seen us win 1-0 thanks to a fantastic Lee Gaskell strike and last season's 3-1 defeat, Tommy Wright's first game in charge.
Coverage of Saturday's game will be on the official website, Twitter and Darlo Fans Radio.
Stats pack
Darlington
League position: 18th
Away form: played 14, won 2, drawn 8, lost 4, goals for 23, goals 30, points 14 out of 32
Team News: Liam Hughes returns to the Darlington squad after a month's absence. Joe Wheatley has recovered from illness.
Leading scorer: Jordan Nicholson 9, Harvey Saunders 7, Andrew Nelson 6
Position in form table of last six matches: 11th
Last six matches
January 26th Curzon Ashton 1 Darlington 1 (Elliott)
Team: Maddison, Trotman, Galbraith, Wheatley (sub Kokolo 66), Ainge, Smith, Elliott, Palmer, Saunders, Thompson, Nicholson (sub Henshall 66). Subs: Glover, J Burn, Morrison,
January 19th Spennymoor (home) lost 1-2 Thompson pen
January 12th Alfreton (away) drew 0-0
January 5th Kidderminster (home) won 3-0 Thompson, Nicholson, Smith
January 1st York City (away) lost 0-4
December 29th Ashton United (home) won 2-1 Nelson
Blyth
League position : 11th
Home form: Played 14, won 7, drawn 2, lost 5, goals for 28, goals against 22, points 23 out of 39
Position in form table of last six league matches: 12th
Last six matches
February 2nd: Leyton Orient Trophy (away) lost 0-1
January 26th: Hereford (home) lost 2-3 Green, Fewster
January 19th : Bradford PA (away) drew 1-1 Reid
January 12th Boreham Wood (home) Trophy won 1-0 Maguire
January 5th Alfreton (home) drew 1-1 Dale
January 1st Spennymoor (away) drew 2-2 Cunningham, Reid
Last time we met:
August 15th 2018
Darlington 1 (Styche) Blyth 1 (Maguire)
Darlington: Maddison, Trotman, Collins, Burn, Galbraith, Henshall (sub Syers 75), Wheatley, Elliott, Thompson; Styche, Ainge
Subs: O'Hanlon, Nicholson, Hughes, Saunders
Blyth: Jameson, Nicholson, Watson, Green, Buddle, Cunningham, Rivers (sub Wrightson 46), Reid, Maguire (sub Ardelean 82), Holmes (sub Horner 73), Oliver
Subs: Skirpan, Butler