Ray Simpson / 13th June 2018
  In the latest of his Memory Match series, Simon Weatherill looks back to the away game a...
---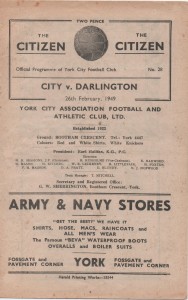 In the latest of his Memory Match series, Simon Weatherill looks back to the away game at York City on 25th February 1949
The late 1940s were a boom time for professional football in England. Attendances reached record levels in the 1947/48 season, then these record figures were smashed again the following year. 1948/49 still holds the record for the biggest attendance figures ever. Over five million people watched Division 3 North games over the course of the season, at an average of 10,833 per game!
Darlington began the 48/49 season in fine style with four straight victories to take them to the top of the table. They opened with two home wins, 3-0 v Accrington Stanley and 2-0 v Hartlepools. Then they followed that up with two away wins at Rochdale (4-3) and then the return fixture at Hartlepools (1-0). Albert Quinn, a new signing from Sunderland, scored 5 goals in those opening 4 games. Not a bad start to his Darlington career. The good form continued and the Quakers remained towards the top of the table although by February, Hull City and Rotherham had started to pull away at the top and a gap had developed to the rest of the division. As Darlington prepared for their away game at York City on February 26th, they sat in third place in the league with 35 points from 29 games. Rotherham were top with 42 from 28 and Hull sat second with 40 from 25. York sat just behind the Quakers, in 7th place with 30 points from 28 games (two points for a win in those days).
Darlington had beaten Crewe 4-1 at Feethams on the previous Saturday and so named an unchanged eleven to face York. The Minstermen had also won their previous game, 3-2 at Hartlepools but were forced into one change. Right half Ron Spence had an ankle injury and was replaced by Albert Brenen.
A crowd of 10,586 (paying receipts of £720) crammed into Bootham Crescent to see the game kick off in bright sunshine. York started with a blustery wind behind them but it was Darlington, playing with short, accurate passing who looked the more dangerous and were first to threaten. Right winger Jim Turney cleverly beat two defenders and played in a dangerous cross but none of his team mates were there to meet it. Alf Patrick then headed just wide of the Darlington goal from a George Ivey cross, but the Quakers broke away and took the lead in the 12th minute. Tom Varty played in Albert Quinn down the left wing and he made his way to the by-line before pulling the ball back to Jim Turney who scored with a clever header. A couple of minutes later Turney went close again with another good effort but this time he was just too high. Darlington kept up the pressure and on 15 minutes they increased their lead. Quinn was the provider again, this time collecting the ball from Tommy Ward before crossing to the far post where the ball was met by Ken Bower who drove it into the net.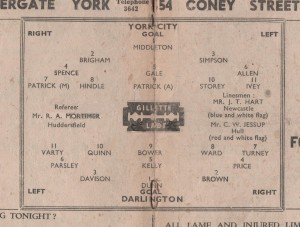 Two minutes later York were back in the game with a goal of their own. They were awarded a free kick for handball and Brenen swung it into the goalmouth where after a brief scramble it was stabbed home by Alf Patrick.
Using the strong wind to their advantage York began to exert some pressure. They had three corners in quick succession, then Dunn was forced into a superb save from Tom Hindle. Dunn was quickly called into action again when he saved at close range from Ivey, then just before half time York came close to an equaliser when Alf Patrick headed just over after a cross by Sid Storey. Half time: York City 1 Darlington 2.
The second half started with end to end football and both sides having chances. Matt Patrick made a good run for the home side, in which he beat two men but then he was stopped by Ernie Price, who cleared his lines well. Turney and Bower then threatened for the Quakers but they were stopped by home full back John Simpson. In a breakaway, Alf Patrick shot just wide of the Darlington post then at the other end Varty hesitated when well placed in the York area and allowed Simpson to intercept.
In the 65th minute the Quakers increased their lead with a superb goal by Quinn. Ward had possession on the right and played a high cross into the goalmouth. Home centre half Tom Gale failed to clear, and the ball fell to Quinn with his back to goal. He swivelled around on his right foot and lashed the ball home with his left.
On 77 minutes Darlington scored a fourth goal after Simpson had handled in the box. Quinn firing home the penalty. Three minutes later it was five, as Ward fired a terrific shot towards goal, that was punched away by home keeper Matt Middleton, but the ball fell to Bower who steered it back past him into the net.
York threw men forward in the closing stages and were rewarded with a consolation goal when Matt Patrick fired home in the 82nd minute to make the final score: York City 2 Darlington 5.
The win kept the Quakers in third place, and they continued to have a good season. They eventually finished in fourth place with 46 points, 4 points behind Doncaster Rovers in third, but both sides were well adrift of Hull and Rotherham. Hull eventually winning the one and only promotion spot with 65 points.
The 48/49 season proved to be the best ever season for attendances at Feethams. The record attendance for a Division 3N game at the ground was broken three times. On October 9th, 14,590 saw a 2-0 victory over Rotherham. Then on October 23rd, 15,326 saw a 1-5 defeat by Doncaster, and on March 12th the record was broken again when 17,978 saw a narrow 0-1 home defeat by eventual champions Hull City. The average home gate for the season was an amazing 10,235.
York City produced an 8 page programme priced at 2d. Mostly adverts, with very little reading material, the team line-ups are on the centre pages.
Team v York: 1 Billy Dunn 2 Roy Brown 3 Joe Davison 4 Ernie Price 5 Tom Kelly 6 Wilf Parsley 7 Jim Turney 8 Tommy Ward 9 Ken Bower 10 Albert Quinn 11 Tom Varty.
Share this