Preview: Quakers at Guiseley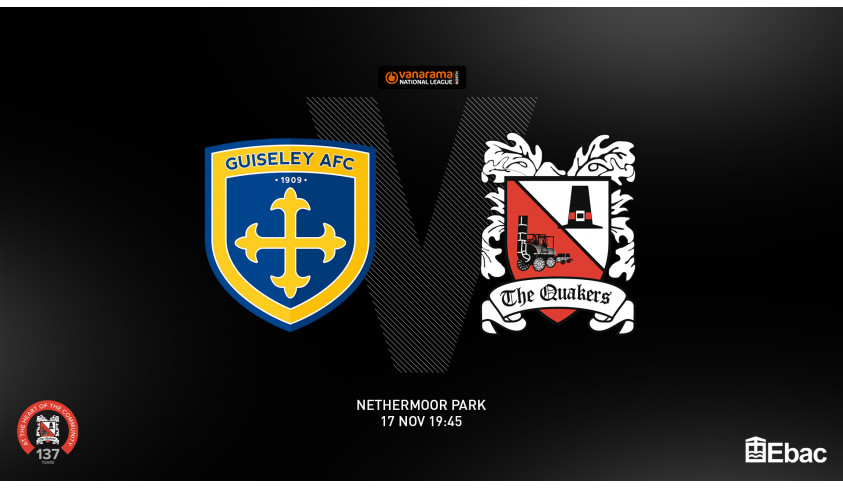 Looking for second away win of the season
We are looking to bounce back from Saturday's defeat at home to Telford when we go to Nethermoor tonight.
Manager Alun Armstrong was far from happy with the Telford performance, and said; "I thought we played some good football in the first half, but we gave away some soft goals.
"The players know that we must be much better tonight."
Quakers won 2-1 in the corresponding fixture last season, when Will Hatfield and Adam Campbell scored.
While Quakers have only played four games because of FA Cup commitments, Guiseley have only played three because of a recent Covid outbreak in the camp. Their last game was on 27th October, three weeks ago.
You can watch tonight's game for free (or a donation) here via Guiseley's website:
https://guiseleyafc.co.uk/home-clash-with-darlington-to-be-streamed-live-on-youtube-for-free/
The game is also being covered by Darlo Fans Radio, the official Twitter and official website
Darlington:
Team News:
Nicky Hunt is out, recovering from a head injury, he is currently following concussion protocols until 24th October
Luke Charman will probably be missing because of an ankle injury.
Joe Wheatley could be back in the side, he was missing for family reasons on Saturday.
Quakers form (League and cup): WLLWWWWL
Leading scorers in all comps: Luke Charman 4, Jarrett Rivers 3, Adam Campbell 3
League position in National League North: 19th played 4 , won 1 lost 2, goals scored 5 against 6 points 3
Recent matches
14TH November v Telford (home) lost 1-2 Sousa
Team; Saltmer, Hedley, Laing, Storey, Liddle, Hatfield, Atkinson (sub Holness 74), Reid, Rivers, Sousa, Campbell (sub Maguire 64),
Subs: Minter, Hudson, McMahon
Highlights:
https://www.youtube.com/watch?v=oRQJMPJqCdc
10th November v Boston United (home) abandoned after 87 minutes
7th November v Swindon Town (Away) won 2-1 Campbell 2
31st October v Curzon Ashton (away) won 3-0 Campbell, Reid, Rivers
24th October FA Cup 4Q Cambridge City (home) won 2-0 Charman 2
13th October FA Cup 3Q Tadcaster (home) won 6-1 Donawa 2, Storey, Liddle, Rivers 2
10th October Kidderminster (home) lost 1-3 Penny og
6th October Fylde (away) lost 0-1
3rd October Prescot Cables (home) FA Cup 2Q drew 2-2 won 5-4 on penalties Charman 2
Guiseley
Joint Managers: Marcus Bignot and Russ O'Neill
Results so far: WWWLLD
Their last game was 27th October: Boston (away) drew 1-1 Newall 90
Guiseley (3-5-2): Brad Wade; Dan Cowan, Hamza Bencherif, Brad Nicholson (Lewis Hey 78); George Cantrill, Prince Ekpolo, Lebron Mbeka, Mark Howarth (Nathan Newall 46), Gabriel Johnson; Kian Harratt (Matt Gillam 79), Jonathan Wafula. Subs (not used): Isaac Currie, Ashton Hall.
Highlights:
https://www.youtube.com/watch?v=ucetKSw-V1Q
24th October FA Cup 4Q FC United (away) lost 1-2
17th October Hereford (home) lost 0-1
13th october FA Cup 3Q Matlock (home) won 2-0
6th October Blyth (home) won 4-0
3rd October FA Cup 2Q Atherton Coll (home) won 4-0
League position 18th played 3, won 1, drawn 1 lost 1, goals scored 5, conceded 2 points 4.
Top scorer: Kaine Felix 3
Last meetings;
1st February 2020: Darlington 0 Guiseley 3
21st January 2020: Guiseley 1 Darlington 2
https://www.youtube.com/watch?v=Bw92sdYxwOU&t=366s
22nd April 2019 Guiseley 1 Darlington 0
3rd November 2018 Darlington 0 Guiseley 0
Connections between the two clubs:
Will Hatfield used to play for Guiseley, and scored against them last season
How to follow the game:
Via the Guiseley website:
https://guiseleyafc.co.uk/home-clash-with-darlington-to-be-streamed-live-on-youtube-for-free/
Darlo Fans Radio
Official Twitter
Official website