Preview: Quakers looking for revenge in Trophy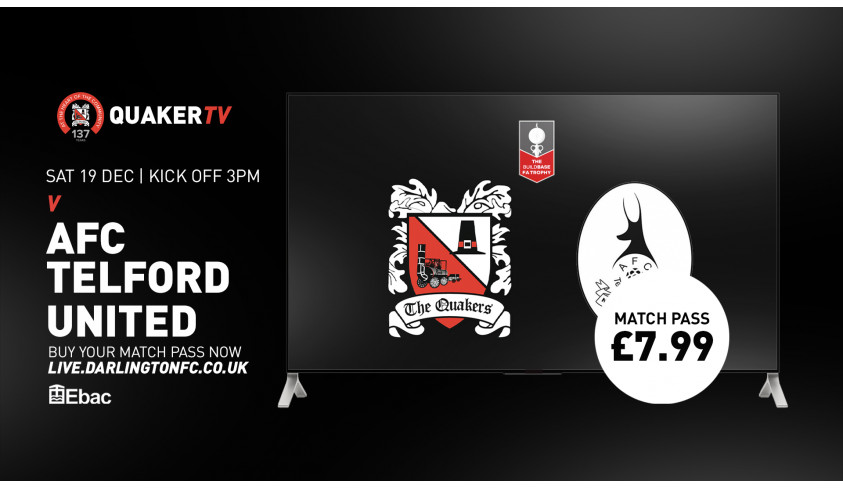 Place in last 32 at stake
We take on Telford on Saturday looking to progress to the last 32 of the Buildbase FA Trophy.
We're also looking for revenge, after losing by 2-1 at home to Telford in the league last month.
Both clubs won in midweek: we defeated City of Liverpool 2-0, while Telford set a club record by winning 10-1 at Coleshill.
This will be the third time the clubs have met in the Trophy: We won 3-0 in our Wembley run in 2011, they beat us at Blackwell Meadows two years ago.
The winner of today's game will go into the fourth round draw on Monday. The ties for the next round are due to be played on 16th January.
Saturday's game is being generously sponsored by Sunshine Holidays:
Darlington:
Team News:
Michael Liddle will have a fitness test, otherwise there are no injuries.
Quakers form (League and cup): WLLWWWWLWWLLW
Leading scorers in all comps: Adam Campbell 5, Luke Charman 5, Jarrett Rivers 3, Erico Sousa 3
League position in National League North 21st – no club has played fewer games than Quakers. We have as many as seven games in hand on some of the clubs above us
played 7, won 3, lost 4, goals scored 11 conceded 8, points 9
Recent matches
16th December v City of Liverpool Trophy (home) won 2-0 Charman, Sousa
Team: Minter, McMahon, Laing, Hunt, Watson, Hatfield, Wheatley, Campbell (sub o'Neill 62), Rivers, Sousa (sub Hudson 81), Charman (sub Maguire 62)
Subs: Saltmer, Holness, Atkinson, Reid
Highlights:
https://www.youtube.com/watch?v=KYrynktuZMM
29TH November v Bristol Rovers FA Cup 2 (away) lost 0-6
Team: Saltmer, McMahon, Hunt, Atkinson, Watson, Hatfield (sub Hudson 87), Reid (sub O'Neill 46), Wheatley, Campbell, Charman (sub Holness 63), Rivers. Subs: Laing, Hedley, Maguire, Minter
24th November v Bradford PA (home) lost 0-1
21st November v Alfreton (away) won 2-0 Sousa, Campbell
17th November v Guiseley (away) won 4-1 Sousa, Maguire 2, Campbell
14TH November v Telford (home) lost 1-2 Sousa
10th November v Boston United (home) abandoned after 86 minutes – re-arranged for 16th February.
7th November v Swindon Town (Away) FA Cup 1 won 2-1 Campbell 2
Here's our half time advert roll on Quaker TV:
AFC Telford United
Manager: Gavin Cowan
League position in National League North – 6th
Played 13, won 5, drawn 3, lost 5, goals scored 15. Against 15, points 18
Recent results:
15th December v Coleshill (away) won 10-1 McHale 3, Williams 3, Vaughan, Hardy, Byrne, Jones
12th December v Kettering (home) drew 0-0
5th December v Farsley (away) lost 0-2
28th November v Guiseley (home) won 2-0 Lilly, Davies
Leading scorers: Dom McHale, Aaron Williams 7
Previous meetings:
This season:
14th November 2020 Darlington 1 (Sousa) Telford 2 (Oswell, McHale)
Darlington: Saltmer, Hedley, Laing, Storey, Liddle, Hatfield, Atkinson (sub Holness 74), Reid, Rivers, Sousa, Campbell (sub Maguire 64), Subs: Minter, Hudson, McMahon
Telford; Griffiths, Vaughan, Streete, Sutton (sub White 73), Jones, Walker, Lilly, McHale (sub Hardy 79), Oswell, Davies, Bond Subs: Rawlins, Williams, Barnes-Homer
Highlights: https://www.youtube.com/watch?v=oRQJMPJqCdc
7th March 2020 Telford 1 Darlington 2 (Campbell, Hatfield)
Darlington: Elliott, Hedley (sub Watson 89), Laing, Galbraith, Liddle, Wheatley, Hatfield, Rivers, Holness (sub Atkinson 71), Thompson (sub Donawa 74), Campbell
Subs not used: Reid, Martin. Booking: Holness
Highlights:
30th November 2019 Darlington 2 (Storey, Donawa) Telford 3.
We were 2-0 up at half time, Telford sub Marcus Dinanga scored a hat trick
Connell, Hedley, Liddle, Wheatley, Storey, Laing, Donawa, Hatfield, Campbell (sub Rivers 65), Lambert, Thompson. Subs: Elliott, Holliday, Holness, Bascome Booking: Wheatley
Highlights:
https://www.youtube.com/watch?v=z9Y7ym_3pi4
2018-19
Darlington 3 (Nicholson, Saunders, Thompson) Telford 0 , Telford 3 Darlington 1 (Saunders)
FA Trophy: Darlington 0 Telford 2
Highlights of the trophy game:
https://www.youtube.com/watch?v=tKp31p7NrLQ
2017-18
Darlington 0 Telford 1, Telford 0 Darlington 0
Some Connections between the two clubs:
Everton signed Darlington keeper Fred Barber after manager Howard Kendall had seen the keeper play for Quakers against Telford in the FA Cup in 1985 (we lost that game 3-0)
We beat Telford 3-0 in the third round of the FA Trophy in 2011, they beat us 2-0 in the third qualifying round two seasons ago.
How to follow the game:
Quaker Tv -- £7.99 Here's the link to buy your match pass.
https://live.darlingtonfc.co.uk/
Darlo Fans Radio
Official website
Official Twitter Official_Darlo