Quakers announce partnership with #HerGameToo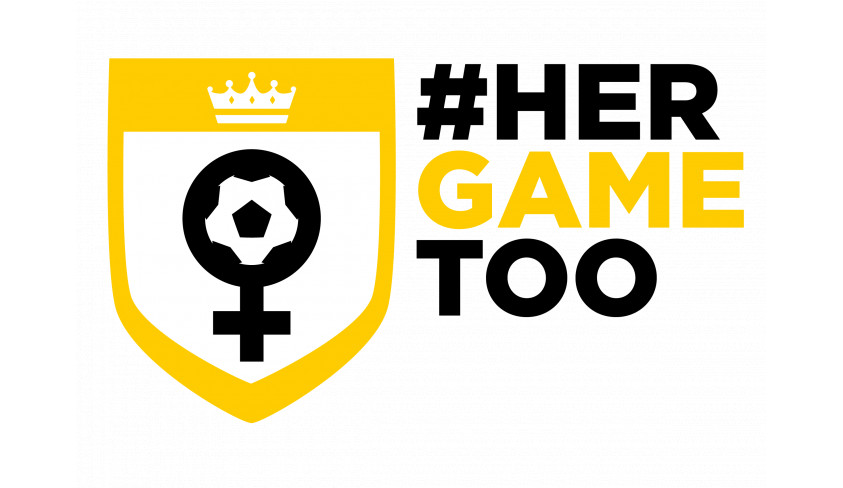 Shirt sleeve deal for the Women's team until the end of the season
Darlington FC are delighted to announce a new partnership with the #HerGameToo campaign.
Darlington FC and #HerGameToo have agreed that the organisation's logo will be worn on the sleeves of our women's team shirts over the rest of the season – starting with this Sunday's big league game at Blackwell Meadows against Gateshead Leam Rangers, kick off 2pm.
The campaign was launched last year, with its opening video just before the Emirates FA Cup final gaining over one million views.
Included in the aims of the campaign are:
To create awareness of the misogynistic culture in football
Develop a strong sense of community
Create regular content to champion women in football
Create strong relationships with clubs
Continue to campaign against sexism in football
Continue to campaign against online abuse
Sexist abuse or harassment of any sort will not be tolerated by Darlington FC and by working closely with the #HerGameToo campaign, we want to ensure that all female supporters, no matter which club they follow, feel safe while watching games at Blackwell Meadows.
Darlington chief executive officer David Johnston said; "We are delighted to support the #HerGameToo campaign because as a football club, we are determined to be welcoming, open and inclusive for everyone.
"We have a large number of female supporters who come to our home matches, and we also run a Women's team and several girls' teams. It is important that they feel a respected and an integral part of the club."
Darlington's Women's team manager Shaun MacKenzie said; "As the Women's manager and Girls Development Officer for the Youth section, I am delighted that the club have teamed up with the campaign 'Her Game Too.'
"It's important to recognise and respect the role that women play in football. The campaign has been formed by the fans and as a fan-owned club, I feel we will form a great partnership for the future.
"Once again we are at the heart of the community and it's vitally important that we strive to ensure that football is for everyone and so is our club."
And Toni Upton, the skipper of our Women's team, added; "As a player and a football fan I've seen first hand some of the negative reactions to a female loving and being part of the game.
"Football should be open for everyone to enjoy without discrimination. #HerGameToo are standing up for women and girls involved in football and starting to drive some real positive change. I'm proud to be play for and be a part of Darlington Football Club who are partnering with #HerGameToo and excited to help promote an environment where everyone can feel comfortable and safe to enjoy the game without prejudice."
#HerGameToo co-founder and ambassador Eve Ralph said; "Her Game Too is a campaign that was initially set up by a group of female football fans aiming to raise awareness for the sexism that goes on in today's game. Our aims include creating opportunities for more girls and ladies in football, creating a safe platform to call out sexist abuse, and to educate. We are so grateful for the amazing support from Darlington FC which will help us to spread the message and encourage a more inclusive environment."
Find out more about Her Game Too here:
.