Quaker Women have to settle for a point against Spraire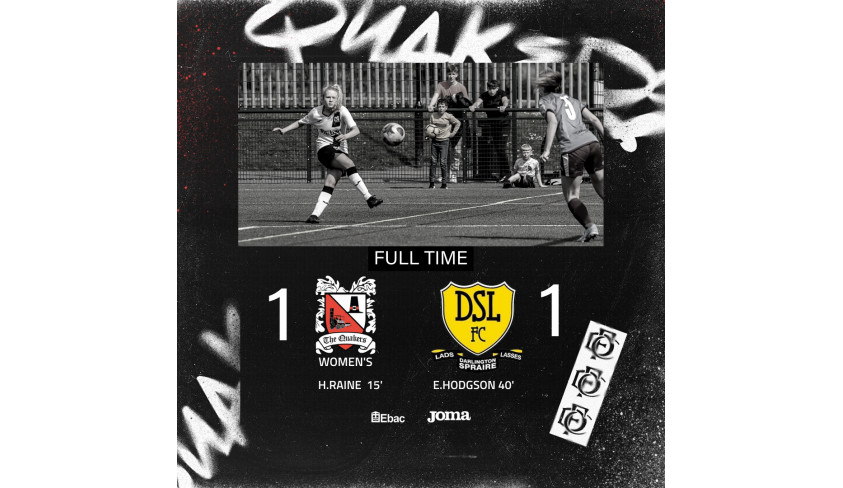 Finishing lets them down
Darlington Women looked back on several missed chances which cost them victory against Darlington Spraire on Thursday night.
Quakers deserved more than a point for the their good football and the number of chances they created, but the Spraire keeper had a blinder, pulling off several good saves, including one from a penalty.
Manager Shaun MacKenzie said; "I feel we were unlucky not to get the three points, it's a game we should have won. We have got to be more clinical in games and show more composure in front of goal.
"One positive that we can take is the desire the girls showed to try and win the game, I can not question their effort and every single one of them put a shift in, unfortunately we just couldn't get the winner we deserved. You have those days and we will be looking to finish off a good season with a win in our last game on Sunday against Chester Le Street Amazons."
Match Report from Chris Barrett:
It wasn't a fast start to the game with no clear chances for either team early on. Spraire had looked to have engineered a chance after 7 minutes and it took a last ditch tackle from Alice Wearmouth to stop the attack.
This seemed to spark Darlington into life and got a good chance of their own after 13 minutes when the ball was switched from Aimee Dagnall to Emma Doudican on the left hand side, the keeper was rushing out with Doudican managing to get the ball round her but struck over from a tight angle.
Two minutes later, Dagnall got the ball again this time from centre left and managed to lift it through a gap in the middle to find Hattie Raine who managed to get the ball past the keeper lifted into the side netting. 1-0 Darlo.
Darlington dominated the play and were creating some chances, efforts again from Doudican and Raine but they could not be converted. After 40 minutes a rare counter was not dealt with by Darlington and a defensive breakdown allowed the attacker to cut inside to get a free strike at goal to fire in the equaliser.
Darlington quickly fashioned another good chance getting down the right hand side with Chloe Bright putting a cross into the middle but with the goal gaping the ball was put over. The second half Darlington again were dominant with the ball but could not create clear chances and were restricted to long range efforts from Dagnall and Raine.
On 64 minutes some persistent attacking play from Katie Sheridan allowed her to get into the box and created a half chance for herself but put the shot just wide.
Darlington were given a great chance on 71 minutes when a ball put into the Spraire box was touched by the defender and Darlington were awarded a penalty. Hattie Raine stepped up and it was put low in the right hand corner but it was well saved and pushed wide by the keeper.
Darlington did not relent and continued to attack, constantly pressing and constantly winning the ball back in the middle of the park with captain Toni Upton winning numerous tackles to retrieve the ball.
Darlington couldn't get a breakthrough and came closest in the dying embers when a shot from Raine looped high over the keeper and came back out off the bar with Dagnall following up but unable to get a clean contact and the keeper saved again.
It was a frustrating match for Darlington with player of the match Lacey Baldwin doing a great job in the middle breaking up play to set the attacks but Darlington lacked enough of a cutting edge up front to get the deserved win which would have been a great way to sign off at home for the great support that they have received from the fans this season and we hope to see more next season.
The last game is away to Chester-Le-Street Amazons on Sunday with Darlington hoping to finish with a flourish.
STARTING XI
12: Atkinson,
11: Bright,
19: Large,
5: Wearmouth,
13: Peart,
3: Carter,
7: Baldwin
10: Upton (c),
16: Dagnall,
8: Doudican,
9: Raine,
Substitutes: Whittaker, Garnett, Paduriaru, Sheridan, Whitworth, Frew and Tinkler
The Women's last game is at Chester-le-Street on Sunday, kick off 2pm.
https://fulltime.thefa.com/table.html?league=901345664&selectedSeason=85293540&selectedDivision=371387182&selectedCompetition=0&selectedFixtureGroupKey=1_97264698
We'd like to thank our kit sponsors:
Hattie Raine (sponsored by Krystal Sells), Emma Carter (The Cheese and Wine Shop), Emma Doudican (Winroths Hairdressers), Sarah Frew (Chic Beauty Academy), Martina Cuccunato (Premier 1 Filtration), Caisey Lee (Engage to Learn), Olivia Whitworth (Terry Farley MBE), Natalie Peart (RA Dalton Ltd), Toni Upton (Dawn Fire Safety), Alice Wearmouth (Direct Flooring), Chloe Bright (Jordan Hanratty Personal Training), Chloe Tinkler (Glen and Mary Bowes), Millie Garnett (eco Hair Salon), Aimee Dagnall (Andrew Scullion), Gabrielle Padurianu (John Vickerman), Lily Large (Arthur Wharton Foundation), Katie Sheridan (Arthur Wharton Foundation)