Quakers looking for first ever home win over Leamington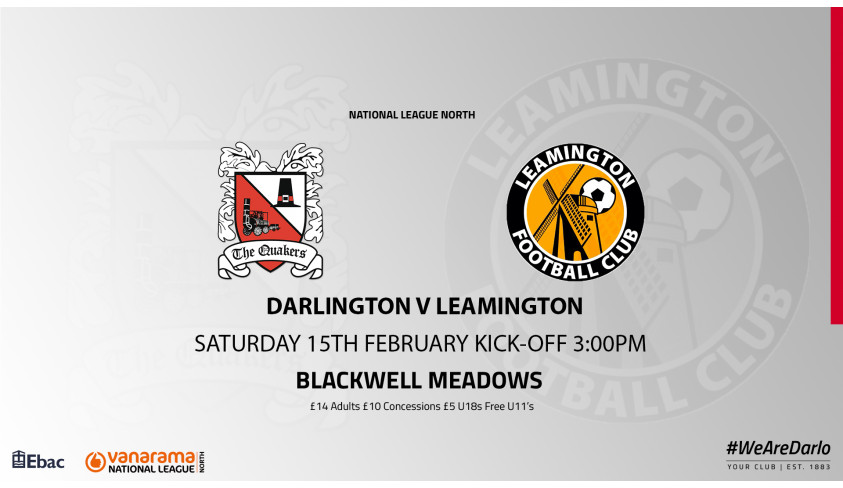 Last two home games have been draws
We play Leamington for the third time this season when the Warwickshire side visit Blackwell Meadows on Saturday.
We've been to Leamington twice this season -- we won there in the FA Cup on our way to the first round, but we lost badly in the league there at the start of December.
We've never beaten Leamington at Blackwell Meadows, our previous two matches have ended in goalless draws.
And some of our injury problems are clearing up -- Gary Martin is now fully fit, while Michael Liddle is almost 100 per cent.
If you can't make the game, why not listen on Darlo Fans Radio, or follow it on the official twitter or website?
Here's the stats file for Saturday's game:
Darlington
National League North position: 10th
home league form: played 15, won 9, drawn 2, lost 4 goals for 22, goals against 14, points 29 (out of a total of 43)
Our last seven games:
February 5th Kidderminster (away) drew 1-1 Hatfield
(Watch Will's superb shot again) https://www.youtube.com/watch?v=CC7FVkuKrmc
Connell, Hedley, Watson, Wheatley, Laing, Galbraith, Rivers, Hatfield, Campbell, Reid (Sub Holness 73), Thompson (sub Donawa 69)
Subs: Elliott, Storey, Atkinson
February 1st Guiseley (home) lost 0-3
January 25th Chester (away) lost 0-3
January 21st Guiseley (away) won 2-1 Campbell, Hatfield
January 18th Alfreton (home) won 3-0 Campbell 2, Donawa
January 11th Harrogate(home) lost 0-2 Trophy
January 8th Solihull (home) won 1-0 Holness Trophy
Leading scorers: 13 Adam Campbell, 9 Justin Donawa, 7 Tyrone O'Neill, 6 Stephen Thompson
Team News: Right back Luke Trotman and striker Jamie Holmes are both ruled out
Michael Liddle is nearly 100 percent after a hamstring problem.
Gary Martin is expected to be fit after recovering from a hamstring injury
Leamington
League position: 16th
Away league form played 14, won 3, drawn 2, lost 9, goals for 20, against 34, points 11 (out of a total of 31)
Last six league matches
08/02/2020 Concord (A) FA Trophy Drew 2-2 Maycock, Morley. Lost on penalties
Team; Weaver, English, Morley, Maycock, Mace, Lane, Dunbar (sub Storer 81), Gittings, Taylor, Edwards, Anderson
Subs: Bremang, McFarlane, Rawlings, James, Newey.

01/02/2020 Gateshead (A) Lost 4-2 Edwards, Taylor

25/01/2020 Spennymoor (A) Lost 2-0

21/01/2020 Gateshead (H) Drew 0-0

18/01/2020 Chester (H) Drew 0-0

14/01/2020 Kingstonian (H) Won 1-0 FA Trophy




Manager: Paul Holleran
Goalkeepers: Jake Weaver, Ben Newey
Defenders: Stephan Morley, Tom James, Junior English, Connor Gudger, Jack Lane, James Mace, Shay Nicholson
Midfielders: Joe Clarke, Joe Parker, Kieron Dunbar, Callum Maycock, Callum Gittings, Connor Taylor, Jack Storer
Forwards: Jack Edwards, Dexter Walters, Kaiman Anderson, David Bremang, Kyle McFarlane
Admission prices:
Adults £14,
Concessions £10,
Under 18s £5
accompanied children under 11 free
Last time we met:
League 3rd December 2019 Leamington 3 Darlington 0
https://www.youtube.com/watch?v=VJyUpTouC6U
FA Cup 6th October 2019 Leamington 0 Darlington 2
https://www.youtube.com/watch?v=9u5A4wGQupY
and last season, on 29th April 2019, it was a 1-1 draw at our place in Tommy Wright's last game in charge.
https://www.youtube.com/watch?v=b7AHBpVrTSA