Quakers looking for second National League scalp in three days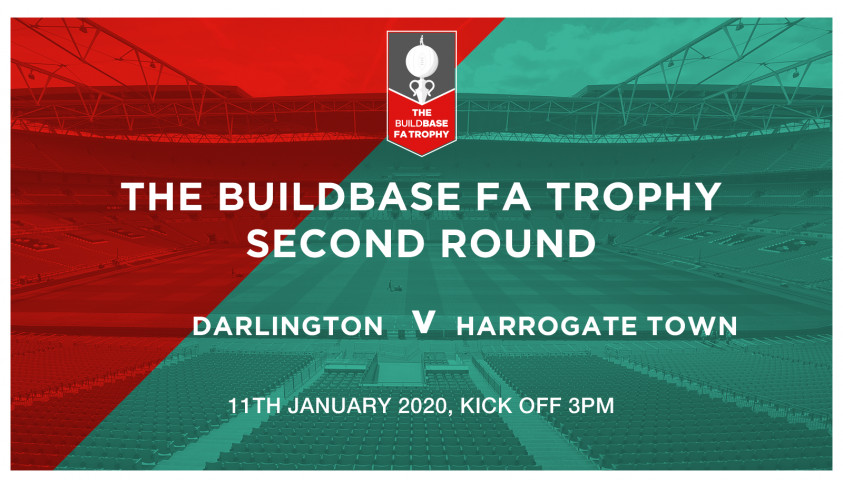 Place in the last 16 up for grabs
We're looking to beat our second National League side in the space of three days when Harrogate Town visit Blackwell Meadows on Saturday.
Confidence is high after beating Solihull courtesy of an Omar Holness goal, which means that we've lost only once in our last eight league and cup matches.
Here's the stats file for Saturday's game:
Darlington
National League North position: 10th (30 places between the clubs)
Home league form: played 13, won 8, drawn 2, lost 3, goals scored 19, goals against 11, points 26 (out of 36)
Our last seven games:
January 8th Solihull (home) won 1-0 Holness FA Trophy 1
Elliott, Hedley, Liddle, Holness, Laing, Storey, Rivers, Hatfield, Campbell, Donawa, Thompson (sub Galbraith 80)
Subs: Watson, Hall, Atkinson, Bascome, Bell, Lambert
January 4th Gloucester (home) won 2-1 Reid, Campbell
January 1st Spennymoor (away) lost 1-3 Donawa
December 28th Blyth (away) won 2-0 Donawa, Reid
December 26th Spennymoor (home) won 2-1 Campbell, Thompson
December 21st York City (away) won 1-0 Campbell
December 14th Solihull (away) drew 2-2 Hatfield, Lambert FA Trophy
Leading scorers: 10 Adam Campbell, 8 Justin Donawa, 7 Tyrone O'Neill, 6 Stephen Thompson
Team News: Right back Luke Trotman and striker Jamie Holmes are both ruled out
Sean Reid is ineligible, having already played for Morpeth.
David Atkinson is fit again and included in the squad.
Joe Wheatley is still struggling with an injury
Liam Connell is prevented from playing by his parent club South Shields.
Manager Alun Armstrong chats about the Solihull win and the Harrogate game here:
https://darlingtonfc.co.uk/news/video-the-lads-were-outstanding
Harrogate Town
League position in National League 3rd
Away league form : played 15 won 5, drawn 4, lost 6 goals scored 22, goals conceded 24 (conceded 4 at each of Dagenham, Eastleigh and Torquay) points 19 out of 52
Last six matches
4th January Maidenhead (home) won 1-0 Hall
1st January Hartlepool (away) won 1-0 Stead
28th December Chorley (away) won 2-0 Muldoon, Stead
26th December Hartlepool (home) won 4-1 Kerry, Muldoon 2, Falkingham
21st December Boreham Wood (away) lost 1-2 Bradley
14th December Hartlepool (home) FA Trophy won 3-2 Hall, Kiernan, Kioso og
Here are the highlights of that game:
https://www.youtube.com/watch?v=frbhousU0IM
Manager: Simon Weaver
Goalkeepers: James Belshaw, Joe Cracknell
Defenders: Ryan Fallowfield, George Smith, Matt Taylor, Toby Lees, Connor Hall, Will Smith
Midfielders: Josh Falkingham, Warren Burrell, George Thomson, Jack Emmett, Brendan Kiernan, Alex Bradley, Lloyd Kerry, Scott Brown, Liam Agnew
Forwards: Mark Beck, Sam Jones, Jon Stead, Jack Muldoon, Jack Diamond
Last time we played Harrogate
November 25th 2017 FA Trophy Darlington 2 Harrogate 3
https://www.youtube.com/watch?v=vWlkO53rF6k
Admission prices:
Adults £12
Concessions £8
Under 18s £5
Under 11s: free (if accompanied)
£2 supplement for seats (under 11s free)
If you're not going to the game, follow the match on Darlo Fans Radio, the official website and official Twitter!