Quakers looking for second win in three days tonight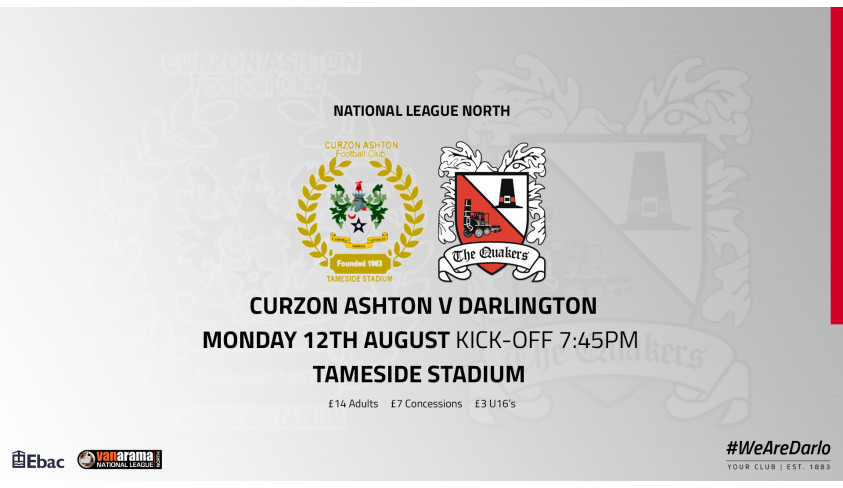 Preview of tonight's away game at the Tameside Stadium
We go to Curzon Ashton on Monday night full of confidence following a good 3-0 home win over Kettering, our first of the season.
Goals by Stephen Thompson (2) and Jarrett Rivers were the main features of an entertaining performance.
Here's AA talking about that game, and looking ahead to Curzon.
https://www.youtube.com/watch?v=ABXcJOFqwIU
There are several audio and video player interviews also on the website. Stephen Thompson talks about Saturday's game in which he scored twice, and now has 96 goals to his credit.
https://www.youtube.com/watch?v=5iYuceOr_tY
Our last game:
Kettering (home) won 3-0 Thompson 2, Rivers
Team: Elliott, Liddle, Watson, Bascome, Laing, Galbraith (sub Heaton 73), Rivers, Hatfield (sub Holness 82), Campbell, Thompson, O'Neill. (sub Donawa 65)
Subs: Bell, Wheatley
Team News: Right back Luke Trotman is ruled out for the season with an achilles problem, while striker Jamie Holmes is out with a cartilage problem. Midfielder David Atkinson is doubtful with a foot injury, he's possibly still a game or two away from a full return.
AA reports one or two knocks, but nothing serious. He took Terry Galbraith off against Kettering purely as a precaution.
Curzon Ashton squad
Manager Mark Bradshaw (appointed midway through last season)
Goalkeepers: Cameron Mason, Mark McCoy
Defenders: James Baillie, Jack O'Leary, Matthew Regan, Daniel Shaw, Moussa Samassa, Oliver Thornley.
Midfielders: Mohamud Ali, Joshua Askew, Jack Banister, Elliot Cooke, Liam Davies, Robert Evans, Andrew Halls, Louis Khoury, Bradley lynch, Luke Merrill, Sean Miller, Isaac Sinclair, Luke Wall, Nicky Wroe
Forwards: Michael Elstone, Callum Saunders.
Results so far:
10th August Leamington (away) drew 1-1 Miller
Mason, Halls, Askew, Wroe (sub Sinclair 70), Ali, Thornley, Elstone (sub Davies 58), Evans, Saunders, Merrill, Wall (sub Miller 70)
Subs not used: Shaw, Banister
6th August Southport (away) drew 0-0
3rd August Bradford PA (home) won 5-0 Sinclair, Wall, Miller, Thornley, Merrill
Curzon Ashton recent history
2018/19 NLN 18th
2017/18 NLN 18th
2016/17 NLN 14th
2015/16 NLN 11th
2014/15 Northern Premier League Premier – 4th (won play offs)
Our last meetings:
26th January 2019
Curzon Ashton 1 (Reilly) Darlington 1 (Elliott)
Team: Maddison, Trotman, Galbraith, Wheatley (sub Kokolo 66), Ainge, Smith, Elliott, Palmer, Saunders, Thompson, Nicholson (sub Henshall 66)
Subs: Glover, J Burn, Morrison
The time before:
30th September 2017 (Martin Gray's last game)
Curzon Ashton 1 Darlington 0
Bartlett, Marrs, Ferguson, Turnbull, Collins, Galbraith, Thompson (sub Cartman 59), Wheatley, Beck, Gillies (sub Saunders 75) Dawson (sub Portas 57)
Subs: Wilczynski, Scott.
You can follow the game on the club's official website, Twitter, and Darlo Fans Radio