Ray Simpson / 12th February 2016
[caption id="attachment_17446" align="alignnone" width="195"] Liam Hardy[/caption]Darlington have to...
---
[caption id="attachment_17446" align="alignnone" width="195"]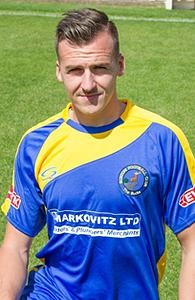 Liam Hardy
[/caption]
Darlington have today signed striker Liam Hardy from Premier Division colleagues Buxton.
Liam is one of the most highly rated strikers in the Premier Division, having scored 26 goals for Buxton in all competitions last season, and this year has scored 19 goals for them, making him the top league scorer in the Premier Division. One of his goals this season was against Quakers at Heritage Park, when he lobbed Peter Jameson from 30 yards out, but that wasn't enough to stop them losing 3-1.
Earlier in his career, he scored 46 goals in a season for Armthorpe in the Northern Counties East League, and just before Christmas, on December 15th , he scored one of the fastest ever hat tricks in Buxton's history against Barwell. Four days later he scored another hat trick against Mickleover.
All the necessary paperwork has finally been completed today -- there are certain formalities which the club must undertake with the football bodies before announcing a new signing -- and manager Martin Gray said; "Liam is another big signing for us, he's exactly what we want at this stage of the season in terms of boosting the squad and providing us with extra firepower.
"We have put a lot of hard work into his signing over the last few weeks, and it has finally paid off. We were in competition with several other clubs, and happily he chose us."
Corporate director John Tempest said; "We're delighted that Liam is joining, and his arrival demonstrates our intention to keep moving the club forward, and to win promotion.
"We have agreed this transfer with the club's financial position fully in mind. There have been several components to this transfer and other transfer activity this week, which has brought about a cost neutral signing."
Liam, 25, will be added to the squad for the away game at Salford on Saturday.
Share this