Sam revs up to support the Quakers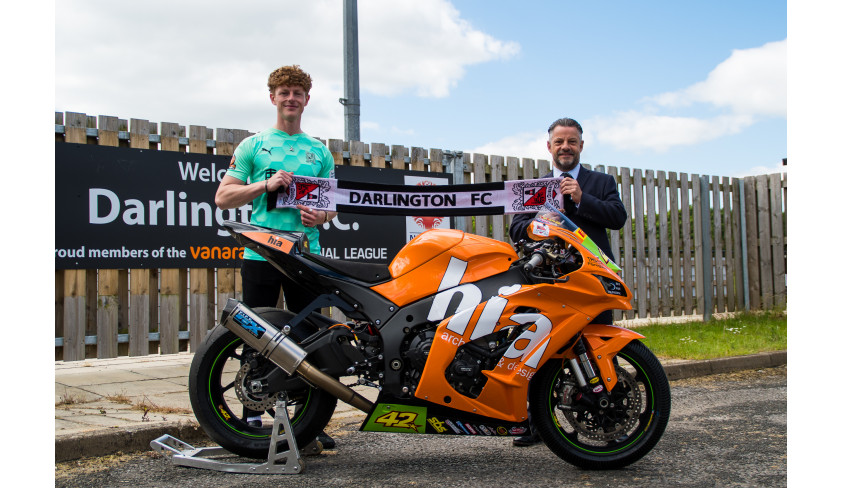 Darlo fan will wear his shirt in Superstocks Racing
Top class motorcycle racing and semi-professional soccer may not be a successful combination that many would consider but in the case of Sam Holme and Darlington Football Club, it's one that's revving up for success this year.
Sam is one of the country's most promising youngsters in the sport and will be racing all over the country aboard his 1000cc Kawasaki in the National Superstock Championship which is capable of top speeds of around 190mph.
But on his weekends off, Sam and the rest of his family will be following the Quakers as they have done for many years, travelling from their home at Elvington near York as season ticket holders at Blackwell Meadows.
Such is Sam's loyalty to Darlington Football Club, whereas many of his competitors wear the corporate team clothing promoting sponsors, Sam's team simply wear the latest replica DFC kits in their paddock awning, which always attracts a lot of attention from the tens of thousands of race fans who attend each meeting.
And this year, Sam is planning on going one better by promoting Darlo on his machine and race transporter too in a bid to help the fan-owned club increase their profile after the devastation of the COVID-19 pandemic which had a major impact.
On Saturday Sam visited Blackwell Meadows with his machine and met Darlington FC Chief Executive Officer David Johnston who wished him luck in the season ahead.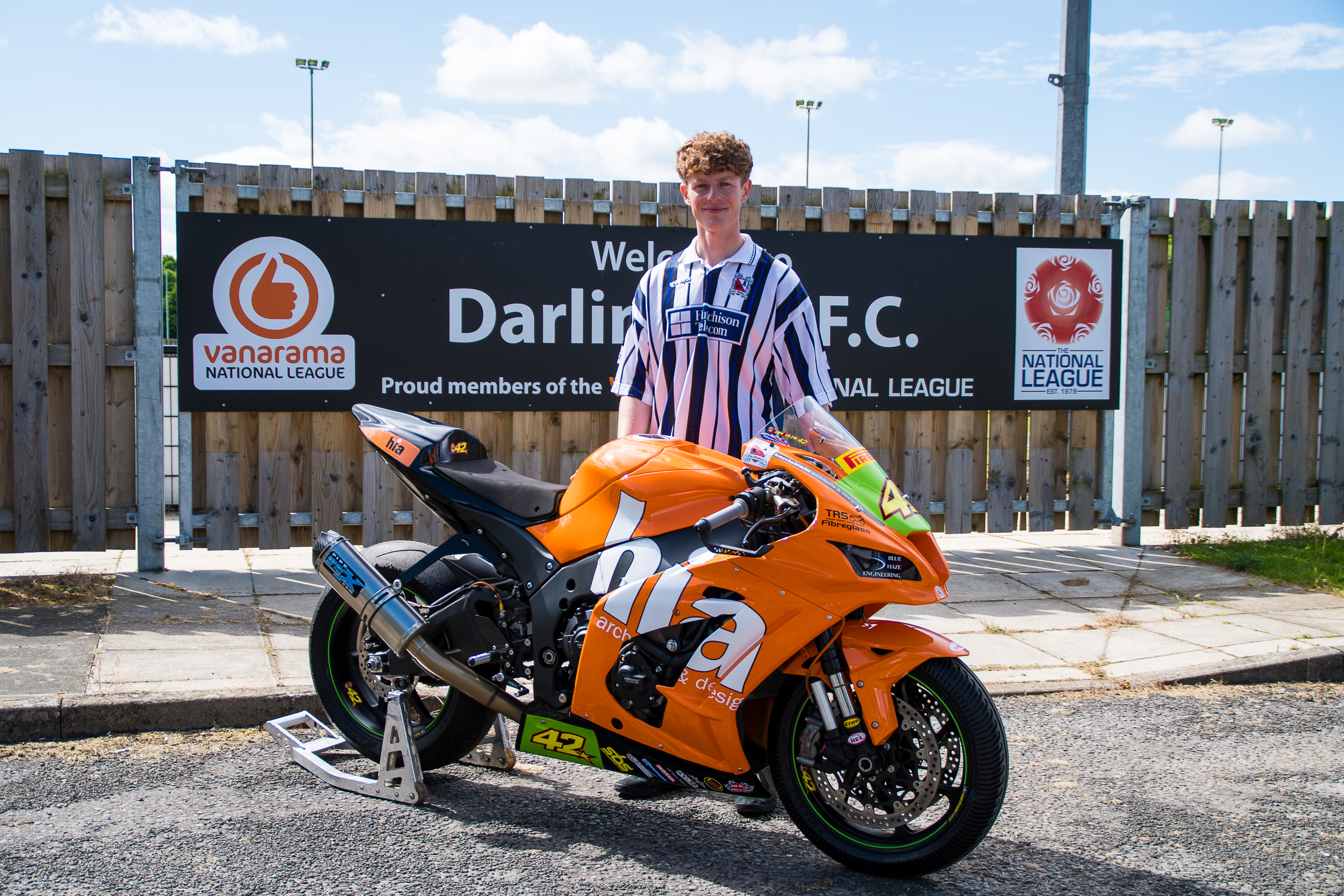 Sam said: "I love racing bikes, but I also love Darlington Football Club, so I figured how better to show my support than for my team to wear the Quakers colours at race meetings which has proved a huge hit with the fans because its unique. It's important we maximise the club's profile and when you consider the fantastic effort by our fans with the recent Boost the Budget campaign again, I'm trying to do my bit. In my game, the winner gets the champagne so hopefully the lads can have some of that too when they win the league next year!"
"We'll be watching Sam's progress this season with plenty of interest, " said Johnston,"and it will be great to see him throughout the motorbike racing season on TV representing Darlington Football Club. He is as passionate about his football as he is about his motorbike racing and has been following the club for over twenty years, so we all hope that he is rewarded with success on both fronts in the coming months. It was very pleasing to meet him, and he came across as a very ambitious person who wants to be one of the best in motorbike racing. We all wish him well."
Sam will be in action at the opening round of the Pirelli National Superstock Championship at Oulton Park in Cheshire on June 25/26/27 which will be televised live on Eurosport and Quest with highlights on various channels thereafter.
Sam chatted to the official website -- you can listen to his interview here: