Take advantage of a great new advertising opportunity on Quaker TV!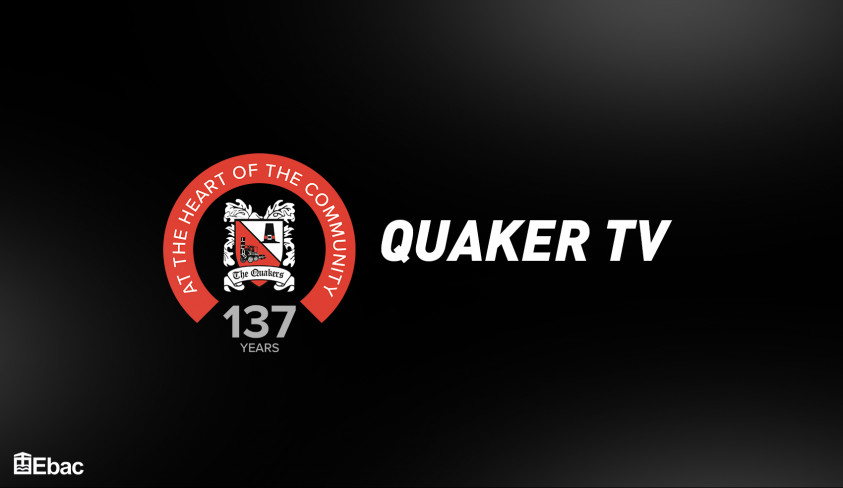 A great chance to advertise your company
Advertise your company on Quaker TV!
As you are probably aware, Darlington Football Club have joined forces with one of the leading live production companies in the country, CJP Broadcast Service Solutions, to produce our exciting new live streaming service, Quaker TV!
Quaker TV is equipped with a Streamstar X4 Live Production Studio and is being used to live stream every Darlington home game this season. The feedback we have received from the games we've streamed so far has been outstanding. Take a look at the quality of our live stream broadcasting, from the Prescot Cables FA Cup game highlights including the penalty shoot-out, by clicking on the link below
https://darlingtonfc.co.uk/news/video-darlington-v-prescot-cables-highlights
Quaker TV is run entirely by Darlington FC volunteers, who have previously done a terrific job in making sure that the popular Darlington FC You Tube channel and Darlo Fans Radio have achieved a high standard and reached a worldwide audience over the last eight years.
Quaker TV now has the capacity to use a four camera HD platform and broadcasts all Darlington FC home matches to a national and international audience. New features include graphics, close up action, cameras on the 18 yard lines, and half and full time highlights.
The Club can now provide a fantastic opportunity for sponsors, current and new, to advertise on Quaker TV to a potential global audience of thousands!
Your advert, in the form of a full colour graphic designed by you, will form part of an advertising loop and your advert will be screened for between 10–15 seconds, several times during the live stream transmission. We are looking to run the advertising loop before the game and at half time, at least.
There are 20 home league games left in the 2020/21 season and to advertise your business and brand on Quaker TV for the rest of this season will cost £500+VAT, the equivalent of just £25+VAT per game!
If you would like to advertise your business live on Quaker TV, contact the club as soon as possible on commercial@darlingtonfc.org
We will then work with you to receive your full colour graphic in time to launch this advertising scheme at the home game v Boston on Tuesday 10th November.