Adam scores his 15th of the season to give Quakers superb victory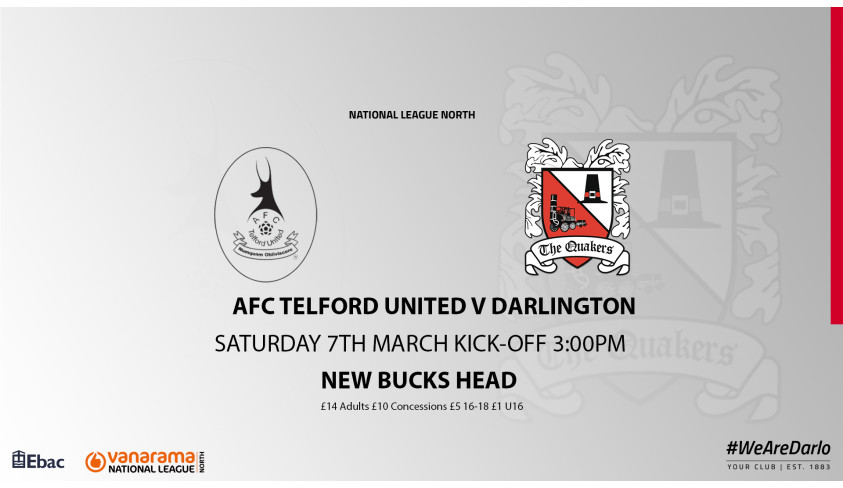 First league win at Telford since 1990.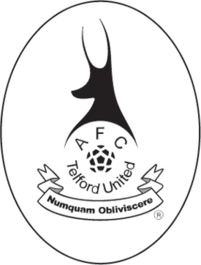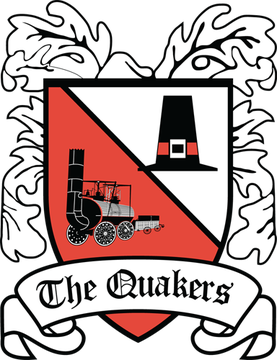 Telford United 1 Darlington 2
Hatfield 13 mins 0-1, Dinanga 36 mins, 1-1, Campbell 58 mins, 1-2
Attendance 1,106
Well taken goals by Will Hatfield and Adam Campbell gave Quakers a thoroughly deserved win at the New Buck's Head this afternoon.
Despite playing on a dreadful pitch, Quakers produced some excellent football and created several good chances. The first was another screamer by Will Hatfield, and the second a neatly placed shot by Adam Campbell from a terrific Louis Laing through ball.
But they could have scored more goals on top of those, as they played some great one-touch football -- as manager Alun Armstrong said later, it was probably Quakers' best performance of the season.
The result means that Quakers have won a league game at Telford for the first time since 1990, and are ninth in the table, four points behind the play offs.
Defending the heavy end, Quakers went close on 2 minutes. Will Hatfield got down the right to the bye line and pulled the ball back for Adam Campbell on the volley, to fire just over.
Quakers nearly fell behind on 7 minutes. Galbraith couldn't quite clear a left wing cross, and the ball dropped to Dinanga, who fired straight at Elliott.
Quakers took the lead on 12 minutes. Hatfield made a great run down the right, and his left foot shot was deflected wide for a corner on the left hand side.
From Jarrett Rivers' corner, Joe Wheatley played the ball square for Hatfield, who took a touch, looked up, and hit a fierce low right foot shot past Griffiths into the net, his fourth of the season.
It was nearly 2-0 on 18 minutes when Omar Holness ran forward and hit a right foot shot that grazed the crossbar.
A minute later, a poor headed back pass by a Telford defender went to Campbell, who ran on, but dragged his shot wide.
Quakers seemed to be in control and looking good for a second, but Telford levelled on 36 minutes. Quakers lost possession, and Telford made progress up the left where the ball was pulled back by Brendon Daniels for Marcus Dinanga to sidefoot in.
But the visitors nearly went back in front on 43 minutes. Again, Telford gave Hatfield time to control the ball, look up, and strike a left foot shot from 25 yards that went just over the top.
Half time 1-1
It was nearly 2-1 to Quakers just after half time. Rivers broke up the left over the sand and found Omar Holness, who crossed to the far post, and Stephen Thompson coming in, had a diving header blocked by a defender.
Wheatley then found Campbell on the right, and the striker's low cross was almost touched in by Rivers at the near post, and in Quakers' next attack, Hatfield played a lovely ball off to his right for Holness to hit a fierce shot that Griffiths blocked.
It was all Darlo at this point, and it was no surprise when Quakers regained the lead on 58 minutes. Laing, with the ball inside his own half, played a great 40 yard diagonal ball over the Telford defence for Campbell to chest down, run on, and slot past the keeper -- his 15th in total this season.
There was nearly another when Wheatley put Rivers through, but the winger miskicked on the surface and Griffiths saved.
Rivers then had another shot blocked. Donawa then came on as sub and put a great ball across from the right, but a defender just cleared.
Hatfield then beat three men and put Rivers in, but Rivers' shot was blocked at the near post.
Quakers comfortably saw the game out though for their sixth away win of the season, and the first at Telford since 1990.
Elliott, Hedley (sub Watson 89), Liddle, Wheatley, Laing, Galbraith, Rivers, Hatfield, Campbell, Holness (sub Atkinson 71), Thompson (sub Donawa 74)
Subs Watson, Reid, Martin
Booking: Holness
Telford:
Griffiths, White, Deeney, Lilly, Sutton, Streete, Barnett (sub Stenson 73), Walker, Dinanga, McQuilkin (sub Williams 62), Daniels
Subs: Royle, Knights, Stenson, Jones
Booking: Lilly
The Telford pitch