The story of the 1989-90 season part 1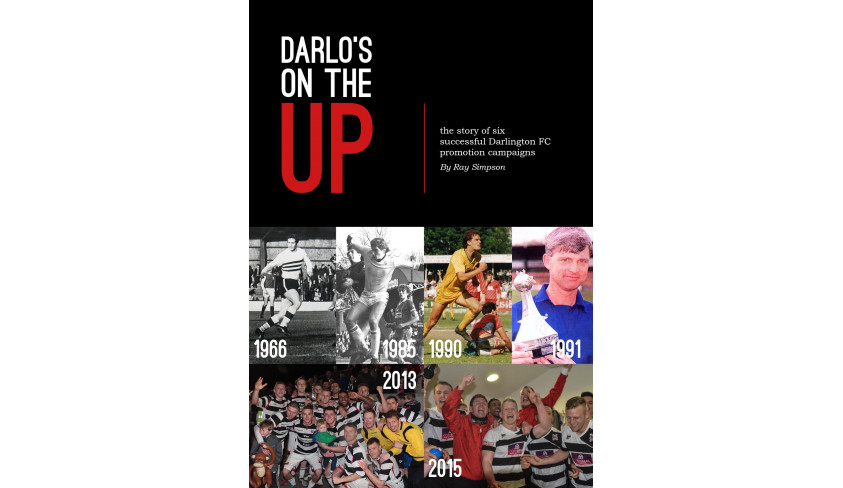 How the Conference season unfolded
Brian Little was appointed manager of Quakers in February 1989, and that started a magical two seasons in which the club won the GM Vauxhall Conference title and Fourth Division title.
Thanks to the popular book Darlo's on the Up, here's the story of that season, beginning with the great start to the season.
The 1989-90 season was a brand new adventure as far as Quakers were concerned. Relegated from the Football League in bottom place behind Colchester the previous season despite a late revival after former Aston Villa hero Brian Little was appointed manager, there was optimism mixed with apprehension as they prepared for a campaign which they hoped would end in a successful promotion back to the Football League. Quakers were one of only two clubs in the Conference who were full time, the other being Barnet, owned by businessman Stan Flashman.
The stakes were high, but Brian Little's summer of rebuilding backed by chairman Dick Corden, had fired the imagination of the fans. Little released 19 of the previous season's squad, and during the summer, he paid Hartlepool United a club record £40,000 for midfielder Andy Toman. People wondered why Toman had dropped down to the Conference when he was good enough to play higher than the Fourth Division, and he pointed out; "In no way is this a backward step. This is a new era at Darlington and I want to be a part of it."
Little said; "Andy has been my number one transfer target for a long time and the deal speaks volumes for this club's long term aims."
The transfer made Darlington fans sit up and take notice because this was a club that had previously relied mainly on free transfers, the odd exceptions in previous years being Carl Airey and Bobby Cummings.
Little went back to Hartlepool, paying another £8,000 for John Borthwick at a transfer tribunal, and he also snapped up striker David Cork – who had once played for Arsenal -- on a free from Scunthorpe United.
Little also paid £20,000 to York City to bring popular defender Kevan Smith, a 1985 promotion winner, back to the club. "Smudger" had originally left Feethams for Rotherham and Coventry – he was there when they won the FA Cup in 1987 -- before moving on to York.
"I can't wait for the season to start," said Smith. "I feel wanted here and anyway there's no bigger sucker for a challenge then me. It's like coming again being back at Darlington. The squad is as good as any in the Fourth Division, but of course we can never prove that. I've been part of one promotion-winning squad here, and now I intend to make it a double."
Little also brought in former Sunderland defender David Corner on a free from Leyton Orient, and youngster Drew Coverdale – who was also studying to be a physio – from Middlesbrough.
Another big signing was left back Frank Gray, a former Scotland international freed by Sunderland, as player-coach. Also joining the coaching team was former Boro player Tony McAndrew as youth team coach.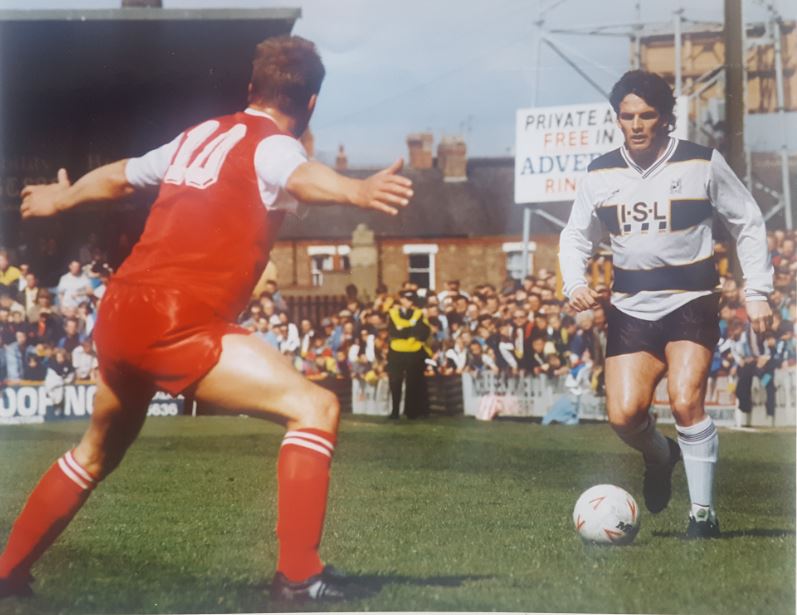 Overall, Little built a strong squad and he felt that "our professionalism will be a big help" in gaining promotion. Chairman Dick Corden said; "It is important to win the Conference and get back into the league at the first attempt. And if the manager needs money to achieve that, then we will try to help."
Ian Murtagh wrote in the Northern Echo; "For Darlington to win the Vauxhall Conference, these players that Little has picked up must prove their worth."
Before the first Conference game, Little said; "We have given the lads one or two lessons on this league during the past few days. An awful lot of people are wishing us well and there is a lot of talk about Darlington bouncing straight back into the League.
"While that is our clear objective, we have made it clear to the players just how ambitious and hungry other clubs in this league are. Frank Gray and I think we have opened one or two eyes. Certainly there will be no room for complacency. A lot of people have got a lot to prove. They know it will be hard going. I don't think anyone here needs reminding just how vital it is that we are promoted at the first attempt."
Pre-season went well, with wins over Sunderland and Hartlepool in the Durham Senior Cup. Kevan Smith scored the only goal against a strong Sunderland side that included Marco Gabbiadini and Gary Bennett, while John Borthwick and David Corner scored in the game against Hartlepool. Quakers also beat Cowdenbeath 5-1 in a friendly.
The first Conference game was on August 26th against Kidderminster, one of the best teams in the league the previous season, at Feethams.
John Borthwick scored just 15 minutes into his debut in the one-sided 3-0 win, and eight minutes from time midfielder Mark Hine headed the second. Hine then beat three defenders and fired into the bottom corner for the third.
Nick Helliwell wrote in the Echo; "Cheers and applause returned to Feethams on Saturday – along with hope for the future – as the Quakers demolished Kidderminster."
It was an excellent performance enjoyed by many of the encouraging crowd of 2,616.
"The biggest difference in the Darlington side this season will probably be the fact that they will not give away silly goals – while all the players look capable of scoring."
Brian Little said; "It was an ideal start for us. We have had a good pre-season build up, but this was probably the hardest game we have had so far."
Even the ref, Alan Street, was praised by the Echo; "An example to many of the Football League referees who never control a game nearly as well as he did."
Darlington fans started selling "The only way is up" T shirts after the Kidderminster game, and they nearly sold out after the Northwich game at Feethams two days later on the Bank Holiday Monday, when Darlo won 4-0, in front of 2,924. "Many more performances like this comprehensive drubbing and there will have to be a reprint," wrote Nick Helliwell.
John Borthwick scored again, just five minutes into the game from an early Frank Gray free kick, and Andy Toman scored from a rebound after Drew Coverdale's shot was blocked. Toman sent David Cork running through for the third with a defence-splitting pass, then Cork, with a curling shot, set up a tap in for Borthwick.
After two straight wins the expectations were building amongst the fans, and assistant manager Frank Gray did his best to bring everyone down to earth. "I suppose it was inevitable after such a great start that optimism amongst the fans would be sky high. But we haven't had a match away from home yet and are still to meet the top sides."
Former Darlington player Dave McAughtrie, who had been released by Little during the summer, was in the Northwich side.
Quakers' first away game of the season was away to Wycombe Wanderers at their old Adams Park ground on September 2nd, and David Cork scored the only goal of the game in the 1-0 win, a powerful shot from the edge of the area in the second half. Over 300 Darlington supporters made the trip, which meant that for the third successive game, a match involving Quakers had attracted the highest crowd of the day in the Conference.
Brian Little said; "The slope of the pitch had quite an effect on the game, and I learned a bit about how to play it by listening to the instructions from the Wycombe dugout."
The first major test of the season was away to Boston, who were rated second favourites pre-season to win the Conference, and even though Darlington conceded their first goal of the season, they still comfortably won 3-1.
David Corner gave Darlington the lead from the penalty spot on 69 minutes after Mark Hine was fouled, then within a minute John Borthwick pounced on a mistake by the Boston keeper and scored the second. Chris Cook scored for Boston with seven minutes left, but Hine fired a third.
Four wins from the opening four games wasn't bad at all, and Little said; "We are pleased to be top, it's the best place to be, but we will keep reminding ourselves that we need to keep working hard to stay there. I don't want to single anyone out for special praise, it was a good all-round performance."
Nick Helliwell wrote in the Northern Echo; "Darlington's love affair with the Vauxhall Conference is gaining momentum."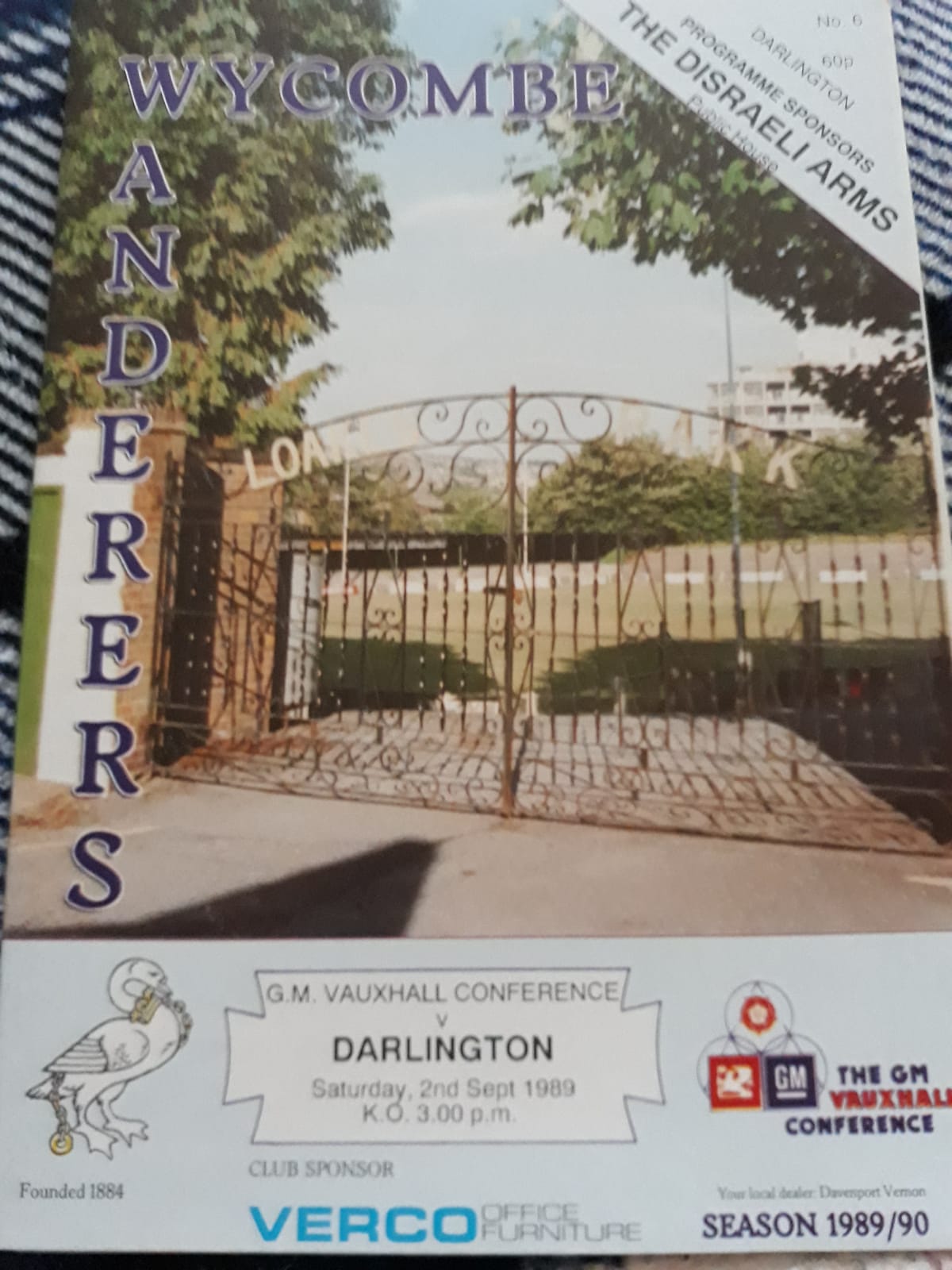 The winning start ended though when Darlo were held to a 1-1 draw at home by Telford United, although there was a promising crowd of 3,010, higher than many of those at Feethams in the previous season in the Football League.
"Fallible Quakers" was the headline in the Northern Echo. "Telford dented Darlington's newly-acquired air of invincibility and proved the virtues of organisation and determination promoted by their long serving manager Stan Storton," wrote Nick Helliwell.
John Stringer headed Telford into the lead, but Darlo levelled just before half time at the other end, when David Corner headed in a corner by Drew Coverdale. Quakers forced 18 corners in the game. After five games, Darlo were a point ahead of Northwich and two ahead of Macclesfield.
"We'll play much worse than we did against Telford and win," said Brian Little. "I felt we sat back a little too much in the first half, and we don't want to repeat that mistake. We can't afford to drop points again, and we must make our home advantage pay."
There were 2,994 in the ground against Runcorn for the next home game on September 12th, but again they saw a 1-1 draw. Mark Ferguson gave Runcorn the lead, and the visitors looked as if they would hold on until Archie Stephens equalised late on from a Drew Coverdale pass.
"Archie is saviour" said the Echo headline. "Veteran striker Archie Stephens saved Darlington from total disaster on a night when pacey Runcorn looked like taking all three points," wrote Nick Helliwell.
"Sides are playing out of their skins against us, but we will have to cope with that," said Brian Little. "I was pleased that we got something from a game we might have lost."
There were no such hiccups away from home though. Darlo won 2-0 at Yeovil on September 16th with goals by David Cork and Archie Stephens, but keeper Mark Prudhoe pulled off some good saves in the process, one in particular from Jimmy Quinn early in the second half. "Mark deserves special praise for the victory. In all the seven games he has played this season, this was the first time he was really tested," said Brian Little.
David Cork opened the scoring with a low shot from the edge of the area on 59 minutes, and Archie Stephens scored the second with an easy tap in for the third win in as many away games.
"Goalkeeper Mark Prudhoe had to call on his league experience to maintain Darlington's position at the top of the table," wrote the Echo.
Darlo had 17 points after 7 games, with Kidderminster a point behind, and Macclesfield another two further back. Barnet were seventh.
The next home game on September 23rd against Stafford Rangers saw another 3,000 plus gate for the 2-1 win.
Andy Toman gave Darlo the lead with a 25 yarder that went in off the underside of the bar. Stafford quickly levelled through Russell Turvey and threatened to take the lead, before Paul Emson latched on to a long ball by David Corner, and pulled it back for Mark Hine to sidefoot home. The victory opened up a four point gap at the top.
Little thought that the midfield duo of Mark Hine and Andy Toman was one of the best pairings in the lower divisions. "They have scored six goals in eight games between them, which from midfield is a marvellous record," he said.
"A fine second half performance wrecked Stafford's hopes of a surprise win," said the Sunday Sun.
Another away game followed, at fourth placed Chorley in midweek on September 26th, and the 100 per cent away record was maintained with a 3-0 win.
David Cork headed in a Frank Gray corner seven minutes before half time, and on 48 minutes he made it 2-0 from a Paul Emson pass. Mark Hine then brilliantly volleyed the third on 74 minutes.
Darlo were now unbeaten in nine league games, and were closing in on the Conference record. "Classy Darlington strengthened their lead with an especially satisfying victory," said the Echo.