The story of the 1989-90 season part 2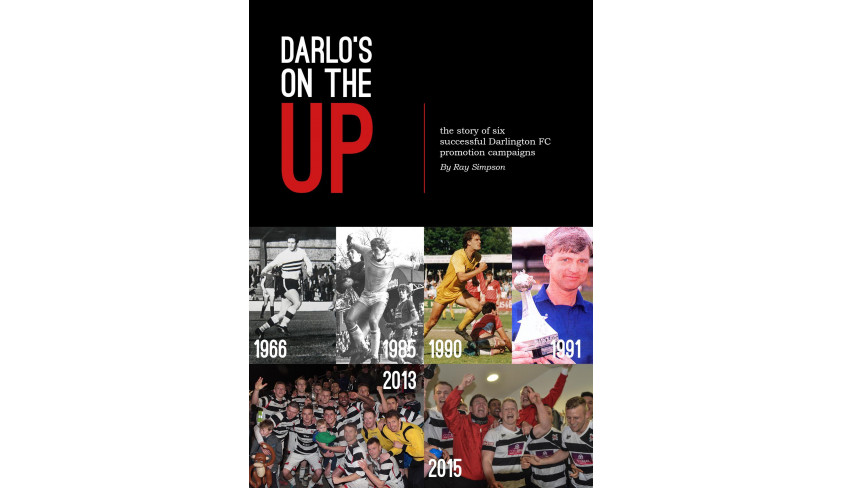 Adaptation of the popular book
Here's the second part of our adaptation of the 1989-90 Conference winning season, during which we had a head-to-head battle with Barnet for the title.
Kettering were regarded as one of Darlo's main title rivals, so the best home crowd of the season so far, 3880, were inside Feethams to see a 2-1 win on September 30th, a victory which equalled the Conference record of ten unbeaten games. "They cheered the Quakers from the beginning to the end of 90 minutes in which their side created endless chances," said the Sunday Sun.
Darlo took the lead when Kevan Smith made a good run upfield, found David Cork, and he crossed into the middle for Paul Emson to fire home from ten yards. Robbie Cooke levelled for Kettering on the hour from the penalty spot, but on 66 minutes Darlo got the winner when Mark Hine laid off a Frank Gray corner for John Borthwick to score from close range.
Brian Little said; "We said in the dressing room afterwards that we got into an awful lot of good scoring positions. For one reason or another we never made the most of them. There was no real bad finishing, the ball just didn't run for us and their keeper pulled off a couple of very good saves."
He also singled out Paul Emson for praise. "He has worked extremely hard and deserves his place on merit. I have nothing but praise for his tremendous character and attitude. He took his goal well and works to create openings for other players."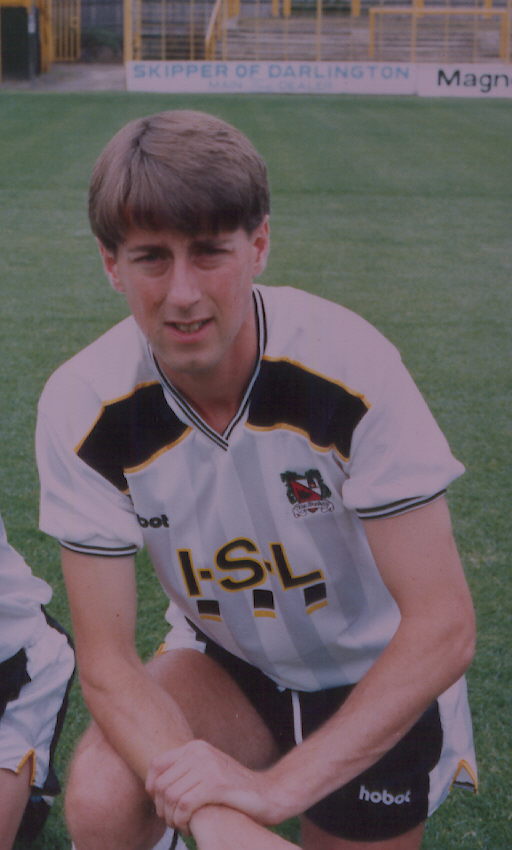 Nick Helliwell wrote in the Echo; "That the Quakers passed their latest test speaks volumes for their fitness and new-found fighting spirit. Much of Darlington's play was a delight."
Darlo were now five points clear of Macclesfield at the top, with Kidderminster another point further behind.
Another way win followed, the fifth of the season, by 3-0 at Enfield in front of 1,749, making it eleven league games unbeaten.
David Corner headed Darlo into the lead after just 8 minutes, then Kevan Smith quickly added a second. Andy Toman scored at the second attempt from a John Borthwick through ball on 24 minutes as Quakers dominated and were maybe unhappy at not adding to their tally in the second half.
Brian Little said; "Enfield didn't really have a go at us. We didn't have to do anything special to win, we just kept the game simple."
Nick Helliwell said in the Echo; "Enfield previously held the record for the longest unbeaten league run. The Quakers relieved them of that honour but the class gap was so great, it seemed unbelievable that the home side had ever held such a record." Quakers had dropped just four points so far in the season.
Meanwhile, Darlington chairman Dick Corden revealed that Quakers had turned down three substantial bids for players. "On the contrary, I have told the manager that there is money to spend if he wants it. Since the summer, there are several players whose value has soared, but that doesn't mean we'll be cashing in."
The 100 per cent away record ended though at Merthyr Tydfil's Penydarren Park on October 14th with a 1-1 draw, and in the process Darlo suffered their first dismissal of the season, when Andy Toman was sent off.
Paul Emson volleyed Darlo into the lead from the edge of the box after 11 minutes, but Ian Thompson levelled with a deflected goal for the Welshmen on 43 minutes. However, Thompson was dismissed with Toman by referee Clive Wilkes just a few minutes later for a scuffle in the centre circle. Brian Little said; "The sendings off came from probably the most innocuous challenge of the whole game. It was a hard game, but certainly not dirty." The Merthyr manager said; "I am sure that before long a referee is going to send someone off in the pre-match kickabout."
Brian Little signed winger Vic Kasule on loan from Shrewsbury after the game and intended to give him his debut against Sutton United the following Saturday, October 21st – but the game had to be postponed just a couple of hours before kick off because Sutton's train northwards out of Kings Cross at 10.30 on the Saturday morning was cancelled because of maintenance work, and so the Conference gave Sutton permission to cancel the game. Several Darlington fans who regularly travelled up from London managed to make it though. Obviously Darlington weren't happy, and chairman Dick Corden said; "If Sutton had contacted us, we'd have put the kick off back." Quakers claimed that the Londoners could have caught a later train.
On October 28th for the first time since 1924, Quakers had to play in the last qualifying round of the FA Cup at home to Runcorn, winning 4-2.
New signing Victor Kasule had a hand in the opening goal after 9 minutes when he won possession, and passed to David Cork who in turn set up John Borthwick to score.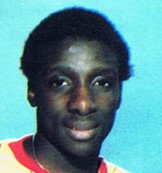 David Corner added a second after Les McJannet was brought down, and after Runcorn pulled a goal back, McJannet pounced on a poor back pass and scored. Archie Stephens made it 4-1 from a Cork backheel. Darlo were given a home tie against fellow Conference side Northwich in the draw for the first round proper.
"Victor needed the game," said Little. "He hadn't had a match for four weeks and just a week's training with us."
Nick Helliwell wrote in the Echo; "The Quakers' first – and possibly last – taste of FA Cup qualifying action proved sweet for players and fans alike."
Darlo made it to the end of October unbeaten when they beat Sutton United, the team that had defeated First Division Coventry in the previous season's FA Cup, quite easily by 2-0 in the re-arranged game on October 31st and stretched the unbeaten start in the league to 13 matches.
Sutton had won 6-1 the previous Saturday, but they never threatened. "By the time Les McJannet put Darlington ahead in the 22nd minute, he might have been scoring the fifth goal," wrote Stephen Brenkley in the Echo. Kasule scored the second after half time with a volley from David Corner's through ball. "Sign him now, sign him now" the fans sang. There was talk of a bid for the winger, who had signed for the Shrews from Meadowbank for £35,000, but he returned to Gay Meadow at the end of his loan.
"Rampant Darlington outclassed Sutton to stay firmly on course for a return to the Football League," wrote Brenkley.
Anyone who thought that Darlo were going to coast to the league title was brought down to earth at home to Barnet on November 4th. The North Londoners showed quite firmly that they were going to be Quakers' biggest rivals when they came back from a goal down to win 2-1 in front of 3,886.
Mark Hine put Quakers ahead from a David Cork flick on just before half time, but Gary Bull headed Barnet level, then Gary Poole deceived everyone with a free kick for the winner.
Nick Helliwell wrote in the Echo; "Only the most partisan Darlington supporter would deny the visitors fully deserved to win. Darlington were harried out of their stride by the best organised team to visit Feethams this season."
Brian Little said; "Barnet did to us what we have been doing to teams all season. We never played to our full potential and we helped them look a good side. We had some strange defending."
Maybe this league wasn't so easy after all! Darlo stayed four points clear at the top, with Kidderminster second, and Barnet two points further back, having played a game more.
Quakers dropped points in their next game, in a goalless draw at Macclesfield's Moss Rose, although they hit the bar four times while Darlington keeper Mark Prudhoe pulled off a great save late in the game. Andy Toman returned to the team after suspension.
Nick Helliwell wrote: "Darlington might be big fish in the Conference pool, but in front of goal they were flounders rather than sharks." It was the first time in the season that Quakers had failed to score in a league game. "Shot shy Quakers need a hit man, and they need him fast. Darlington squandered the ideal chance to all but bury Macclesfield as promotion rivals."
Captain Kevan Smith said; "I think there are only three teams in the race and we'll win it. We don't give away many goals and if we can convert our chances we'll win the title. I'd be more worried if we weren't creating chances."
The two setbacks in the league didn't bother Quakers though, as they thumped Northwich Victoria for the second time in the season, this time by 6-2 in the first round of the FA Cup on November 18th.
David Corner missed a first minute penalty, but they went ahead anyway when David Cork scored from an Andy Toman cross. Northwich quickly equalised, but Darlo went 2-1 up when Les McJannet scored. Northwich again levelled, but they were soon brushed aside. Corner headed Quakers back into the lead before half time, and he headed another on 53 minutes. Northwich then had a man sent off, and Andy Toman surged through to score the fifth. Teenager Dale Anderson, one of the bright prospects from the youth team, scored the goal of the game late on when he cut in from the right beating three men on the way, and confidently fired past the keeper.
"There were a lot of pleasing things that came out of the game," said Little, who revealed that he had blasted his players at half time for giving two goals away.
"BBC's Match of the Day men must be kicking themselves for missing the tie of the first round," wrote Nick Helliwell in the Echo.
The victory over Northwich earned Darlo a second round home tie against old friends Halifax Town, who were struggling near the bottom of the Football League. It was a chance for Quakers to prove that they could still compete against Football League teams.
But the league blip continued when Darlo lost their first away game of the season by 1-0 at Cherrywood Road against Farnborough -- not the 36th birthday present that manager Brian Little wanted.
"We let Farnborough play their own game, just as we did when Barnet beat us at home. We certainly worked hard, but not through the whole 90 minutes," said Little.
Roddy Brathwaite scored the only goal after a mistake by Kevan Smith. "We all make mistakes," said Little. "Kevan is 29 years of age. He knows he should have cleared the ball, if he doesn't know his mistakes by now, he never will. We did not play until after the goal in the final 20 minutes. But in the first half we let Farnborough play their own game as we did when Barnet beat us at home." Quakers were now three points clear of Barnet, who had played a game more.
"High flying Darlington were brought down with a hefty crash as they slumped to their first defeat away from home," said the Echo.
Welling then came to Feethams on a very foggy day on December 2nd, and to no-one's surprise, the game was abandoned at half time with Darlo leading 2-1. Well, most people thought it was. "Nervous November turned into dim December" wrote Nick Helliwell in the Echo. He pointed out that people in the main stand could only tell that there had been a Welling goal by the "cheering from the away pen."
It was back to much anticipated FA Cup action the following week, and a crowd of 4,041 turned up for the second round tie against Halifax Town. By now, Quakers had been nicknamed "The Liverpool of non-league", which was quite complimentary.
Quakers obligingly produced a big shock, winning 3-0 as the Shaymen, managed by former Bishop Auckland and Hartlepool player Billy Ayre, were swept aside in a one-sided game. "Total humiliation" said one newspaper. "Once Darlington got their noses in front after half an hour, they were always going to win," said another.
Drew Coverdale opened the scoring when he picked up Andy Toman's short free kick, dribbled through and scored, which provided some excellent copy for the media, as Coverdale was studying to be a physio.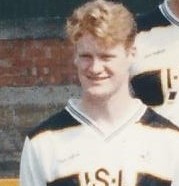 Les McJannet scored the second goal with a cheeky backheel after a mix up in the Halifax defence, then Coverdale dribbled past three defenders and crossed for John Borthwick to score the third. "What's it like to be outclassed?" sang the fans.
However, Brian Little was quick to set out Darlo's priorities after the game; "The biggest cheer from my players after the game was when they heard that Macclesfield had lost, and Darlington were still top of the table."
"Hapless Halifax were simply swept out of the cup by a Quakers side that looked superior in every department," said Nick Helliwell.
Quakers were hoping for one of the big names in the third round, but instead they were paired away to Cambridge United from the Fourth Division.
There was huge controversy in the next away league game, at Cheltenham on December 16th, when full back Les McJannet was harshly dismissed for a tackle midway through the first half of the 1-0 win. "I don't want to talk about the referee," said a tight-lipped Brian Little afterwards. "We were left to play with ten men for most of the game and we overcame the setback well. Mark Prudhoe had a great game, his handling was tremendous."
McJannet's dismissal meant that Andy Toman dropped to right back, and John Borthwick switched to midfield. Mark Prudhoe had his best game of the season with some good first half saves, but Darlo were better after the break and Paul Emson scored the winner when David Cork flicked on a long clearance for the winger to run on to and slot past the keeper.
"Defiant Darlington proved a point – or rather three – with a win against all the odds," wrote Nick Helliwell.
There was one big name in the Cheltenham line up – former Everton and Aston Villa striker Andy Gray, who lasted just over half the game before limping off injured.
The 1-0 victory put Darlo level on 37 points with Kettering and Macclesfield at the top of the table, with Barnet three points further back. Darlo had at least three games in hand on each of them.
On December 19th Darlo faced Runcorn for the third time so far in the season, but unfortunately the Cheshire side gained revenge for their FA Cup defeat by winning 2-1 at Canal Street. "Darlington were well beaten by a quicker and more determined home side," said the Echo.
John Seasman and Peter Withers put Runcorn 2-0 up with David Cork pulling a goal back. Quakers had picked up only four points from the last fifteen.
The home form was becoming more of a worry, though. On Boxing Day in front of a big crowd of 4,741, Darlo failed to win at home for the second successive league game in a goalless draw against their nearest geographical rivals Barrow. The Echo called it a "slump" and that Brian Little "should be first in the queue at the January sales" but whatever it was, the manager held quite a long "dressing room talk in" after the game. "Everyone faces a test of character now we are top of the table. We've had a good chat and stressed the need to get back to the form which took us into a strong position. I don't think there's a lot wrong. It's a question of getting back to basics," he said.
Little's response was to go back to his previous club Middlesbrough and pay around £20,000 for midfielder Gary Gill, who had experience in the First Division at Ayresome Park. "We've got ourselves a bargain," said the manager. Gill came on as a sub for John Borthwick against Chorley on December 30th, and within five minutes set up the opening goal for David Corner in the 3-0 win. David Cork then set up the second for Andy Toman with a backheel, and in turn he crossed for Paul Emson to score, and sub Gary Hyde crossed for Emson to head the third. Darlo were second in the table, two points behind Macclesfield with two games in hand. Kettering had the same number of points as Darlo (41) with Barnet on 40.
Gill said of his move; "It is a gamble and a huge step to make. But I've had six months in the reserves at Middlesbrough and I desperately want first team football."
Chris Lloyd wrote in the Echo; "Gill proves just the tonic for stuttering Quakers."
The return game against Barrow took place on New Year's Day 1990 at Holker Street (the venue for a much more emotional game 22 years later) and it resulted in a 1-1 draw in front of 4,464 fans, at least half of them from Darlo.
Andy Toman put Darlo ahead with his fifth goal of the season, but Billy Gilmour quickly equalised. Darlo nearly won it in the last minute when David Corner's header was cleared off the line.
"Barrow got plenty of men behind the ball and made it difficult for us," said Brian Little, who then bought striker Phil Linacre from Newcastle Blue Star, and surprisingly sold midfielder Mark Hine to Peterborough for £50,000.
"A goalline clearance three minutes from time robbed Darlington of a victory their battling display just about deserved," wrote Nick Helliwell.