The story of the 1989-90 season part 4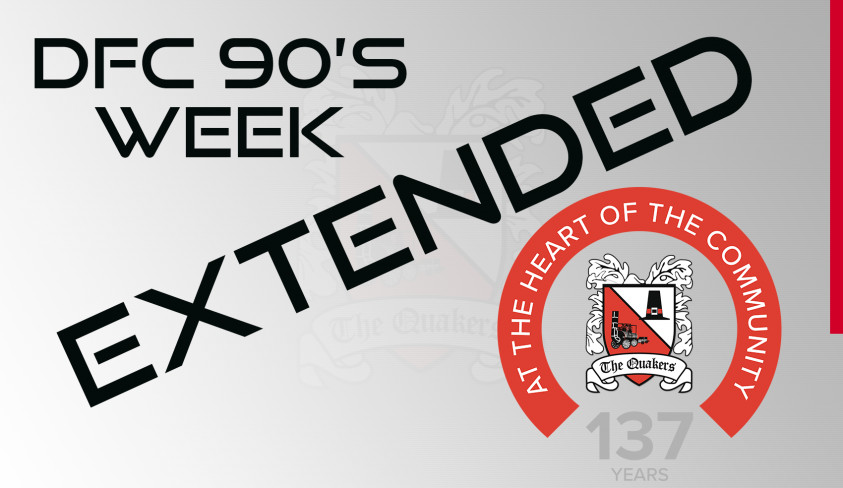 Adaptation of the popular book
During our 90s week, we've been looking back at the 1989-90 promotion campaign thanks to the popular book Darlo's on the Up.
Today is part 4, covering the period when the tension is mounting at the top of the table.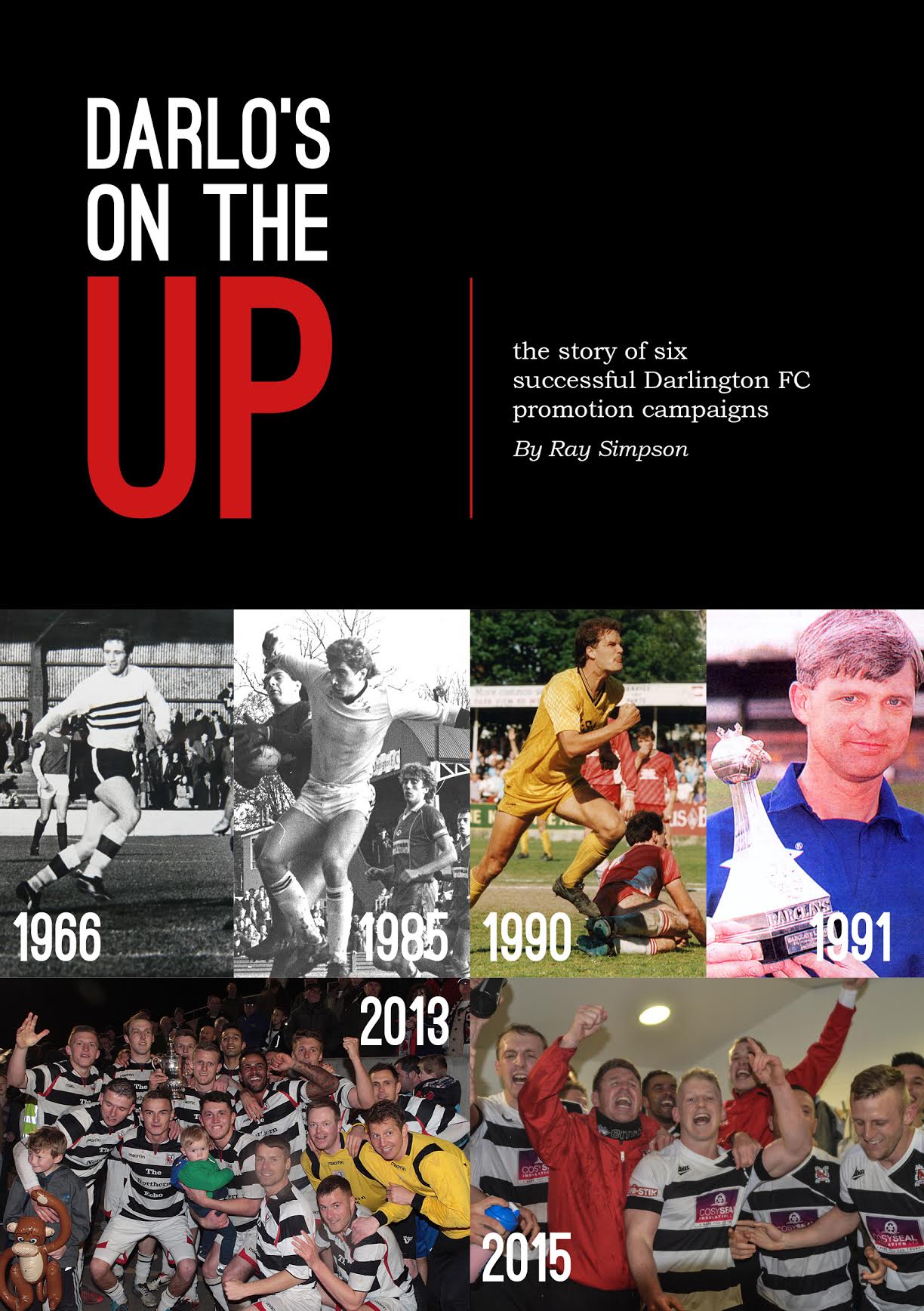 It was off to South London again the following week for an away game at Fisher Athletic, the nearest club to the Greenwich Meridian, and a comfortable 2-0 win, although Fisher had loud early appeals for a penalty turned down. Paul Emson crossed from the left for John Borthwick to head his 15th goal of the season, then Steve Mardenborough pounced on a mistake and raced away to score the second. "We were in full control throughout, and the only scare we had was when they thought they had got a penalty," said Brian Little. "But you've got to ride your luck, and we scored a couple of good goals."
Ray Simpson wrote in the Echo; "Typically professional. Again those words were used to describe Darlington as they beat lowly Fisher with plenty to spare."
Two days later on March 5th, Quakers were involved in what became known as the Battle of Northwich. Midfielder Neil Robinson went off injured early on, keeper Mark Prudhoe was taken to hospital, Kevan Smith suffered a bad cut to his head, and David Cork and Andy Toman finished the game limping as Northwich won 1-0 with a Martin Hanchard header.
The flashpoint came on 55 minutes, when Prudhoe was carried off with severe bruising of his right leg following a challenge by Northwich striker John Stringer, and the two managers got involved in a slanging match. John Borthwick deputised in goal. David Corner nearly levelled in the last minute, but his effort was cleared off the line.
The result left Quakers a point behind Barnet, with a game in hand, with Macclesfield five points behind in third.
There were fears that Prudhoe would be ruled out for the season, with what Brian Little said was "the worst injury I've ever seen. Losing three points doesn't matter, I just hope and pray that my goalkeeper will be all right. There was a hole in his leg with so much swelling." Little was so annoyed that he wrote to the league complaining about the performance of referee Ray Lucas.
Prudhoe hadn't missed a game all season. "Throughout his career, Mark has never been given a decent run in a side until this year – and now this happens." X rays revealed that his leg wasn't fractured, but there was bad muscle damage, and he was ordered to have two months' rest.
"It was without doubt the blackest night of the season in terms of injuries and the way the game went," said Brian Little.

The battle of Northwich left Quakers with plenty of injury headaches for the next game against Yeovil, with David Corner suspended as well. Young defender Gary Coatsworth and keeper Nigel Batch were added to the squad. Quakers showed their strength in depth by winning 1-0, David Cork scoring the only goal of the game when Jim Willis flicked on a Frank Gray corner.
It was former Grimsby keeper Batch's first game for over a year, and Brian Little said; "His qualities have always been his bravery and his shot stopping, and he showed that he'd lost nothing," said Brian Little.
Nick Helliwell wrote in the Echo; "There was little for the football purist to enthuse over, but the diehard Darlington fans would have been pleased enough with the outcome."
Quakers were now a point behind Barnet with a game in hand.
Not surprisingly, the manager sent a weakened team to Kidderminster for the Bob Lord Trophy tie two days later on March 12th, and he even subbed new first choice keeper Nigel Batch with teenager Matthew Coddington midway through the second half of the 3-1 defeat. Youngsters Chris Hope and Nicky Southall, later to have long careers in the Football League at other clubs, played a part in the game. On the same night, Barnet were beaten at Cheltenham in the league, so now Quakers had two games in hand on the Londoners.
Five days later on March 17th, Quakers travelled to Staffordshire in order to play Leek Town in the quarter final of the FA Trophy. Quakers were strong favourites to win the competition, but they were humbled by the minnows in a 1-0 defeat.
The Leek keeper, Robin Simpson, pulled off some good saves, but Leek got the winner five minutes from time when Trevor Russell scored from a corner.
"I can't criticise the players because I believe they played quite well and were the better side. I can't believe we lost," said Brian Little. Nor could all the Darlo fans, but at least now there would be no distraction from the promotion campaign. Wembley would have to wait.
Ray Simpson wrote in the Northern Echo; "Quakers were left wondering how a semi final place had slipped away as they virtually controlled the game from start to finish."
Leek went on to reach the final at Wembley, where they lost to Barrow.
Now, Quakers could focus solely on winning promotion, and the next game was at Altrincham, where former Ipswich striker David Geddis made his debut after being freed by Swindon and scored the winner near the end in a 1-0 win.
Kevan Smith was involved in an unusual incident in the second half. The ground is adjacent to some allotments, and the ball went out of play. A replacement ball was provided, but unnoticed by the referee who had his back to play, the first ball was thrown back on to the field into the Darlington penalty area from outside the ground.
Smudger picked it up just as the referee turned round and he promptly gave a penalty. Quakers were furious, and it was only when the linesman, urged on by frantic players, intervened to point out what had happened, that the referee Mr Millership changed his mind.
Quakers were now on 66 points, one ahead of Barnet who had played two games more.
But Quakers were knocked off the top of the league the following Saturday, March 24th, when they were held to a goalless draw by Merthyr Tydfil at Feethams while Barnet won 3-1 at Telford. Matters weren't helped by an injury to David Cork that forced him off the field early in the game. David Corner had a goal disallowed for handball.
"We've not really been firing on all cylinders lately and one or two of the players have been performing below their best," said Brian Little.
"Darlington slipped off the top of the table with one of their most disappointing home performances of the season," said the Echo.
The result set up the next game, at nearest rivals Barnet on March 31st, quite nicely, with many people calling it a title decider. There was quite a build up to the game, with Little – unusually for him – revealing his tactics and that he was going to play David Cork in midfield instead of up front, and leave out Paul Emson.
"He has recovered well from his injury. Playing him in midfield might surprise a few people, but we are doing it for a reason. And he played all his games for Scunthorpe in midfield last season," he said.
Cork didn't play in midfield, David Corner did, and instead played up front with David Geddis. The move paid off, with Darlo winning 2-0 in front of a big crowd of 5,880, over a thousand making the journey down from County Durham.
"In November Darlington stood back and allowed Barnet to play, on this occasion there was no such generosity," said Nick Helliwell in the Echo.
The first goal came from John Borthwick off a Les McJannet free kick, and then David Corner played a one-two on 44 minutes with Archie Stephens and scored the second.
Typically, Little didn't get carried away by the result, and pointed out; "I've spoken to all the players to ensure there is no complacency. Obviously this was a crucial win, but we haven't cracked it yet. That is a message I have given to the players, and the same applies to the fans."
Little revealed that his spies had watched Barnet in their previous five matches. "We felt a change of tactics was needed against Barnet."
Barnet manager Barry Fry said; "It was men against boys. I've no qualms if Darlington go up. Races are won on the line and the line is a long way off yet, that's our only consolation." Barnet included a winger called Andrew Clarke in their side, and ten years later he scored the only goal of the game for Peterborough against Quakers in the League Two play-off final in 2000.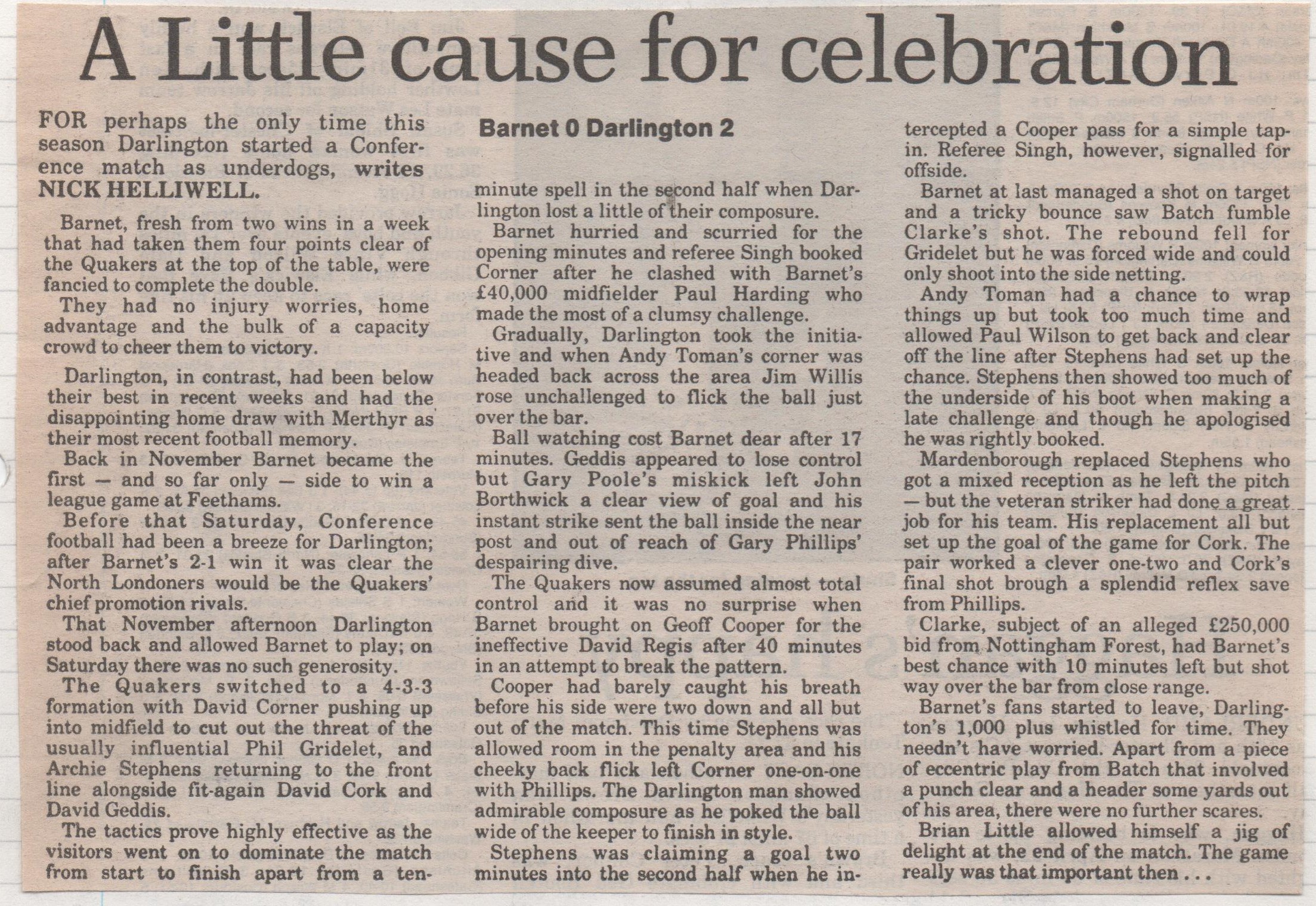 Four successive homes games followed. Surely if Darlo got something like ten points from a possible twelve, then promotion would surely be theirs?
Not quite. On April 3rd old foes Macclesfield, who were in third, came to Feethams and got a 1-1 draw, and worse still, David Geddis was sent off for elbowing an opponent in the second half. Darlo gifted Macclesfield the lead, but Andy Toman fired the equaliser. Quakers therefore missed a chance to go top. Barnet were top on 72 points, with Quakers a point behind with three games in hand.
"A moment of madness probably cost Darlington the league leadership," wrote Nick Helliwell in the Echo.
Then it was Farnborough, and they too picked up a point in a 1-1 draw. Nick Helliwell, with more than a touch of foresight, said; "Darlington are beginning to get the promotion jitters, and the fans can expect a nerve-shredding end to the season." Paul Holsgrove, later to play for Darlo in season 1999-2000, scored for Farnborough two minutes from the end to earn them a point after David Geddis headed Quakers into the lead. Darlo were sloppy, so much so that Nick wrote; "Kevan Smith must have watched a video of Death Wish 2 in midweek."
Brian Little said; "Some of our players didn't perform as well as they can, and we had a long chat after the match to try and sort things out."
Fortunately, there was a return to winning ways in the next home game, against Welling by 1-0 on April 9th. Welling did their best to spoil the game, but in the 109th second of stoppage time, David Geddis headed in a deep cross from Les McJannet to put Darlo top of the league.
"We're top with two games in hand, and it's important that we create a gap between ourselves and Barnet," said Little. "I encouraged the players to keep calm and be patient." Darlo had 75 points with six games left, Barnet had the same number of points but had played two games more.
"Darlington have played well for little reward on occasions this season, but last night they played badly and won," wrote Nick Helliwell.
But then Wycombe came along, and beat Quakers 1-0, which meant that the four home games had yielded only five points from a possible twelve, keeping the door open for Barnet. Steve Guppy, later to play for Leicester, scored a cracker after just 45 seconds, while the Wycombe keeper, John Granville, had a blinder. Gary Gill made his comeback from an injury he sustained on New Year's Day.
"A lot of decisions were poor, not just for us but also for Wycombe," said Little. It was Darlo's first home defeat in fifteen games. Chris Lloyd wrote in the Echo; "The biggest cheer of the day came when David Geddis shoved the referee out of the way going for a header."
Fortunately, Quakers pulled themselves together, and won the next two away games to give themselves some much-needed breathing space. First, David Corner's 75th minute header was the only goal of the game at Telford United on Easter Monday, April 16th, but victory came at a price with defender Jim Willis badly breaking a leg. Manager Brian Little changed formation, going with a 4-4-2, recalling keeper Mark Prudhoe after injury and leaving out Andy Toman. David Cork could have made the game safer if he hadn't missed two good chances. "It would have taken a brick wall to stop David Corner scoring the goal," said Little. The all ticket game kicked off early on police advice, which meant that only around 300 Darlo fans made the trip.
"David Corner's strike was enough to give Darlington the boost they badly needed for the Conference run-in," wrote Nick Helliwell.
The injury list was growing though, and with players also suspended, manager Brian Little named himself on the bench for the next game, a comfortable 4-0 away win at Stafford Rangers which meant that Quakers needed four points from their last three games to clinch promotion.
"Quakers produced the right performance at exactly the right time to record their best away win of the season and put them in sight of the Football League," wrote Ray Simpson in the Echo.
Andy Toman crossed for John Borthwick to head Quakers into the lead, Gary Gill and Paul Emson combined for Borthwick to head in from six yards. Borthwick made it 3-0 just after half time, and in the last minute David Cork set up David Corner to score from a few yards.
"One or two players thought I was after the win bonuses when they saw my name on the team sheet," said Brian Little. "The race for the title is still far from over. I've always said that it might go all the way, and I still believe that." There was one cloud on the horizon though – Walsall were rumoured to be interested in giving Little their manager's job.
There was a carnival atmosphere at the last home game on April 28th, when rampant Darlo won 5-1, with Kevan Smith scoring a memorable goal. It was almost enough to win promotion, but Barnet beat Altrincham 1-0 with the winning goal being scored eleven minutes from the end.
John Borthwick headed Darlo into the lead from a quickly taken free kick by Andy Toman, then Cheltenham defender Anton Vircavs could only turn the ball into his own goal after David Cork's shot was parried.
Borthwick curled the third, and after Cheltenham pulled a goal back, Kevan Smith volleyed a superb goal from the edge of the box. Cork then opened up the Cheltenham defence for Andy Toman to slide in the fifth. "It's in our own hands now to win the title at Kidderminster," said Brian Little.
"Cheltenham were reduced to startled onlookers for most of the match on an afternoon when Brian Little's side played like champions," wrote Nick Helliwell in the Echo.
Two matches left, could we clinch promotion? -- the climax to the season follows tomorrow.