Ray Simpson / 10th July 2018
We would like to update Darlington fans on our much-anticipated trip to Eindhoven to play Jong PSV t...
---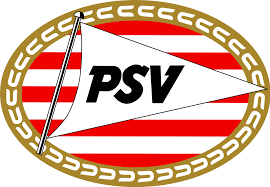 We would like to update Darlington fans on our much-anticipated trip to Eindhoven to play Jong PSV this Saturday, kick off 1pm.
This will be the club's first trip to play in mainland Europe for over 40 years, and we're sure that everyone involved wants to make it successful in every way possible and ensure that the club emerges from the trip with its reputation greatly enhanced.
Darlington FC director John Tempest said; "There has been plenty of work going on behind the scenes in the last four months in terms of liaising with the FIFA police unit and the local Dutch police to ensure that the game goes ahead.
"The club sees this as a great opportunity for fans to travel and represent Darlington FC in the best possible light and we are sure that they will be totally respectful to everyone they meet along the way before, during and after the match."
David Johnston, the club's Chief Executive Officer, is also making the trip, and said; "I'm sure that the weekend will be a superb experience for everyone, and a great chance to strengthen the spirit and togetherness which is already in abundance at the club. Fans will be able to say that they have seen Darlington play in Europe!"
[caption id="attachment_43078" align="alignnone" width="351"]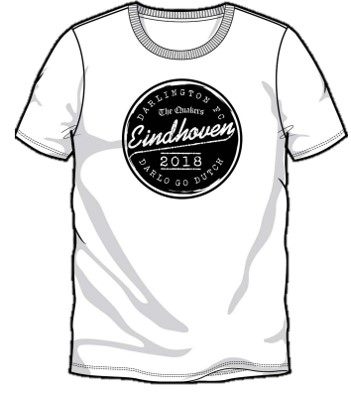 T shirts available from Quaker Retail[/caption]
Manager Tommy Wright already has a good working relationship with PSV and said; "It's great for the lads to play a team with the quality of PSV Jong, who play in the First Division of the Dutch League, and see their set up and facilities.
"The players are also looking forward to meeting up with the fans, and have a chance to strengthen the bonds that already exist. I'm sure it will be an enjoyable few days for everyone involved."
The game will be held at PSV's training facilities, De Herdgang, located north of the city of Eindhoven. The training ground, which is in woodland surroundings, consists of several grass and artificial pitches, extensive training facilities, and a fitness centre. Not only is it the training facility for PSV´s first team, but the reserve, youth and amateur teams also play their home matches there.
The game kicks off at 1pm and its free admission. Although there will be food available, there will be no alcohol served at the stadium, and smoking or vaping is not allowed within the gates of the complex.
Here are more details of De Herdgang;
https://www.psv.nl/psv/nieuws/artikel/grote-upgrade-de-herdgang.htm
There will be more details on our opponents, and Tommy Wright's view on the game, later in the week.
The club would also like to thank everyone who has made this trip possible.
Share this