Women's team going for ten unbeaten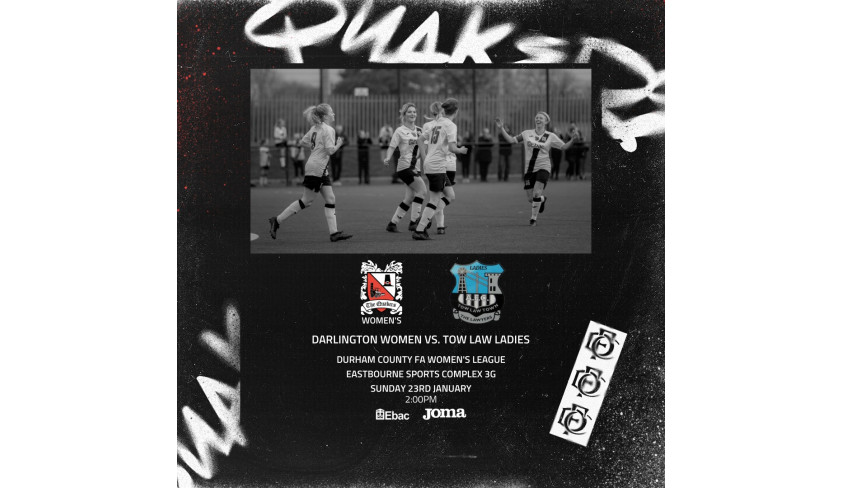 Home to Tow Law on Sunday
Darlington Women are looking to extend their unbeaten run to ten league games when Tow Law come to the Eastbourne Sports Complex on Sunday.
Quakers are now up to third in the table after that great win over Gateshead Leam Lane last Sunday, while Tow Law are level on points with them in fifth but with a worse goal difference and having played two games more.
The Women played some great football last week in the 5-2 win with Sophie Curle scoring four of them, so why not pop along to Eastbourne on Sunday afternoon, kick off 2pm.
Here's the league table as it stands:
https://fulltime.thefa.com/table.html?league=901345664&selectedSeason=85293540&selectedDivision=371387182&selectedCompetition=0&selectedFixtureGroupKey=1_97264698
Last week's game at Blackwell Meadows was a great success and we're looking to stage another home game there before the end of the season.
We'd like to thank the following kit sponsors:
Hattie Raine (sponsored by Krystal Sells), Emma Carter (The Cheese and Wine Shop), Emma Doudican (Winroths Hairdressers), Sarah Frew (Chic Beauty Academy), Martina Cuccunato (Premier 1 Filtration), Caisey Lee (Engage to Learn), Olivia Whitworth (Terry Farley MBE), Sophie Curle (Franks Carpets), Natalie Peart (RA Dalton Ltd), Toni Upton (Dawn Fire Safety), Alice Wearmouth (Direct Flooring), Chloe Bright (Jordan Hanratty Personal Training), Chloe Tinkler (Glen and Mary Bowes), Millie Garnett (eco Hair Salon), Aimee Dagnall (Andrew Scullion), Gabrielle Padurianu (John Vickerman).