Ray Simpson / 18th November 2016
AFC Telford United v Darlington FC Darlington travel to Telford on Saturday for our Vanarama Nationa...
---
AFC Telford United v Darlington FC 
Darlington travel to Telford on Saturday for our Vanarama National League North game.
The Club knows that there will be over 300 supporters travelling to the game. We are sure this fantastic show of support will help spur the team on to a great performance.
DFC is proud of its community and family based support and cannot, and will not, tolerate inappropriate and unacceptable behaviour or crowd disturbance of any kind. The Board of Directors is ultimately responsible for the conduct of the Club's supporters at all our football matches and, with your help, we will do everything possible to eradicate the very small minority, of either individuals or small groups, who purport to represent the Club in a manner that may result in the imposition of severe sanctions on the Club.
The Club will continue to work with the police and other authorities to investigate any reported incident of crowd disturbance and identify perpetrators and take the most severe sanction available to it. If you can help us, please e mail the club at dave.watson@darlingtonfc.org. The more evidence that the police have, the better.
So let's all get behind the team in the proper way and make this a great day out for all the right reasons.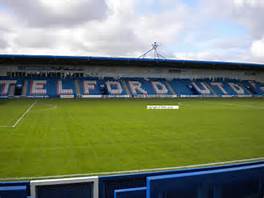 The postcode for the ground is TF1 2TU
Some details from Telford:
Admission prices:
Adult £14

Concession £10

Youth (16-19) £5

Under 16 £3
There will be segregation in place, Darlington fans will be in the Frank Naginton Stand behind the goal, seats will be available in the away section of the main stand.
The Learning Centre Bar will be open from 12 noon selling Fosters, Strongbow, Kronenberg & John Smith as well as bottled beers.
Real Ale from local Rowton Brewery is also available at £3 per pint.
@Official_Darlo supporters are welcome inside the Learning Centre.
Draught beer will be served at £2 per pint between 12 noon and 1pm.
Yorkshire Pudding with Chicken, Roast Potatoes & Vegetables is back inside the Learning Centre from 12 noon, £4 each.
Share this