90s memories -- Steve Hume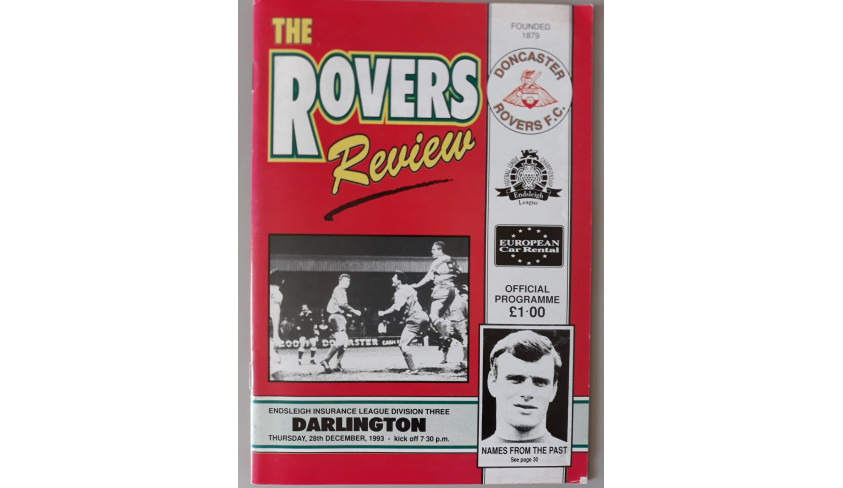 The trials and tribulations of a Darlo fan at Xmas 1993
As our 90s week continues, Steve Hume recalls the 3-1 away win at Doncaster on 28th December 1993
Doncaster Rovers 1 Darlington 3
I have to be honest, despite usually attending 80% of Darlo's away games most seasons, I'm not as brave as others when it comes to matches on days where the weather is decidedly dodgy. I usually ponder "Will it be worth my devotion to the cause"? Will I be rewarded for that devotion? What if I do go and we win, what a great decision! What if I go and we get thrashed, what a waste of a day! I'm also reminded at times by more sensible others that no medals are given out at the turnstile!
Over the years, this dilemma has resulted in all of the above and Christmas 1993 summed it up nicely.
At the time, I was living in a small village in North Nottinghamshire where the height of the terrain made it the highest point in latitude west of the Ural Mountains in Russia (absolute fact!) and thus susceptible to its own Micro Climate, despite being only half a mile from the main 'A' road and civilisation.
Looking out the window that morning I could see 6 inches of snow on the car roof and on the pavements too. Bearing in mind, I'd seen us be very poor in a home defeat to Carlisle the day before, that we hadn't won away all season (not the last time we'd reach Christmas time with this burden) and second bottom of the Football League, the evidence was stacking up not to bother.
But what if we won? Fortune favours the Brave, doesn't it? I decided that I HAD to go. I managed to get to the main road by doing about 5 miles an hour, chugging through the packed snow. The main road was clear and I made the 45 minute journey easily enough and pulled into the snowy car park in plenty of time for kick off.
Both sets of fans had helped clear the snow off the pitch and battled commenced. We took the lead after only 10 minutes through Gary Chapman and made it to half time with our lead intact. I was feeling rather pleased with myself at this point.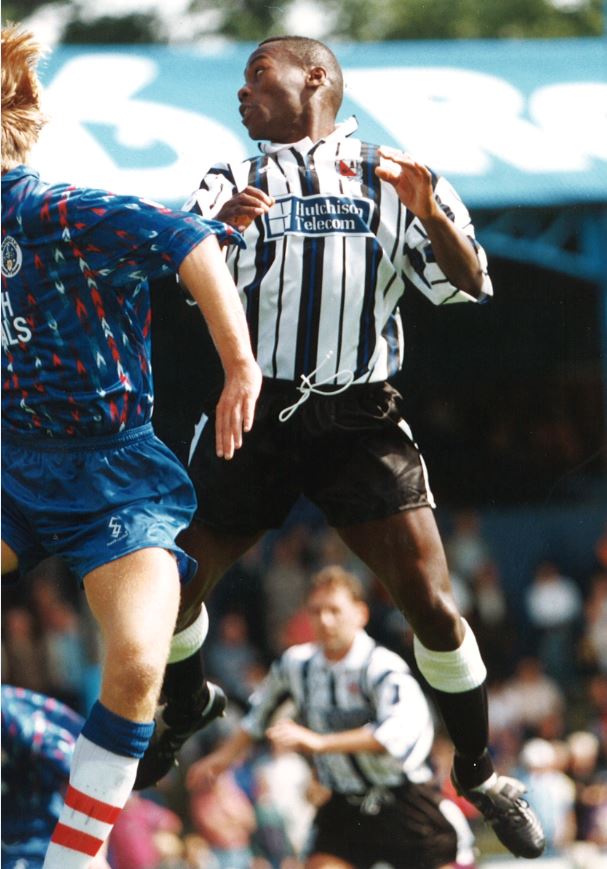 Unfortunately, on the hour Donny equalised and then shortly afterwards the floodlights went out! My mood had changed considerably. I'm not sure what the stats are for floodlights recovering and matches being completed but I always think for every minute they are off, the bleaker it looks.
As it happened, the lights were only off for a very long seven minutes and on the resumption it quickly became apparent that Donny's momentum had been checked, the break had helped us recover from the blow of conceding the equaliser and we played some dazzling stuff, scoring twice in ten minutes through Lee Ellison and Robbie Painter.
However, things still weren't straight forward, as one minute after Robbie's goal, keeper Darren Collier got a bash on the nose from Donny's tank-like centre forward Kevin Hulme and had to come off injured. 17 year old Ryan Scott replaced him to play the only 12 minutes of his Darlo career. I needn't have worried as in those final minutes, we continued to attack and should have added another couple to our tally.
The team came off to great applause, especially as Darlo fans had been housed unusually in the stand near the tunnel. I travelled home in the knowledge I'd been really wise to attend.
Darlo heroes that day were: Darren Collier, Matty Appleby, Paul Cross, Gary Himsworth, Andy Crosby, Mark Sunley, Steve Gaughan, Robbie Painter, Lee Ellison, Gary Chapman, Steve O'Shaughnessy. Subs Simon Shaw, Ryan Scott and Peter Kirkham (not used)
Post Script
That wisdom managed to last less than one week! By that time the weather had become considerably milder and my reward for the 5 hour round trip to Scarborough was a 3-0 defeat in torrential rain. We got absolutely soaked in the open away end behind the goal for the entire 90 minutes. The grim day was completed when, having stopped for petrol at a garage straight after the final whistle, I couldn't get the car started again and had to call out the RAC to dry out my poor Fiesta. Finally getting home around 9pm, I decided to permanently adopt the motto "Fortune favours the Brave just now and again!"