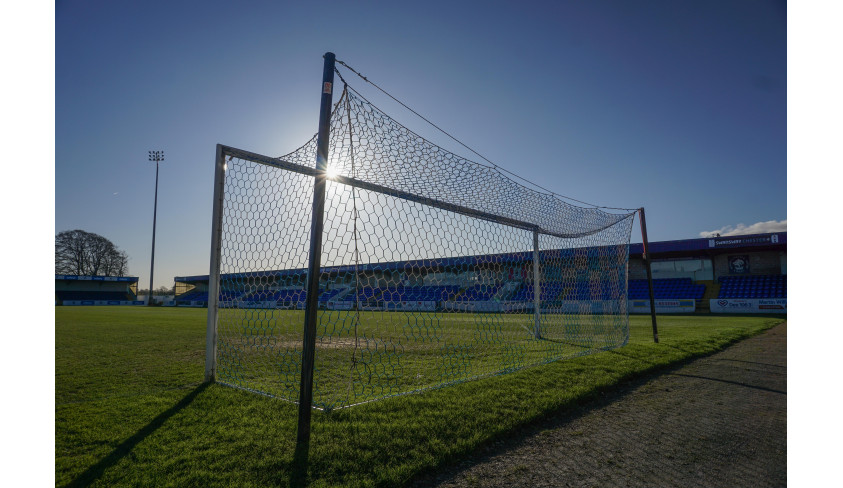 Ray Simpson / 30th November 2018
Statpack for Saturday's game at Chester
---
Here's all the stats for Saturday's away game at Chester.
We look to return to winning ways on Saturday when we travel to Chester.
The club are back playing at this level following relegation from the National Premier having finished 23rd last season.
We have a long history of games with Chester in the Football League. However, our last meeting was nearly a decade ago in May 2009 a game we won 2-1 during our second administration. We have played 110 times over the years; we have won on 42 occasions, and Chester 41.
Like ourselves, Chester have had a rollercoaster ride since. After reforming in 2010 they clinched three straight promotions from the EvoStik First Division North to get into the National Premier where they had stayed until earlier this year.
The managerial duo of Bernard Morley and Anthony Johnson joined from Salford City in the summer having guided the Ammies to the National North title in April.
After a mixed start to the season, Chester have climbed the table into sixth place just four points off the top. A run of seven wins in nine had put them right up with the leaders, but they have failed to win in any of their last five in all competitions.
Saturday's game will be covered on Darlo Fans Radio, the club's official website and Twitter.
The travelling supporters will also be holding a collection for Chester striker Matty Hughes, who suffered a serious injury in a recent game.
Stats pack
Darlington
League position: 15th
Away form: played 8, won 2 drawn 5, lost 1 goals scored 16, goals against 16 points 11 out of 20
Team News:
Zach Hemming has returned to Middlesbrough following the end of his loan, so Jonny Maddison will be in goal.
Striker Simon Ainge will have a fitness test on a knee injury sustained last week against Telford, but should be fit.
Leading scorer: Harvey Saunders 5, Jordan Nicholson 5
Form in last six matches: 9th
Last six matches
November 23rd Telford FA Trophy lost 0-2
Hemming, Trotman, O'Hanlon (sub Henshall 66), Elliott, Hughes, Galbraith, Nicholson, Wheatley (sub Glover 79), Ainge (sub Saunders 54), Syers, Thompson
Subs: Maddison, Burn
November 17th Hereford (home) drew 2-2 Syers, Nicholson
November 3rd Guiseley (home) drew 0-0
October 30th Bradford PA (away) drew 2-2 Nicholson 2
October 27th Leamington (away) drew 2-2 Ainge, Saunders
October 20th Boston (home) won 1-0 Jackson og
Chester City
League position 6th
Home form: played 9, won 6, drawn 2, lost 1, goals scored 22, conceded 11 points 20 (out of 30)
Form in last six league matches 12th
Last six matches:
November 27th FA trophy 3Q replay Southport (home) lost 0-2
Chester: Shenton, Thomson, Grand, Roberts, Livesey, Howson, Mooney (Mahon 66), Stopforth, Dudley, Dawson (Smalley 66), Jordan (Marsh-Hughes 66).
Subs not used: King, Noble.
November 24th FA Trophy 3Q Southport (away) drew 0-0
November 17th Leamington (away) lost 0-1
November 13th York (away) drew 0-0
November 10th Altrincham (home) lost 1-2 Grand
November 6th Nuneaton (home) won 3-2 Livesey, Dudley, Mooney
Last time we met
2008-09: Darlington 1 (Purdie) Chester 2,
Chester 1 (Miller og) Darlington 2 (Abbott 2)
Team: Kazimierczak, Valentine, Austin, Griffin, Miller, Ravenhill, Kennedy, Poole, Burgmeier, Purdie, Abbott
Subs: Liversedge, Groves, Fortune, Hulbert, Main
Share this