Academy ID talent day coming up this Tuesday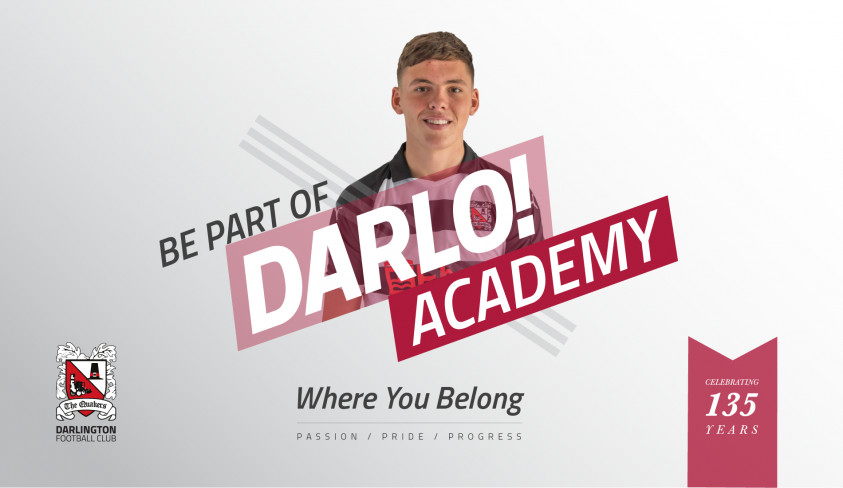 Talent ID Day for the 2019-20 season in the Easter holidays
Are you wondering what to do in your career after your GCSEs this summer?
Then why not consider the Darlington Football Club academy!
Our successful academy is coming to the end of its first year, and we're already looking ahead to the 2019-20 season.
We're holding a Talent ID day at Blackwell Meadows on Tuesday 16th April (during the school holidays) beginning at midday at which you'll be able to see what our Academy offers. Alan White, Tommy Wright and many of our first year students will be in attendance.
You need to bring some lunch, a water bottle, some training kit, boots and shin pads. Registration starts at 11.45am.
If you have any queries, then please e mail:
And to register your interest, then please complete the details on this link
https://academy.darlingtonfc.co.uk/
The following are the main features of our Level 3 BTEC Sport qualifications, which will be delivered by Darlington FC and SCL Education Group:
Coaching and mentoring by former Professional Footballers and UEFA qualified Coaches.
Individual Positional-based specialised coaching by Former Professional Footballers.
Fitness Coach among the Academy staff who will devise fitness plans and give dietary advice, as well as access to the Gym facilities at Xercise4Less.
Monthly assessments and goal-setting.
Football and Education both delivered from Blackwell Meadows which boasts six grass pitches and excellent facilities.
Laws of the game training from a former Premier League referee.
Taster sessions in Coaching.
Represent the football club in the U19 National League Alliance and also in the prestigious FA Youth Cup.
Daily opportunities to impress the First Team Manager and Assistant Manager.
Opportunities to train with the First Team Squad.
Direct exit route into the First Team.
Regular friendlies against Premier League, Championship and Football League Clubs.
Visits to St George's Park, St James' Park, The Riverside and Stadium of Light.
Free entry to Darlington FC first team home matches
If you have any questions then drop us a line on academy@darlingtonfc.org
If you're going to attend our Talent ID day, then please complete the form on this link: