Ray Simpson / 12th December 2017
Alberto thoroughly enjoyed his night at Darlington FC!The official website recently exchanged e mail...
---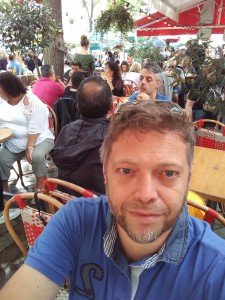 Alberto thoroughly enjoyed his night at Darlington FC!
The official website recently exchanged e mails with Italian fan Alberto Leidi, who is a very keen Darlo supporter even though he lives and works in Italy.
He recently saw us play live for the first time, against Harrogate Town in the FA Trophy, and he had a great night. He combined his trip to Blackwell Meadows with one to Goodison Park the night before  see Atalanta win at Everton.
He explained how he came to support Quakers, and how his love for the club grew.
"My first touch with DFC was about 30 years ago, when I was a teenager thanks to a pc football managerial game, named The Double. The software, that I bought from an England guy, was cracked in the way that I was always forced to play with DFC every time I reset the game.
"That was the sparkle, it gave me a little interest about the club, but internet wasn't widespread, so for me it remained only a name of a club, with black and white colours, for a long time. I came back in touch with DFC in 2010, driven by curiosity to know more about that club and I discovered all the events happening in the years that I missed.
"Since then, I've followed the Quakers from my home in Bergamo in every moment: the FA Trophy win at Wembley, the crash of administration, the renaissance with fan base fundraising and these fantastic last 5 years.
"I'm a proud member of DFCSG and I've put money in the club further times, the last one for the ongoing fundraising campaign for ground development.
"I've never seen a Darlo game so far (until Harrogate), except for two times in streaming (at home), in 2010 vs Wrexham away (2-1 lost, after being ahead, really sad thinking that was one of the first game on the way to the administration) and recently, last year, vs Halifax away (thanks to a Periscope live video linked by a Twitter fan). But I'm a regular listener of Darlo Fans Radio, really a great resource for our exiles, and I follow DFC and some other Darlo fans on Twitter.
"In Italy English football is much followed, almost every fan has a favourite team. But this usually regards Premier League clubs or a Championship one, it's quite rare that someone follows a non-league club. So I'm considered at home a little crazy, above all by my wife, but... this make me feel so similar to my crazy Darlo!
"I really enjoyed my days in England and appreciated Darlo, so typical little town of the North East.
It was a good feeling giving a shape to places known so far only by name: Feethams, Dolphin Centre, Clock Tower, Blackwell Meadows and so on.
"Maybe the result of the game wasn't what we would have liked, but atmosphere on and off the pitch was great, the heart of pure English football that we like so much in Italy. And I had also the chance to meet some friends and have a chat with them, in particular Stuart Armstrong.
"Hope to meet you and them again."
Great stuff, Alberto, it was a great to meet you, and we're pleased that you enjoyed your night at Blackwell Meadows and also your trip around the town!
Share this