Alun answers your questions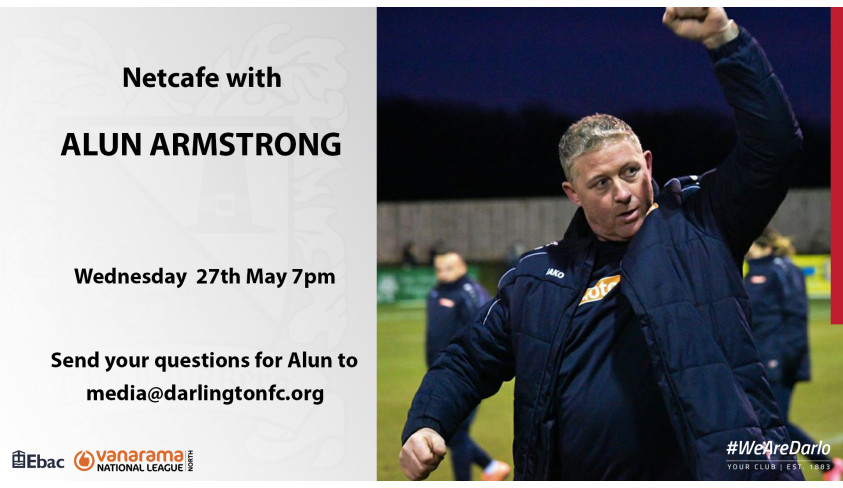 The manager chats about DFC playing matters in tonight's netcafe
Manager Alun Armstrong, who last week signed a three year extension to his contract, is our netcafe guest tonight.
He is answering questions about his football background, performances, players and a fantastic Boost the Budget campaign by the fans.
There's still time to contribute to Boost the Budget -- it would be great to reach £120,000 by Sunday night! You can do so here:
https://fundraising.darlingtonfcsupportersgroup.org/pitches/boost-the-budget-20-21
Who have been the main influences on your career?
There are a few on this one through different stages to be honest, Bryan Thompson was my first coach at Blaydon youth club where I played and he was the one who started it all off by getting Peter Kirkley the chief scout from NUFC to come and watch me. Peter is very well known and was fantastic for me, his reputation is second to none when it comes to scouting players. I was invited to join the NUFC centre of excellence at Benwell when I was 13/14 which was scary as most of the players had been there for a good few years and were way ahead of me but Stan Nixon the coach was an unbelievable coach. He was tough but he knew his stuff and they both worked exceptionally hard with me which is why I'll be forever grateful to them.
Stan was the head coach at Boro academy when all those academy players were coming through for years and I was lucky enough to work with him for three years, it was fantastic to be able to learn from him. My Youth coach at Newcastle was Colin Suggett and he was also really tough, ask anyone who did a YTS at NUFC with him as their coach and they'll tell you the same but he helped me massively develop, I went on to see Colin at Ipswich as he was the first team scout there which is why I probably ended up there in all honesty.
Then there was Kevin Keegan, it was fantastic having someone like him offer me my first professional contract but when he sold me to Stockport he rang me and told me to go and prove him wrong, I saw him later in my career when I was with Boro and he came to see me and said I had proved him wrong which was an unbelievable feeling.
They all had a massive influence on my career that's a certainty but all of this couldn't have been done with the support and dedication of my dad, he supported me massively and kept me on the right path. He used to work shifts and we never had a car so a lot of times he would just get in from night shift and take me to training on the bus, we were constantly getting buses to Newcastle then up to Benwell. He would always talk me through the sessions afterwards and tell me what I done well and what I could've done better but mostly he would say listen to what Stan's telling you!
=================================================
Did you always want to be a striker?
I was always a goal scorer but also a creative player so I used to play midfield when I was younger but once I got scouted by NUFC I was playing as a striker so it stuck from there. I just loved scoring goals, I also loved creating goals just as much. I did have a stint at Right Back and Central Defence in my schoolboy days at NUFC but I hated it and was always attacking.
=================================================
You scored in each leg of the UEFA Cup against Inter Milan in 2003 , and it's something that Ipswich fans still talk about? How do you feel about that?
As a player you always want to be remembered for something positive and this is certainly the highlight of my career but sometimes people forget I did score more than just those goals for Ipswich. Haha! Ipswich is a special club believe me, it has a fantastic family feel about it with a fantastic history especially with Sir Bobby Robson. To be able leave a bit of my own history there is special. While I was there the fans were unbelievable, the supported players through thick and thin even in the relegation season the fans just never stopped backing us.
Here's Alun's goal in the first leg at Portman Road
https://www.facebook.com/watch/?v=1487705594639786
And a feature on his second in the San Siro when he scored from the penalty spot
https://www.eadt.co.uk/sport/alun-armstrong-goal-against-inter-milan-will-be-remembered-forever-1-5311046
==================================================================================
Apart from the Inter Milan game, what were the other highlights of your playing career?
There's a few to be honest, I did score 4 goals in the U16 Gillette cup final for County Durham at Wembley which I'll never forget and still have the match ball. Haha
You always remember your first professional goal which was for Stockport against Cardiff City in a 4-1 win and also debut goals. I was lucky enough to get promotion twice which was fantastic, once with Stockport into the championship and then with Boro into the Premiership. Scoring two goals for Boro on the final day against Oxford to clinch promotion was a huge highlight for me.
You can watch that here: https://www.youtube.com/watch?v=S9j8PFasa7E
Scoring on my debut for Boro against Sunderland was also special, especially being a Newcastle fan.
My first premiership goal against Arsenal but that was a consolation as we got tonked 6-1. Haha. I later scored two on my debut for Ipswich against Southampton before scoring goals against the likes of Spurs, Liverpool, Man City which helped us qualify for Europe by finishing 5th in the premier league, that was an unbelievable achievement with a great squad of players. Obviously my first career hat trick was saved for playing at Darlo and I also have that signed ball from the lads! I could go on and on as I've been quite fortunate when I look back on my career.
=========================================================
Why did you come to Darlington as a player?
I got a call from Neil Maddison after I left Ipswich, he was telling me how good it was there and the players that were there. I was getting offers from clubs in the leagues above but nothing was ever right due to my injury record. Once I spoke to Hodgy it was a simple decision to be honest, he sold me the dream haha. No seriously as the fans will know he's got an infectious personality and he had a great philosophy along with some really good players there at that time, he knew all about my injury record and said he would look after me which he certainly did. I always look back at that time, we should've done so much better than we did to be honest, we should've easily qualified for the playoffs.
======================================================
Did you always want to be a coach when you retired from playing?
When I came back to Darlo the second time the plan was to do my badges then and look to help in the youth first and build it up with Hodgy, but unfortunately as we know Hodgy left and Dave Penney came in so that plan went out the window! The least said about that time the better…
I never had any interest in managing but loved the idea of coaching kids, youth teams etc and building my own facility which I did manage to do for a good few years but it wasn't giving me that buzz that you get from playing the professional game for so many years, which is why I'm where I am now.
===================================================================================
From Cameron Ritchie
What was the main thing that attracted you to sign a new deal with the Quakers?
Hi Cameron,
To be honest we've been in discussions for a long time about a contract extension but then COVID-19 took over our lives. Like I said when I first came that the attraction is you the fans and the ambition of the board! Not many clubs at our level have support like this, especially the way you all support the club financially whether it be through Boost the Budget or other fundraising schemes which is amazing. The board have backed me continually through the season even when we had a few sticky moments. Our working relationship is really strong but most importantly we all have the same ambition.
====================================================
From Ryan Reed
First of all I'd like to say Thank You for sticking with us and committing your future with us.
Now with Boost the budget going up and up every day, we must have a few players coming in do we?
Also when you first came to Darlo as manager, what did you think of the ground, fans and players we had?
All the Best Alun and see you next season
Hi Ryan,
It's not rocket science to see what we need to strengthen but my first objective was to get the lads sorted from last season so I know what we've got left to sort. I did start speaking to players back in January whom I thought would add what we need to the squad but as we all know the things have changed dramatically due to COVID-19 so things have been put on hold unfortunately as we don't know when football is going to start again at our level. I don't know what financial implications we'll have to deal with but with BTB you lot have blown me away!
I'll be totally honest, I'm not a fan of Blackwell. I appreciate the fans have spent their hard earned cash to get it to what it is which is 100 times better than it was but it still feels like a rugby ground unfortunately and that's something we can't do anything about.
Like I said earlier the fans are the best part of this club and the reason it's still here, ask any of the players past and present, they will say very similar things. I remember when BTB first started many years ago and people including myself thought it would never last as you think the fans can't do this every year but you lot just keep proving everyone wrong and long may that continue.
Put it this way and without going into too much detail but I had a squad of 21 up at Blyth for what it was costing to keep the 9 players that were left when I first came in which is why I had to totally rebuild as you have seen and why I've had to restructure the wage bill. Unfortunately you can lose some good players along the way but that's football.
Part 2 to follow soon.
Alun mentioned Boost the Budget, here's the link if you want to contribute:
https://fundraising.darlingtonfcsupportersgroup.org/pitches/boost-the-budget-20-21
----------------------------------------------------------------------------------------
From Bradley Cotton
Hi Alun hope you and your family are well.
What do you aspire to do in the new season with a great group of lads?
Hi Bradley,
A lot will depend on how we sit financially like everyone else but as I said we have a very talented group of players that have got a great spirit, camaraderie and togetherness and they're only going to get better as some are still very young.
We all know we need to strengthen but as stated finances will dictate what and who I can bring in. I would like to think we can be challenging for the playoffs this year if I can get the players in I want as we're not far away in my opinion.
===================================================
From Paul Lincoln
Hello Alun,
One of your main aims (In this Close season) was clearly to strength the forward line in the team, now very sadly that Thommo has left the club- that need will now be greater – do you have the Middlesbrough striker Tyrone O'Neill in your sight??.
Darren Hornsby asks a similar question:
I would just like to say Alun, many thanks for signing a new contract with us. I thought last season the players you brought in and the team spirit was superb as were the performances We are only a few players short of being a force in this league .
What is the position of Tyrone O'Neill for next season? if he is still a Boro player is there any chance of a season long loan?
Hi Paul and Darren,
Everyone knows what type of player we need (they're the expensive ones) and as you both asked about Tyrone I would love to have him back, Not only is he a very talented player who fits in well with how we play, he is also a fantastic character to have in the dressing room but unfortunately he's a Boro player and I would imagine he'll be playing at a higher level next season but you can be assured I'll be watching his situation very closely. I've known Lidds for years and we get on really well, but I think he was sick of me asking for Ty back throughout the season. Haha.
=======================================================================
From Richard Matthews
Alun it is fantastic that you and Darren have committed to Manage Darlington for the coming seasons. The style of entertaining football you encourage is refreshing together with your players who are allowed to express themselves. The players enjoy playing together and the proof is how quality players are keen to resign for you.
I am sure that the hardest team position to fill is Centre Forward. Have you any options in this respect ???
Hi Richard,
Thank you for your nice comments and I agree we played some fantastic football at times but we still need to be more consistent and ruthless in both boxes. One of my biggest things is to let your players play with freedom and allow them to express themselves and Daz is of similar ilk which is why players enjoy playing for us.
I always get baffled by managers who sign players for their attributes and then go on to restrict them and control how they play (I've seen a few believe me), it just doesn't make sense!
Regarding the CF position I've been speaking to a few since January and a couple are really keen to join us but we're going to have to be a bit patient unfortunately due to the current situation we find ourselves in but one thing for certain is that a CF or 2 who can compliment Adam Campbell and the players we've currently got is my main priority.
==========================================================
From Chris Easby
Chris Easby
Hi Alun, congratulations and thank you for extending your current contract, it's an exciting time for everyone connected to the club even in this difficult crisis we are all experiencing.
Can I say a big thank you from every single Darlo fan for tying down Will Hatfield and Michael Liddle for another season at least!
What squad size are you looking to have next season?
I'm looking to get a squad of 18 plus a few young lads to make up the rest of the squad to cover injuries. Having a few players that can play different positions help to keep the squad a reasonable size.
Do you think better players from higher up the pyramid will be available at an affordable wage?
As I've stated previously there will definitely be league players looking for clubs this summer but whether they're affordable to us is another question. One thing you've got to remember is the logistics of where we are and what league clubs are within a reasonable distance to us. To get players to do a lot of travelling you need to pay them a bit more money as you would expect but I think everyone knows my thoughts on this! On top of that some players can't or don't want to change their lifestyle by training on evenings twice a week, if we were full time then that's a whole different scenario but that will only happen when the time is right on and off the pitch.
Which player surprised you most last season?
I think he surprised everyone to be honest and that is Will Hatfield. I saw Will three times in season 2018-19, twice against Blyth and once against Spennymoor and he was really aggressive which we've all clearly seen but I hope he doesn't mind me saying this he was only half the player of what we've seen this season and I think he's just going to get better. I'm delighted we've tied him down to a new deal which will see us get the best years out of him.
=========================================================================
From Michael Barrass
What was the reason for wearing a second shirt underneath back to front -- you showed it after scoring a goal once?
You scored some fantastic headed goals, do we have any good headers of the ball in the team as we don't score many
Hi Michael,
The things you do when you're young🤦🏼‍♂️ !
All it was about was the FA brought in the stupid rule about a yellow card for removing your shirt in celebration so I decided I would wear one underneath trying to be clever but I still think I got booked. Haha
That's an area we certainly need to improve and hopefully if I get the players I would like to get onboard it will improve. Currently our best header of the ball is Justin, when he first came we couldn't believe how high he could jump from a standing position, he's a proper athlete with a fantastic attitude who is just going to get better and better.
===================================================
From Andy Hadrick
Good evening Sir,
Firstly I respectfully wish to thank you for taking the bull by the horns and steering Darlo fc in the right direction, it must be a difficult job with an ever changing route plan. But you are managing well and have the support of the Darlo faithful.
My question is: To strengthen the spine of the team, a goal keeper, defender, midfielder and out and out striker is required, how do you sell the DFC model to potential prospects, and are any surprise players inbound.
Stay safe
Hi Andy.
Thank you for your support, Hopefully this is just the start of things to come I'm pretty sure there'll be a couple of surprises if I can get in who I want but patience is going to be a word used very frequently this summer and that's something I even find difficult so it must be twice as hard for the fans.
It's not too hard to sell the club to be honest as all players know Darlington Football Club and always see how good the support is especially the way the fans continually raise funds for the club, things like that are a huge draw especially when you're the best in the country at doing it!
One thing I do tell every player I'm trying to sign to speak to any of the players at the club and they'll tell them how I work, how they'll enjoy it, how supportive the board is and how good it is at the club. We've all got to have the same ambition to progress and having a real bond between the board, management, players, fans and the community are a crucial factor in this.
=====================================================
From James Kerridge
How does it feel to manage a team you used to play for?
and do you believe you can get Darlington back into EFL League Two?
Hi James,
It's really strange to be honest as I never ever thought I would be a manager as it didn't interest me at all, I saw what it done to people and how it took over their lives so it wasn't for me. I was pretty busy with my football centre, coaching at Boro academy and as you can imagine with my family but here I am letting football take over my life!!
I wouldn't be here and I wouldn't have signed a long term contract if I didn't believe we could get back to the Football League but there's lots of full time ex Football League clubs clamouring for the same prize. There's going to be a lot of bumps in the road and a lot of hurdles to jump which is why it needs to be done properly both on and off the pitch. We've all seen what happens financially if you take too much of a gamble!!
One of the biggest things we need to improve to make progress is our attendances which is the same for every non league club, I know it's really difficult from a spectators point of view when we get over 1500 at Blackwell and the whole match day experience could be better but the higher the attendance the more we can invest in the club to help us progress. Look at the atmosphere we had when we played Walsall, it was electric and there's no reason we can't have that every match day.
====================================================
Maybe the toughest question of the lot -- what's your best XI of players you've played with in your career?
This is unbelievably tough as I've been very fortunate to play with some fantastic players. I've had to leave some players out that would walk into any team to be honest, it took me ages to finish this but what a team that would be!!!!
GK- Mark Schwarzer
RB- Gianluca Festa
LB- Christian Ziege
CH- Nigel Pearson
CH- Gary Pallister
MF- Jim Magilton
MF- Gazza
MF- Juninho
FW- Paul Merson
FW- Marcus Stewart
FW- Allen Boksic
That's the end of Part 2 -- part 3 to follow at around 8pm!
================================================
Coming up on Thursday morning by the way, a Zoom interview with Will Hatfield.
Alun has been on BBC Tees chatting about Boost the Budget and the great efforts of Darlo fans.
He's here at 42 minutes on this link to BBC Sounds -- well worth the listen
https://www.bbc.co.uk/sounds/play/p08f9w6f
The link to Boost the Budget -- you can contribute however much or little as you want -- is here:
https://fundraising.darlingtonfcsupportersgroup.org/pitches/boost-the-budget-20-21
=================================================
From Paul Hodgson
How many new players are you looking to bring in?
Are there any of the youth team players you think may step up to the 1st team squad next season?
Darren Holloway mentioned there's a big gap between Youth/first team level, finances permitting, do you think we could do with either a reserve team or an under 23 team? As this could maybe bridge the gap, as long as its a decent level.
Many thanks
Hi Paul,
Obviously we need a GK and ideally I would like a CF or 2, an aggressive CH and possibly one more but as stated previously finances will dictate what I will bring in. When you look at the squad in the middle of the season it was much stronger than the first 12 games that's a certainty and I was convinced if we'd had that squad at the start of the season we would have been in a much higher league position.
It's still a really tough market out there at the minute especially for the quality of players I want to bring in. Some clubs are still willing to pay way beyond what we can offer which doesn't help but you can't blame the players as it's a very short career believe me!
As Daz has said the gap between the academy and our level is massive, some of the younger lads went on loan to Northern League clubs last year to get some experience which is hugely important for their development but they find that level tough.
We do need to improve the academy and that's something we're looking at this season with the new influx of players. We did try and have an U23 team last year but unfortunately only 3 teams including ourselves applied to join the new league through Durham FA so it never went ahead unfortunately.
==================================================================================
From Tom Ellis
Hi Alun,
Firstly a big thank you for signing up for the next three years I'm confident with you in charge we will be heading in the right direction and these next three years are crucial for the club.
With this in mind:
Given the current circumstances it may be plausible that there are some league restructures and clubs folding due to Covid-19. With us being fan owned and with Boost the budget we could find ourselves in a positive position where we could capitalise on the above. What planning can go in place to ensure we can move forward if clubs fold, leagues restructured and swathes of league players are looking for work so that Darlington can be in the best possible position?
As always please do keep up the good work, it really is appreciated
Thanks Tom,
Great question, As I've previously said this is where we all have to be a bit patient unfortunately including myself which I'm not so good at. All we can do is concentrate on ourselves and make sure we're in a really strong position, which we currently are thanks to the board and mostly you lot the fans with the way you've responded to BTB. I've spoken to the players I would like to join us and if we do get them in, then next season could be really exciting. At the end of the day it's your club and we're all working extremely hard to make sure we're in the best position we can be for whatever happens.
There could be a massive amount of league players without a job this summer but believe me trying to play football part time and also work is extremely difficult which is why I have so much respect for these lads. It's totally different to training every morning then having a nice relaxing afternoon put it that way and some players simply can't do it so you have to be really careful when it comes to recruiting form the EFL, then on top of that they're more expensive as most won't have jobs at this time.
=====================================================
From Noel king (Martin Hudson asked a similar question)
Alun, you've signed a new 3 year contract. Can you share with us your realistic vision for each of the three years? Where would you and the Board like to see us at the end of that period?
Thanks.
Noel King
Hi Noel
Quite a tough one this but the obvious answer is we would love to be in the EFL at the end of year 3 but not with a "whatever it costs" attitude as we all know that doesn't end well. If we're up challenging in the National League then I'll be more than happy as it means the club has progressed not just on the pitch but also off it.
Next season will depend on who I can add to the squad but as I've said previously, if I get the players I've spoken to on board then we should be challenging for the playoffs without a doubt.
Year 2 will depend on what league we're in but if we're still in this league we need to be challenging for the automatic promotion spot for sure but if we did manage promotion then it'll be about consolidation in the NL before having a real go the following season.
If only it was that simple eh!!! Haha
============================================
Forgetting about the unfortunate Covid outbreak, do you think we could have still got into the play offs?
I honestly think if COVID-19 didn't come when it did we would have sneaked into the playoffs. The Farsley game was an unbelievably strange game where we didn't even think it was going ahead and it was very surreal. We can't use that as an excuse though as we should have won that game 5 or 6 nil and no one would have said anything but the things that cost us too many times this season came back to haunt us, individual errors and not taking our chances cost us the game. I still had the belief even after that game that we could do it as there was 27 points to play for and I thought we could easily get between 21/23 to finish the season.
===================================================
What are your highlights of last season?
Looking back now I would have to say the goal by Wheats at Walsall. I've never been so deflated and down about a game as I was at that time, especially when we deserved a replay at least. All I could think about was trying to pick the lads up after this as it was a real sickener but then Joe equalises.
I totally lost control and before I knew it I was nearly in the centre circle, Haha. I turned around and to my surprise Danny was somehow beside me🤷🏼‍♂️, I said quick we better get off the pitch. To be able to bring that excitement and pride back to Darlington was unbelievable, I stood back with my 16 year old son Rhys who was an unused sub watching the fans at the end trying to take it all in. I must admit I did have something in my eyes at that time.


=====================================================
Do you think the league should still hold play offs, or should promotion be decided on points per game?
Once all the clubs voted to cancel the remaining games that should be it as far as I'm concerned. There's no way any playoffs or promotion/relegation should happen in my opinion as nothing has been won or lost mathematically. I totally understand the clubs at the top saying they should be promoted or use PPG as they've probably invested heavily to get where they are but so has every other club. The last 10 games of the season are the most important and crucial part of the season, I always plan for the run in as that's where nerves kick in and teams crumble where others excel. I've got a decent record when it comes to the run ins and was really looking forward to it.


===================================================
When we start playing again in a new season, who do you see as our main rivals?

This is a tough one as no one even knows what our league will look like at the minute and what financial implications each club is facing but if it stays the same you'll have the usual suspects of York, Boston, Spennymoor, Altrincham, Brackley, Gateshead and Chester but then you always get your surprise package just like Kings Lynn last year and Blyth the year before. This league is unbelievably competitive with everyone capable of beating everyone irrespective of league position.


=================================================
How difficult is it for you to sign players in a very competitive market place?
This is the frustrating part as you can imagine, you've probably seen that I've restructured the wages as the budget isn't what it once was. Gone are the days where Darlington pay the top money to everyone, we've got a more balanced budget which is sustainable. This makes it a bit more difficult to bring players in as sometimes players just go for the most money which you can't argue with but I try and get players to join us for the right reasons. The players I've spoke to are very keen to join but we just need to be patient, once we get confirmation from the NL that the season has officially ended and an actual plan/start date for next season then hopefully things will start progressing but bringing new players in is going to be a much slower process this summer that's a certainty.
=================================================
Part 4 to follow soon!
===========================================
From Dave Collinge
Hi Alun,I recollect your days at Stockport where you played in a team that consistently punched above its weight. Any lessons we can learn given our own modest budget?
Hi Dave,
We certainly punched well above our weight back in them glory days and who knows what that squad of players and management would've achieved if it hadn't been broken up. If you look what happened to most of that squad, including the manager they were snapped up by so called bigger clubs for good money which is inevitably always the case.
The biggest thing to take from back then is the togetherness within the club and the connection between management, players and fans, it was a proper community club. What we did have is a really good mix of experience, youth and also players in their prime who had been there a good few years, continuity was the biggest thing with little tweaks every year. It does take time but the rewards are fantastic when it's done properly!
==================================================
From Arthur Thompson
How many players will you be happy with to have in the Darlington squad this season, bearing in mind the dreadful injuries in the first few games last season.
Hi Arthur
Finances dictated the size of the squad at the start of last season but no one can legislate for the 3 season ending injuries by the 2nd game of the season, I'd never seen anything like it to be honest.
Ideally I would like 18 as stated earlier but I know for a fact we will be a lot stronger if I get the players I want in.
============================================
From Andy Futers
Many thanks Alun for extending that contract. IN ALUN WE TRUST..
Is this the season (incoming), we have a fantastic squad. Is it the case of let's go for it let's get that automatic promotion?
Cheers Andy,
Like you've stated we've got a very talented group but we do need to be more consistent and definitely strengthen to have a serious push for the playoffs. Of course we would love to win the league as that's what we're in it for, but a lot will depend on who I bring in and how quickly we get them integrated into how we play. You've got to remember there are full time teams in this league with budgets 3 or even 4 times ours. We're certainly not paupers but we're not doing a "promotion at all costs" as we need to make sure it's done in a sustainable way.
==================================================
From Matty Lawn
Hi Alun,
Cheers for the great job you are doing so far, can't wait for the new season
With the aim for next season being promotion does that mean that a cup run will be put on hold?
Hi Matty,
The cup games are massively important both financially and for exposure for the club as we found out this year. I certainly won't be playing weaker teams as winning cup games and having a decent cup run breeds confidence, more importantly brings in massive financial rewards for the club.
===============================================
From Andy Clarke
Evening Alun, do you have the dates for the playoff final for the coming season, I'd hate to double book myself?
Haha, keep it in your diary!!!


Entering the start of the season (whenever that may be) are you looking to sign any long term loan players potentially from a couple league above, or would you rather sign permanent players, and only use the loan market if necessary to cover injuries/suspensions?
I don't mind using the loan market at all but they need to be the right player and able to deal with this standard as believe me it's a hell of a lot different to U23 games and some just can't handle the physical aspect unfortunately. Some players excel like Tyrone did but I've also seen players struggle to get a game which is no good for anyone.
The biggest downside of the loan market is exactly what happened to us last year with Tyrone, he was doing exceptionally well and then gets recalled at the drop of a hat so you're back to square one and having to start again, things like that certainly affect the confidence of the team.


==================================================================
From Paul Gannon
What are your aims and targets for next season?
Hi Paul.
If we get the players in I want, then hopefully we'll be right in the mix at the top of the table but like I've said many times that finances will dictate on how much of a serious push we can have, your s financial support with BTB has is certainly helping me out it that way.


It was noticeable last season how many of the teams we came up against played a certain sort of game, a no-nonsense, strong-arm gameplan centred around long balls with a big man up front and packed midfield and defence. We, along with just a handful of other sides, adopted a more pass-and-move game with pace and wing play a big part of it. What's your philosophy in your approach to the game?

It's each to their own on what style they want to pay as there's no right or wrong way. I just try to play to my players' strengths, if I can add a physical CF to the squad and that's the main priority then I will do but we certainly won't be changing our philosophy or style of play. I like my teams to be entertaining to watch and creative rather than playing a percentage style game as I wouldn't pay money to watch the ball in the air for 95% of the game.
=====================================================
What particular areas of our game will you be looking to improve on?
People are probably sick of me saying it but we need to be more consistent and better in both boxes, we certainly need to score more goals which will relieve the pressure on the lads at the back. There were many times in the season just ended when we've battered teams and then went onto concede a very soft goal by a lapse in concentration after not taking our chances.
We need a more vocal GK with a presence alongside an experienced commanding CH and as I've already stated a presence up top so we can mix our game up and free our creative players.
=============================================================================
From James Smith
Hi Alun couple of questions
1 Can you see Darlo copying Afc Wimbledon's success?
Hi James,
It's a big ask nowadays especially with the restrictions we have by not having our own ground to create extra commercial revenue. This league is a lot tougher now than what it used to be and the league above is really tough as you need to be at least a hybrid model to bring any kind of success if not full time.
2 are you hopeful that your son Rhys can do as well as Luke and are there any others that can play?
Rhys is a very different type of player to Luke, he has fantastic ability and is probably the best technically but you need a lot more than that believe me, he has a lot of hard work ahead of him to be where he wants to be.
My eldest and third eldest are workaholics who just play football for fun but they're not bad either. The younger ones are trying to be like Luke which should help them.
3 how optimistic are you about players coming through our youth teams?
It's really tough to be honest as it's a fairly new academy and we have very strong academy's around us but I will certainly be looking at them and trying to improve the quality so we can all benefit.
======================================================
From Matt Wooff
What would you say is the hardest part of being the manager of Darlington FC?
Hi Matt,
The hardest part is not having our own ground as it does limit us in what we can do, hopefully we'll get something sorted further down the line.
What do you think is the hardest place to play away at in our league?
I find Brackley and Leamington both really difficult places to go, firstly for the length of time it takes and I don't want to be disrespectful as we haven't got the best away fan experience at BM but the actual setup feels really strange with lack of atmosphere.
What do you feel was the biggest win of the league season?
For me it has to be Alfreton away as that was the kickstart we needed, it took a few home truths at half time to get it believe me. Telford away comes a close second as it was our best performance of the season followed by York away.
If you had to pick one player from our squad to go for best player in the league who would it be?
On this year's performances you've got to say Will Hatfield but Adam Campbell is a very very talented player who I love to watch and is only going to get better and better after having a season playing more central again.
===========================================================
-From Gary Souter
Hi Alun,
I really enjoyed watching some of the football that we played in the season just finished and look forward to more of the same when we are able to play again. Thank you for bringing such an entertaining and hardworking squad of players to the club.
I have read that you are looking to add one or two players in specific areas where it is clear that we need to improve, but are you concerned, with all the current uncertainty and the financial implications which are likely to affect many clubs higher up the football pyramid, that you could sign these players but then find that better ones become available, at the same cost, when other clubs have to tighten their purse strings and players lower their expectations as they realise that they may not find new clubs?
Thanks Gary.
What we've got to remember is where we are both logistically and the fact that we're part time football club. Some full time players can't and won't do part time as it's totally different but like I said we're going to have to be a bit patient regarding new players coming in just in case.
====================================================
From Christopher Hall
What mistakes do you think you made during the past season and with hindsight what would you have done differently?
Every manager makes mistakes and I made a few this year, on a few occasions I didn't shut up shop and take a draw when I should've done which left us losing the game, that's certainly something I need to learn from but I just want to win unfortunately.
I made a big mistake on the GK front as having 2 GK's on the books took too much out of the budget and I won't be doing that again. it's nothing against both Chris and Liam as they done ok for us.
Luckily we got a cup run out of it which more than covered the extra cost but it restricted me by not being able to use the extra funds when needed to bring a striker we were crying out for.
From Martin Hudson
We've seen a lot of our lads sign new contracts this week, any words of the lads like Tez and Omar who have yet to sign? (Paul Colman asked the same question)
Like you may have seen I wanted to get the lads sorted ASAP so I can plan accordingly. Regarding Tez I've offered him a new deal that fits into the new wage structure but he's yet to commit to it which I totally respect and understand. Hopefully I'll know more in the next few days.
Omar's situation was very different as he was with us on a non contract basis at his request, I did offer him a new contract on improved terms but as many may have seen he has got himself a new agent who has organised trials at some League 2 clubs whenever that maybe which Omar is wanting to explore. This is something I would never stand in the way of so we'll see how that situation develops as he is a great lad and a valuable squad member but again we can't wait forever.
How much has the ongoing Covid situation affected potential recruitment of new players? Any incomings expected in the near future or are we taking a longer term approach?
It's affected the recruitment massively as the players I would like are still under contract and on furlough as everything is still undecided so we'll have to be a bit patient when it comes to new players coming in especially my main targets. Once we get some dates I'm sure things will move quickly after that.

===================================================
And the final question:
What do you make of Darlington fans raising over £100,000 in Boost the Budget for the second successive year?
In one word Phenomenal!!!! I'll be honest -- we were really worried this year especially with the COVID-19 pandemic but you lot have blown me away with how much you have raised. It makes the hairs stand up on the back of my neck when I think about it but then realise it's my job to spend it wisely which brings its own pressure but you can be assured you'll get value for money and hopefully a few surprises. Please continue to contribute over the next few days until BTB closes on Sunday, because the more that is contributed, the stronger we can be.
Stay safe everyone, and thanks again for your support, it's very much appreciated.
We'd like to thank Alun for taking the time out to do the netcafe tonight and answer questions! Watch out for another netcafe in the next few weeks, and some new features for the summer. We aim to keep a high profile on the official website