Behind the scenes at Darlington FC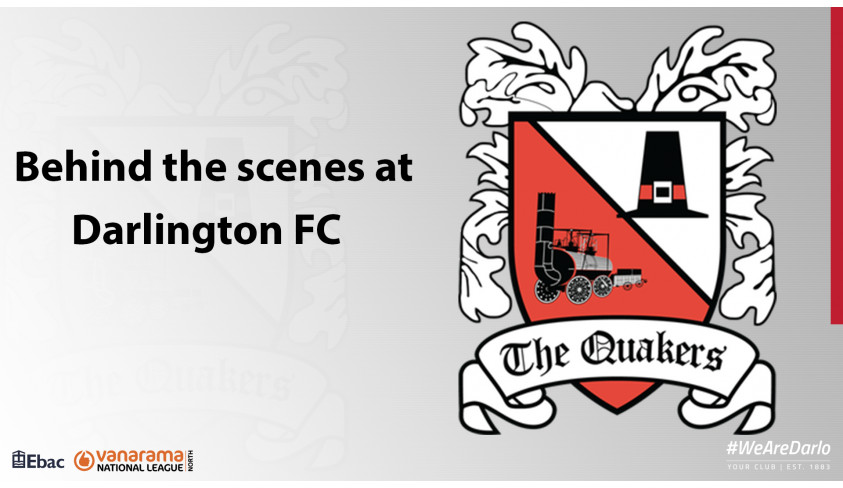 Update number 3 from the club
Behind the scenes – update 3
Here's the latest of the behind the scenes updates of events at Darlington FC.
The Boards of Darlington FC and DFCSG met for the third time during the enforced break on Friday evening via video conference call, to discuss various ongoing relevant matters.
The Current league season:
The National League announced during the week that the National League season has been suspended indefinitely. There has been no indication from the league over when the 2020/21 season will commence – clearly everything is up in the air as you would have noticed with the recent news about the Premiership and EFL.
Chief Executive Officer David Johnston was due to take part in a webinar with all the other National League club chairmen last midweek, but this was cancelled because of the league's ongoing business with the EFL.
Club finances:
The sales of season tickets are ongoing, and there is now the option of buying a season ticket over five instalments. The link below takes you directly to the season ticket update page on the website.
https://darlingtonfc.co.uk/news/2021-season-ticket-update
We urge fans to buy season tickets now in order to help support the club's cashflow position.
We are also delighted to announce that the Boost the Budget scheme for season 2020/21 will be announced in early May.
Community engagement:
During these unprecedented and challenging times, the club is introducing several initiatives designed to reach out to our entire local community and fan base. We also know that some of our supporters and volunteers fall under the Government's 'Shielded' Scheme and there are also those who are elderly and isolated. During the coming week we'll roll out a variety of ways of engaging with you all and some of these will include;
The introduction of a Buddy Mentoring scheme on Monday in which Club Directors and Officials will begin making some phone calls and speaking directly with supporters. Initially, we will focus on keeping in touch with fans who may be shielded, lonely or self-isolating.
A Contact Line, which will include a phone number and an email address for those supporters who feel the need to talk to someone at the Club
The players will be making selfie videos and we'll put them out on social media
Netcafes are being organised and we'll include Q&A sessions with the manager and players in which fans will be able to submit questions. The first will be held with Will Hatfield later this week.
We're maintaining contact with all our schools, as they are still providing a service for vulnerable children and children of Key Workers.
The Club is also in continuous contact with our sponsors and partners and we're maintaining our excellent relationships with them during this difficult time.
Thank you for your continued support, it is very much appreciated.
Stay safe and keep healthy -- we're looking forward to seeing you all in the future.
Remember, stay at home, and help the NHS