Behind the scenes at Darlington FC -- update 14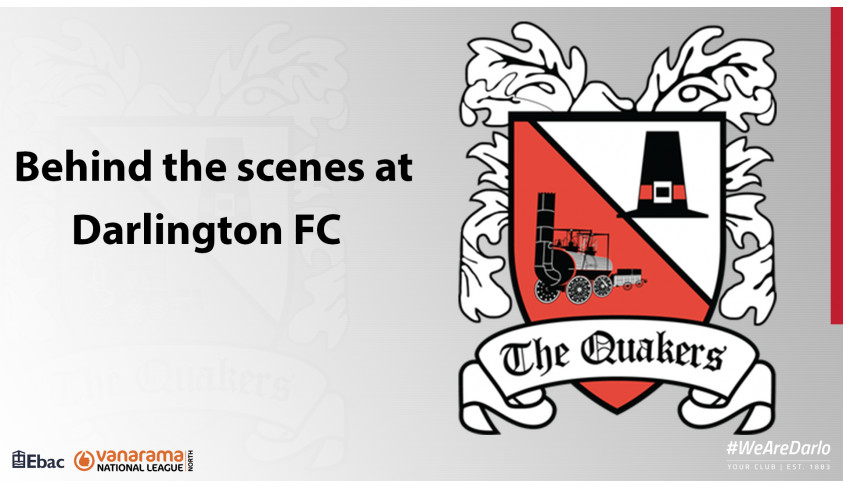 What's happening at Darlington FC
Behind the scenes – update 14
Here is the latest of the behind the scenes updates of events at Darlington FC.
The Boards of Darlington FC and DFCSG continue to meet regularly via video conference call, to discuss various ongoing relevant matters. They met on Thursday 25th June 2020.
The Current league season:
Five clubs have told the National League that they intend to participate in the National League North play offs, which will be held in late July.
The league is also looking at different fixture scenarios for season 2020-21, depending on government guidelines over the coming months. There is an aspirational start date of September, and the meeting discussed the possible requirements requested by the FA before games can recommence.
Commercial:
Commercial activity has gathered pace in the last few weeks, and we are grateful to all of our current sponsors for the support they are giving to our Club, and we will be making some exciting announcements over the next few weeks. We are also refreshing the Commercial Brochure in preparation for the 2020/21 season and we will also be reviewing our Hospitality arrangements with sponsors and fans who frequently use this facility. The aim is to make sure we offer the very best hospitality service we can when circumstances permit, with a commitment to make it a value for money experience.
The 2020/21 kit sponsorship details are now on the official website – last season's kit sponsors have until 3rd July to renew. You can read the details here https://darlingtonfc.co.uk/news/kit-sponsorship-for-season-2020-21
Community engagement:
The club has continued to be very active through various means:
The Zoom facility has been used for a vast variety of meetings and to interview former players for 80s week on the website, which started on Sunday morning. Six former players, who appeared with honour in the 80s, have been interviewed at length.
There has been a review of the Buddy Mentoring Scheme after operating it for three months. The Club has collaborated with Darlington Support to work together to meet the increasing needs of the community during the ongoing Coronavirus pandemic. This partnership will involve a number of fronts including: signposting residents, sharing resources such as website articles and social media posts and contact with the most vulnerable, isolated and shielding people of Darlington. Both parties intend to extend this collaboration beyond the Coronavirus crisis and continue to meet the needs of those most vulnerable within our local community. Full details are on the official website
Other news:
Fans have been asked to contact the club if they want a refund for the four matches on their 2019-20 season tickets, that we were unable to play.
A total of 388 home and away shirts have been sold, as well as 145 DFC facemasks. Details of how to purchase facemasks are on our official website. https://darlingtonfc.co.uk/news/dfc-facemasks-selling-well
Coming up, we will:
Keep all our existing and current main sponsors up to date on Club developments.
Continue the ongoing work on the review of the 2020-21 Commercial brochure.
Run feature articles on our sponsors and partners from the official website. The Club remains in continuous contact with our sponsors and partners and we are maintaining our excellent relationships with them during these difficult times.
Continue the work in progress of existing and new and exciting features for the official website. The 80s week starts on 28th June and will last at least a week.
Continue to develop our relationships with the local community
Throughout these very difficult and unprecedented times, we have maintained a very high profile for the club on our official website and social media channels, and we will continue to do so until we resume matches for the benefit of our much-valued volunteers and loyal supporters.
Thank you for your continued support, it is very much appreciated.
Remember, follow the guidelines and stay safe.