Quakers on their travels to Brackley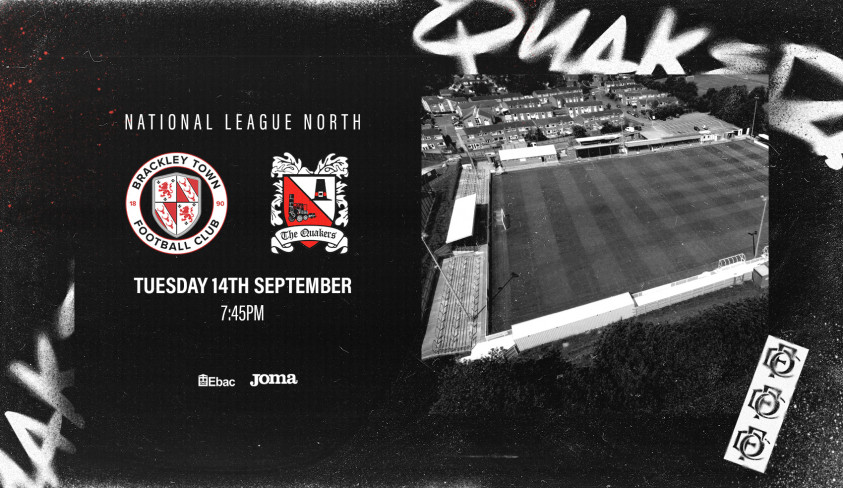 Can we upset the second placed club?
Darlington are looking for another confidence boost away to Brackley tonight.
Quakers are in good heart after they came back from 2-2 down to draw at Blyth last Saturday, with Luke Charman and Andrew Nelson on target, but their defending left something to be desired in the opening twenty minutes.
Brackley are currently second in the table, unbeaten in their six league games.
Here's what Darlington skipper Will Hatfield thinks of the game:
https://darlingtonfc.co.uk/news/will-we-want-to-build-on-blyth
League position 22nd
Team news: Brandon Taylor is missing because of illness, otherwise manager Alun Armstrong chooses from a full squad.
Latest results:
September 11th Blyth (away) drew 2-2 Charman, Nelson
Highlights: https://www.youtube.com/watch?v=98rpbWT8Xpo
September 4th Bradford PA (home) lost 1-2 Charman
August 30th Curzon Ashton (away) lost 1-2 Cassidy
August 28th v Alfreton (home) lost 2-3 Hatfield 2
Brackley are unbeaten in their six league matches this season, five of which have been won by one goal
League position 2nd
Latest results
11th September Southport (home) won 1-0 Walker
4th September Blyth (away) drew 0-0
30th August Leamington (home) won 2-1 Ndlovu, Lowe
28th August Brackley (away) won 2-1 Lowe, Ndlovu
21st August Alfreton (away) won 1-0 Lowe
14th August Chorley (away) won 1-0 Yusuf
Recent meetings
2020-21 Brackley 2 Darlington 0
https://www.youtube.com/watch?v=Ag0XpsbsyJo
2019-20 Brackley 5 Darlington 1 (Thompson) Darlington 1 (Campbell) Brackley 1
2018-19 Brackley 2 Darlington 4 (Styche 3, Ainge), Highlights https://www.youtube.com/watch?v=wINP2VvQOLE
Darlington 0 Brackley 2
2017-18 Darlington 0 Brackley 3, Brackley 3 Darlington 0
2016-17 Brackley 2 Darlington 2 (Thompson, Gillies) Darlington 1 (Thompson) Brackley 0