Busy month ahead for Quakers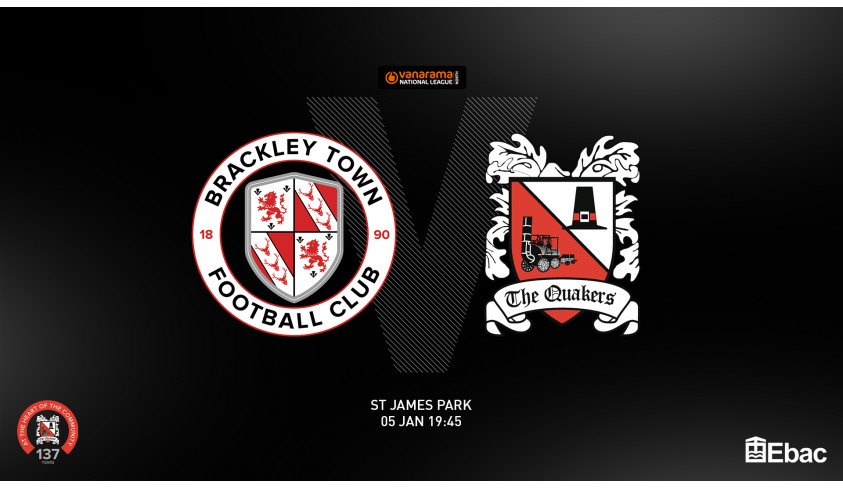 Trip to Brackley is the start of a busy schedule
We have seven league games and one Trophy tie to play this month, weather and Covid permitting, so Alun Armstrong's squad is going to be stretched to the limit.
We start this busy period with a trip to seventh placed Brackley tonight.
Team News: Luke Charman could return to the starting line up after recovering from a hamstring injury.
Nicky Hunt and Tony McMahon will both probably return after being rested for the Blyth game.
Louis Laing twisted his knee in the game against Spennymoor, and is out.
Michael Liddle is unavailable because of work
Omar Holness has a thigh injury.
Ben Hedley has a groin impact injury
Johnny Saltmer takes over in goal from Melvin Minter, who has returned to Harrogate Town
League position 19TH Played 9, won 4, drawn 1, lost 4, goals for 17 against 8, points 13
Points per game position: 9th 1.44 per game
Quakers form (League and cup): WLLWWWWLWWLLWWDW
Leading scorers in all comps: Adam Campbell 6, Luke Charman 5, Jarrett Rivers 5
Recent matches
28th December v Blyth (h) won 6-0 O'Neill 2, Sousa, Rivers, Maguire, Campbell
Minter, Atkinson, Reid, Storey, Watson, Wheatley (sub Liddle 75), Hatfield, O'Neill, Rivers, Sousa (sub Maguire 68), Campbell (sub Hudson 71)
Subs: Saltmer, McMahon
Highlights:
https://www.youtube.com/watch?v=xZQ7SDFgoko&t=36s
26th December v Spennymoor (h) 0-0
19th December FA Trophy 3 v Telford United (home) drew 2-2 Rivers, Hatfield, won 5-3 on pens
16th December FA Trophy 2 City of Liverpool (home) won 2-0 Charman, Sousa
29TH November v Bristol Rovers (away) FA Cup 2 lost 0-6
24th November v Bradford PA (home) lost 0-1
Brackley
League position: 7th played 13, won 5, drawn 6, lost 2, goals scored 18, goals against 16 pts 21
Points per game position: 6th 1.62 per game
Best win so far this season: 5-1 v Marske in FA Cup 2Q
Leading scorer: Lee Ndlovu 7
Manager Kevin Wilkin
Recent matches:
2nd January v Kettering (home) drew 1-1 Byrne
Team: Lewis; Myles, Cullinane-Liburd, Dean, Coleman; Byrne, Murombedzi (Lowe 64), Chambers (Franklin 77), York; Ndlovu (Mitford 40), Armson. Subs unused: Tee, Worby.
Highlights:
28th December v Gloucester (home) won 3-2 Byrne 2, Dlovu
19th December FA trophy 3 Chesterfield (away) drew 0-0, lost 5-4 on pens
15th December FA Trophy 2 Royston (home) won 3-2
12th December Blyth (home) won 2-1 Byrne, Ndlovu
8th December Spennymoor (home) won 1-0 Lowe
Previous meetings:
2019-20 Brackley 5 Darlington 1 (Thompson), Darlington 1 (Campbell) Brackley 1 Highlights here: https://www.youtube.com/watch?v=iX0mX35LT3A&t=15s
2018-19 Brackley 2 Darlington 4 (Styche 3, Ainge)
https://www.youtube.com/watch?v=wINP2VvQOLE
Darlington 0 Brackley 2
2017-18 Darlington 0 Brackley 3, Brackley 3 Darlington 0
2016-17 Brackley 2 Darlington 2 (Thompson, Gillies), Darlington 1 (Thompson) Brackley 0
Brackley won the FA Trophy in 2019, but they lost in the third round of this season's competition to Chesterfield.
They have lost in the play offs in each of the last three seasons
How to follow the game:
Brackley TV -- you can buy your match pass here: https://btfc.ticketco.events/uk/en
Darlo Fans Radio
Official website
Official Twitter