Buy your tickets for our awards evening!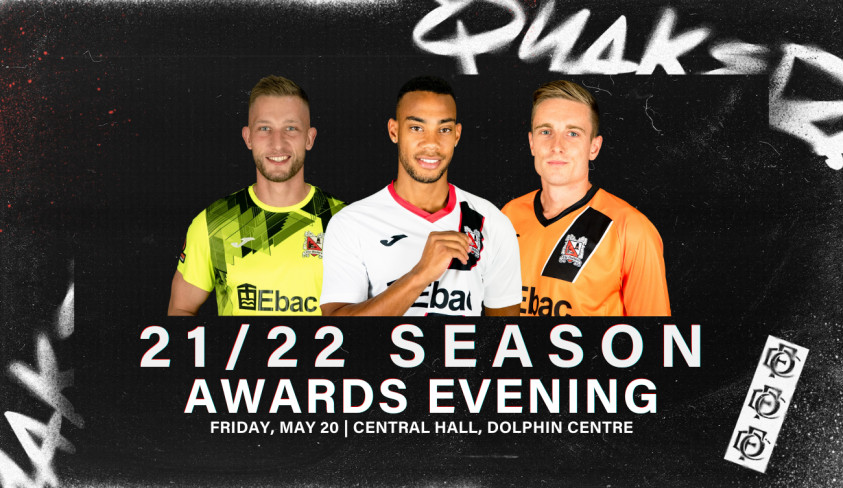 At the Dolphin Centre on 20th May
Tickets are now on sale for Darlington FC's 2021/22 awards evening on Friday 20th May 2022.
The evening which takes place at the Central Hall at the Dolphin Centre will reflect on the highlights of the 2021/22 season.
As well as the usual player award presentations with Alun Armstrong and the squad in attendance, there will be a three-course meal, teas and coffees, fun and games, and entertainment from Steven Fothergill.
The awards returns to the prestigious Central Hall at the Dolphin Centre in the heart of the town centre and starts at 7:30pm followed by an introduction of players.
Tickets for the event are priced at £45 per-person or £420 for a table of 10 and offer the opportunity to be part of a highlight in the Darlington FC calendar, and an opportunity to meet the first team squad.
The menu is as follows:
STARTER
Option 1 - Homemade Fresh Tomato Soup with Basil, Served with a Freshly Baked Bread Roll.
Option 2 – Sauteed Mushrooms in Cream and Port Sauce with a hint of Garlic, Served with Ciabatta Bread.
STANDARD MAIN
Option 1 – Traditional Roast Beef with Yorkshire Puddings, Rich Roast Gravy and Horseradish Sauce
Option 2 – Breast of Chicken filled with Fresh Sage, Onion and Cranberries Wrapped in Bacon and served with a Red Wine Sauce.
Vegetarian option:
Portobello Mushroom layered with Mediterranean Vegetables, topped with Halloumi Cheese and served with Fresh Tomato Sauce.
DESSERT
Option 1 – Rich Chocolate Brownie with Black Cherries, Kirsch Cream and a Warm Chocolate Sauce.
Option 2 – Lemon Tart with Vanilla Cream
Tea and Coffee
The dress code for the event is lounge suits and cocktail dresses.
After a break of two years this season's Darlington FC's awards night, as always, promises to be a night to remember with awards presentations and a look back at some of the most iconic moments of the 2021/22 season.
To book tickets online go to https://darlingtonfc.co.uk/eosa2022
To find out more please email: tina.johnston@darlingtonfc.org