Chorley v Darlington preview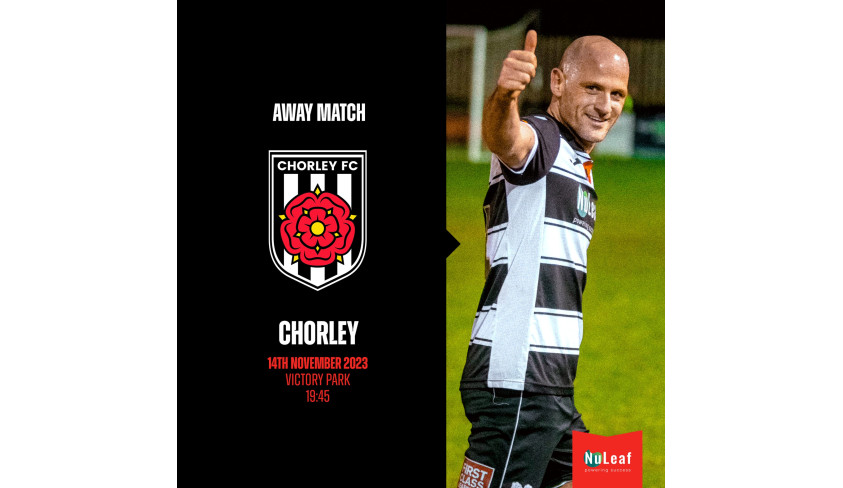 Quakers looking for third win in four
Darlington are looking for their third win in four matches at Chorley on Tuesday night.
Quakers have beaten Farsley and Chester in their last three matches, with a defeat at Peterborough Sports sandwiched in between.
They're looking for their third away win of the season, and if they win at Chorley, then they could move closer to Rushall Olympic and King's Lynn, who are four and five points respectively above them in the table.
Here's an interview with assistant manager Danny Rose:
https://darlingtonfc.co.uk/news/danny-we-must-keep-working-hard
Team news:
Midfielder Tom Platt returns after suspension
Mitch Curry is out because of an arm injury
Midfielder Ben Liddle is out because of an ankle injury
Defender Jordan Windass is out with a hamstring injury
Recent results
11th November v Chester (home) won 3-2 (og, Ngandu, Salkeld)
Goals:
https://darlingtonfc.co.uk/news/goals-from-darlington-v-chester-available-now
7th November v Peterborough Sports (away) lost 0-2
4th November v Farsley (away) won 2-1 Hatfield, Salkeld
28th October v Spennymoor (home) lost 1-2 Hazel
24th October v Blyth (home) drew 0-0
21st October v Banbury postponed
14th October v King's Lynn (home) lost 1-2 Hazel
Current League position: 22nd (played 17, won 3, drawn 5, lost 9, goals for 15 against 33, points 14)
Away form: 22nd in the league (played 8 won 2, lost 6, goals for 5 against 20, points 6)
Chorley
Ticket details:
Admission Online Prices
Under 12 free with paying adult
Match Day Prices
Under 12 free with paying adult
Disabled pays relevant admission price, carers are free but only available via email or at the ticket office in person.
Recent results
11th November v Peterborough Sports (home) won 2-0 Calveley, Johnson
7th November v Scarborough (away) drew 1-1 Ubaezunonu
28th October v Hereford (home) lost 1-2 Sampson
24th October v South Shields (home) won 2-1 Ubaezunonu, Calveley
21st October v Rushall Olympic (away) lost 0-5
7th October v Gloucester (away) won 2-0 Sampson, Johnson
Current league position 6th (played 16 won 7, drawn 5, lost 4, goals for 20 against 17, points 26)
Home form 12th best in the league, (played 8 won 4, drawn 2, lost 2, goals for 12 against 8 points 14)
Recent games between the two clubs
January 2023 Darlington 0 Chorley 3
August 2022 Chorley 1 Darlington 1 (Beck)
Goals: https://www.youtube.com/watch?v=bC-f-GiEi44
February 2022 Darlington 3 (O'Neill, Rivers, Hatfield) Chorley 0
October 2021 Chorley 2 Darlington 1 (Charman)
March 2019 Darlington 1 Chorley 1 (Kneeshaw)
December 2018 Chorley 3 Darlington 2 (Nelson 2)
https://www.youtube.com/watch?v=tN8FllXwKwE
January 2018 Darlington 2 Chorley 2 (Styche, Thompson)
September 2017 Chorley 4 Darlington 1 (Saunders)
You can follow today's game on National League TV, Darlo Fans Radio, Twitter and the official website