Quakers slip to defeat at Curzon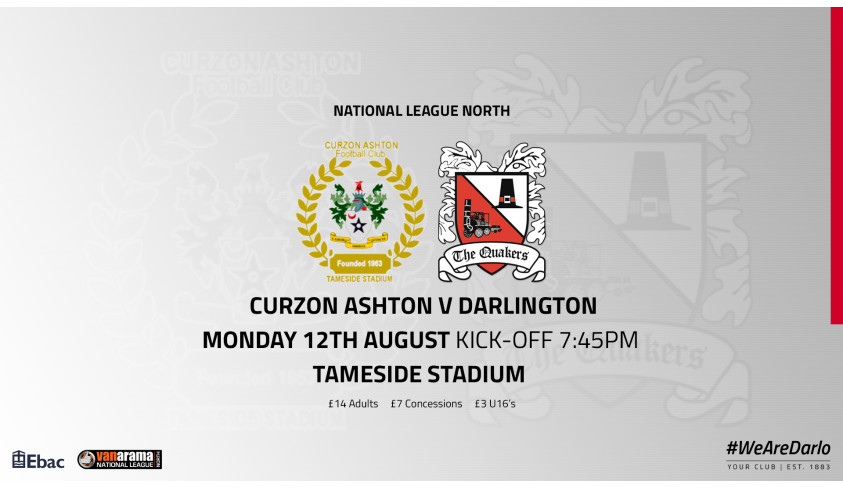 Quakers looking for second win in three days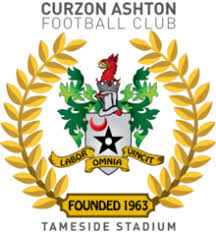 Curzon Ashton 3 Darlington 1
Miller 42 mins 1-0, O'Neill 44mins, 1-1 , Miller 45+1 mins, 2-1, Sinclair 57 mins, 3-1
Attendance 571
Quakers couldn't record two wins in three days as they were beaten at the Tameside Stadium.
They played some good football in the first half and created some good chances, but Curzon stopped them doing so in the second, and added a third goal which gave hard-working Quakers too much to do. But Quakers only had themselves to blame, as slack defending was a big factor in each of the goals.
Quakers had the first attempt on 3 minutes. Osago Bascome made a good run and set up Adam Campbell, whose shot was charged down.
The first chance was on 5 minutes. Jarrett Rivers cleverly beat two men on the right and found Will Hatfield, whose first time right foot shot was off target until Tyrone O'Neill deflected it on target with his head, and Mason went full length to save.
Osagi Bascome was again involved on 10 minutes when he slipped the ball out to the left for Jordan Watson to cross first time for O'Neill to head over.
Curzon threatened for the first time when Askew set up Evans, who fired well over the top.
Quakers won two corners in the space of a minute, but they came to nothing.
Curzon had a penalty shout on 24 minutes when Sinclair dribbled into the Darlington box and went down after he was challenged by Bascome, but the referee waved play on.
Quakers had another chance on 26 minutes when O'Neill sent Rivers haring up the right, and Rivers beat his full back, crossed low into the middle for O'Neill to fire just over.
Quakers broke away again on 28 minutes. Hatfield won the ball in midfield and found Campbell, whose first shot was blocked, but his second effort forced a good save out of Mason.
Curzon took the lead from a free kick on 42 minutes. A free kick came in from the right that Halls headed against the crossbar, and Miller reacted first and headed the ball across Elliott into the net.
But Quakers were level within two minutes. O'Neill found Rivers on the right, he whipped the ball into the middle for Hatfield to fire at goal, and O'Neill came sliding in at the far post to equalise.
But Curzon went straight down the other end, and Miller picked the ball up in the box and fired past the stranded Elliott for 2-1
Half time:
Curzon Ashton 2 Darlington 1
Campbell and Thompson put together a neat exchange of passes to get into the Curzon box, but the assistant's flag went up for offside.
But Quakers went 3-1 down on 57 minutes, A clearance was picked up by Sinclair, who burst past two challenges and beat Elliott with a low shot.
Quakers made two subs on 65 minutes, Justin Donawa and Terry Galbraith coming on for Jarrett Rivers and Josh Heaton.
Elliott produced a great save on 71 minutes when Wroe hit a low right foot shot that the keeper just fingertipped around the post.
Quakers nearly pulled one back when Hatfield and Campbell combined to put Thompson through, but he fired over the top.
Then Donawa had a chance when he instantly controlled a crossfield pass from Watson, but blazed his shot over the bar.
Quakers nearly got one back in the last minute when a cross came into the box from the right, and O'Neill nipped in to flick the ball over the keeper, but Ali cleared off the line.
Final score: Curzon Ashton 3 Darlington 1
Team: Elliott, Liddle, Watson, Bascome, Laing, Heaton (sub Galbraith 65), Rivers (sub Donawa 65), Hatfield, Campbell, Thompson, O'Neill
Subs: Holness, Bell, Wheatley
Booking: Watson
Curzon Ashton:
Mason, Halls, Askew (sub Merrill 80), Wroe, Ali, Thornley, Banister, Evans, Saunders (sub Elstone 61), Miller (sub Davies 65), Sinclair
Subs: Wall, Shaw,