Two goal Adam puts Quakers into the play off positions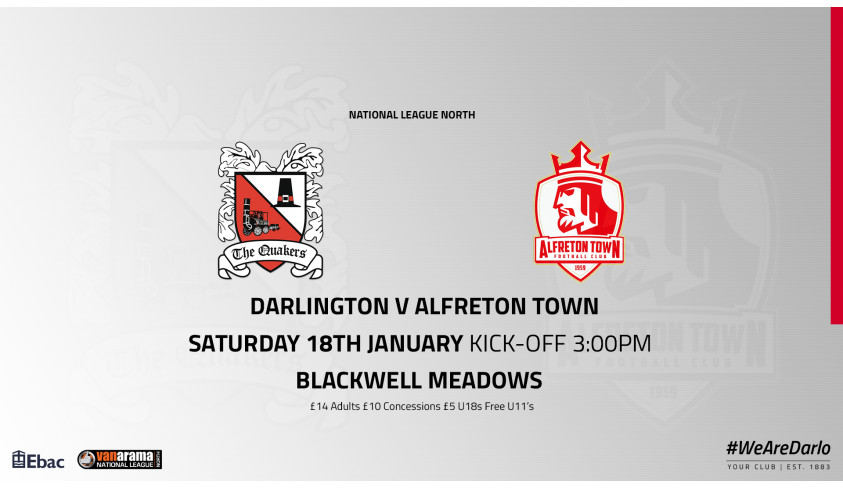 Justin chipped in with a third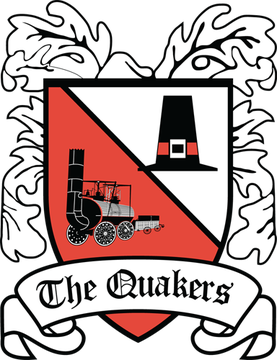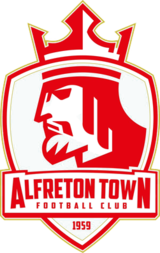 Darlington 3 Alfreton Town 0
Campbell (19 mins, 1-0, 55 mins 2-0) Donawa (90+1, 3-0)
Two goals from Adam Campbell and a late third by Justin Donawa lifted Quakers four positions and put them into the play off places.
Quakers withstood an aerial bombardment and an injury to Terry Galbraith in the first half, and then Campbell's second goal gave Quakers firm control.
It set Quakers up for Tuesday night's game away to Guiseley -- it will be 6th v 7th.
The first half chance of the game fell to Alfreton on 5 minutes, when a headed clearance dropped for Danny East to control, and fire well wide of the left hand post.
Quakers struggled to put anything meaningful together on the bobbly surface, and Laing had to put in a great tackle on Ben Tomlinson when he latched on to the ball in the box.
Quakers had their first real chance on 15 minutes, when Justin Donawa played a 1-2 with Adam Campbell, and fired right footed just past the far post.
Quakers took the lead on 19 minutes. Adam Campbell picked the ball up 30 yards out, worked his way into the right hand side of the box, and struck a low shot across Wright into the net for his 11th goal of the season.
Alfreton missed a chance to level two minutes later when the ball bounced over the Darlington defence, Tomlinson picked it up, but lobbed the ball over the advancing Elliott and wide of the post.
Tomlinson threatened again down the right, but Watson got back well to put in a tackle and win a goal kick, and Bobby Johnson fired wide from 30 yards.
Alfreton had another chance to level on 35 minutes, when a free kick from the left was nodded down for Dominic Smith to bundle wide.
Terry Galbraith went down injured and had to receive treatment, which meant Sean Reid temporarily dropped in at centre back.
Quakers won a corner in the first minute of stoppage time that Laing headed towards goal, but Wright comfortably saved.
On the half time, Campbell created space well for himself inside the area, and tried to chip the ball over the keeper, but Wright held on.
Half time 1-0
Quakers made a sub at half time, Holness coming on for Galbraith with Reid going into the back four.
Quaker had a chance of 47 minutes when Hatfield set up Campbell, who struck a right foot shot that went just over the bar.
Quakers went 2-0 up on 55 minutes. Reid won a header inside his own half and the ball went to Hatfield, who quickly played the ball through for Campbell to break away and confidently tuck the ball past Wright.
Quakers took tight control of the game after that, not taking any risks and stopping the high balls into their area.
Quakers nearly got a third when they broke from an Alfreton corner, and Donawa had a shot deflected wide, and from the corner, Reid had a header saved.
Gary Martin then got away down the left and tried to place his shot in the bottom right hand corner, but the ball went wide of the post.
Quakers made it 3-0 in stoppage time when Lambert whipped in a free kick for Donawa to turn home his ninth goal of the season.
Final Darlington 3 Alfreton 0
Elliott, Hedley, Watson, Wheatley (sub Lambert 83), Laing, Galbraith (sub Holness 46) Rivers, Hatfield, Campbell (sub Martin 71), Reid, Donawa
Subs: Thompson, Bascome
Booking: Wheatley
Alfreton:
Wright, Clackstone, Preston, Johnson, Qualter, Branson (sub Blake 63), Smith, Clarke, East, Tomlinson (sub Oyibo 46), Lynch (sub Witham 81)
Subs: Wilde, Andrew,
Booking: LYnch