DFC Women's team score fourteen in their first match!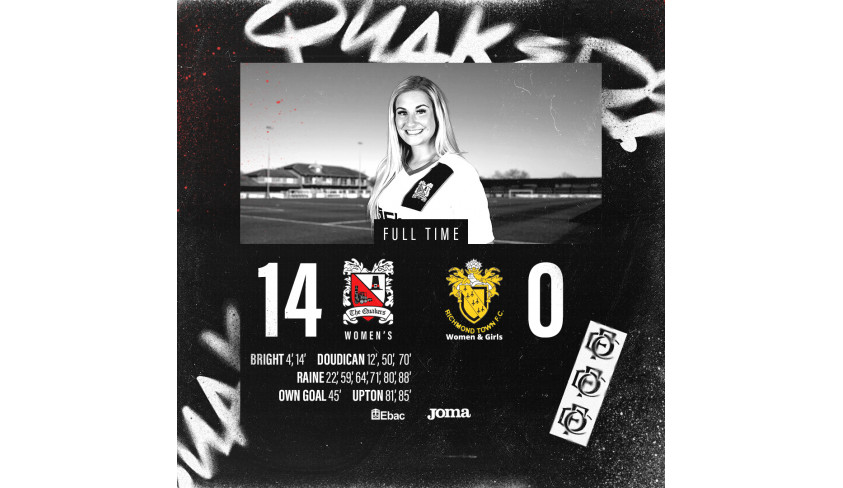 Striker Hattie scores six!
Our women's team scored double figures in their first ever competitive match against Richmond Town at Eastbourne on Tuesday night!
Quakers scored fourteen without reply, with player of the match Hattie Raine running riot and scoring six of them in a brilliant all round display. However, the players aren't getting carried away, because there will be plenty of tough tests to come later in the season.
Manager Shaun MacKenzie said; "I thought we played very well, and there were some good individual performances. It was great to go on the field and start playing together as a team. The players were also pleased to get 90 minutes under their belts. The result has given the players confidence, but they're not getting carried away."
There was also a great crowd of around 100 watching the game and encouraging both sets of players.
Darlington started the game well with a quick tempo. It didn't take long for them to take the lead with Caisey Lee coming to meet the ball on the right-hand side and play Chloe Bright through who lobbed the keeper with a stunning finish. 1-0 Darlo.
Richmond recovered well and both teams started to play some decent football in spells. Some good work from Raine recovering the ball saw Emma Doudican sneak through and finish well from a tight angle in the 12th minute to make it 2-0 Darlo.
Straight from the kick off, Darlington were at it again closing down the ball and pressuring from the front. Bright's hard work paid off and she burst clear to score her second of the game. Another good finish to put Darlo 3-0 up.
Richmond grew into the game and there was a ten-minute spell where both teams didn't create much. Until our triallist kept hold of the ball well in the midfield, showing her strength and holding the opposition off, she played a good ball to Upton, who played a lovely flicked ball through to Raine who finished well for her first of many on the night. 4-0 Darlo.
Just before half time, the Richmond goalkeeper misjudged the ball and the ball trickled into the net for an own goal. 5-0 to Darlington at the break.
Darlo started the second half well and a great ball inside from the right back Lee, saw Toni Upton spread it wide to Bright who knocked it on for Doudican to run through and finish superbly in the top corner to net her brace on the 50th minute mark.
Just nine minutes later, Raine was at it again and some great skill to beat the defender saw her finish well with her left foot to make it 7-0.
Fast forward five minutes and Raine was on target again to score a hat-trick on her debut for the club. A wonderful lob from around 25 yards out, giving the keeper no chance.
With still around 20 minutes to go, Raine dropped deeper and turned from goalscorer to provider, with some great dribbling and a perfect timed through ball for Doudican who finished well for another debut hat-trick. 9-0 Darlo.
Just a minute later the ball was in the back of the net again after a big shift out of defence saw Raine through again to make it 10-0.
Tired legs started to kick in with it being a first pre-season friendly and with about ten minutes to go both teams started to tire. A free kick about 30 yards out was conceded by Richmond and up stepped Raine to smash the ball in over the keeper's head to make it 11.
Just a minute later in the 81st, Upton found herself through on goal, composing herself, she finished well and rounded off a good captain's performance, 12-0.
After scoring one, Upton was hungry for more and after another fantastic through ball from Raine, Upton latched onto the ball to net her brace and make it 13.
Some great work from Carter on the left-hand side saw her brought down for a clear penalty in the box. Raine stepped up confidently and put the ball in the net for her 6th of the game and to finish off the scoring. 14-0 Darlo.
A massive thanks to Richmond Town for coming down to Eastbourne to play and for never giving in right till the final whistle. Good luck for next season.
Team:
Martina Cuccunato
Caisey Lee
Alice Wearmouth
Chloe Tinkler
Emma Carter
Chloe Bright
Emma Doudican
triallist
Natalie Peart
Toni Upton
Hattie Raine
Check our range of kits on Quaker Retail!