Give Them Wings Fundraiser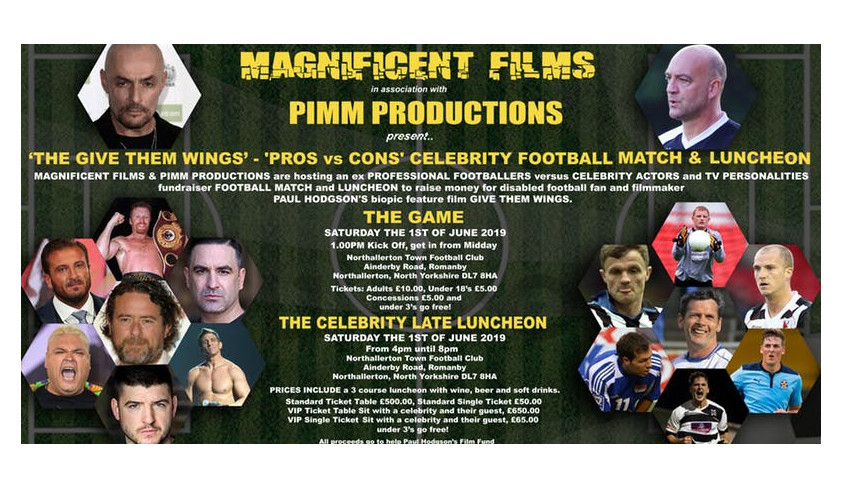 Celebrity football match and luncheon
Looking for a match during the summer? We've been contacted by Paul Hodgson and Sean Cronin, and asked to publicise this event
THE GIVE THEM WINGS 'PRO'S vs CONS' CELEBRITY FUNDRAISER FOOTBALL MATCH CELEBRITY LUNCHEON.
SATURDAY Ist of JUNE 2019 at Northallerton Town FC
GATES OPEN at 12.00pm. KICK OFF 1.00pm - 2.45pm GROUND and BAR closes at 3:30pm.
LUNCHEON at the CLUBHOUSE commences at 4.00pm until 8pm.
GAME ONLY priced at £10.00 for adults, £5.00 for under 18's, under 3's go free!
CELEBRITY LUNCHEON: Standard Individual tickets priced at £50.00(includes game) and £500.00 for a table of 10 (includes 3 course meal, red/white wine/beer and soft drinks
CELEBRITY LUNCHEON: VIP Individual tickets priced at £65.00 (includes game) and £650.00 for a table of 10 (includes 3 course meal, red/white wine/beer and soft drinks with a celebrity and their partner at your table.
Sean Cronin, one of the organisers writes:
When Paul Hodgson was seven months old, an incident occurred that was to change his life, and indeed that of everybody he came into contact with. This event continues to have an effect to this day.
It all began rather innocuously, or so it seemed. Paul was taken ill with flu-like symptoms. His family doctor reassured his mother, telling her not to worry, but when he suffered an epileptic fit a few days later followed by a second, the doctor was called out he was immediately admitted to hospital. Incredibly, a further two days went by until the hospital confirmed that Paul had contracted pneumococcal meningitis.
By then the disease had affected his brain and spinal cord – the modern terminology for this unfortunate condition is Cerebral Palsy. Because of the delay in diagnosing his condition, the consultant told Paul's mother to prepare for the worst. Fortunately Paul survived but spent nearly a year in hospital before he was well enough to be discharged.
Despite his inauspicious start, Paul has gone on to have a good life; firstly, doing well in his education, eventually achieving a degree level qualification; gaining full-time employment with the Civil Service; becoming a successful, award winning writer and finally marrying Jen, whom since the moment they met, has been of great support to him.
Paul is truly an inspirational character and has huge love for his football team Darlington FC. Magnificent Films are currently helping Paul to achieve the finance to raise the funds for his biopic 'Give Them Wings', directed by Sean Cronin, the actor who has been in movies such as: The Mummy, Harry Potter, Mission Impossible, and James Bond and has recently directed the critically acclaimed WW1 drama 'Eleven'. The film is about Paul's life and the struggles he has been through. His beloved team Darlington FC play a huge part in the film. It really is a fantastic script and has already attracted a star studded cast.
MAGNIFICENT FILMS in association with PIMM PRODUCTIONS have put together PRO'S vs CONS' CELEBRITY FUNDRAISER FOOTBALL MATCH. The match will consist of ex-professional footballers versus celebrity actors, and people in the public eye.
The football game and the lunch promises to be a fantastic day. The Cons (celebrity actors) team will be managed by super-villain actor/director Sean Cronin and the Pros (football legends) team will be managed by Paul Ward, Paul played for Cjelsea, Middlesborough and of course Pauls Hodgson's beloved Darlington.
With all the contacts we have in the football and entertainment world and our considerable database of celebrities to fall back on this event will no doubt make, Paul Hodgson's 'Give Them Wings' a reality.
Our aim is to raise £50,000 so that filming can begin.
Thank you all so much for your support and we hope to see you on the 1st of June!!
In the Celebs squad: James Alexandrou, Marc Bannerman, Steve Collins, Sacha Bennett, Jason Burrill, Alexander Reid, Colin Newell, Sean Cronin, Gary Grant Giles Alderson, Paul Manners, Daniel Eghan, Carl T James, Gary Baxter, Simon Fridge Lawrence, Eke Chukwu
In the former players squad:
Andy Toman, Alan White, Roger Wicks, Adrian Swan, Bradley Moncur, Graeme Armstrong, Paul Robinson, Peter Kirkham, Paul Ward, Mark Shheran, Lawrie Pearson, Liam Hughes, Shaun Reay, Gary Marshall, Mark Hine, Dale Anderson, Matthew Scollett
For more details, and to purchase tickets, follow this link
https://www.eventbrite.com/e/the-give-them-wings-pros-vs-cons-celebrity-fundraiser-football-match-luncheon-tickets-60969520477