Job Vacancy: Football administrator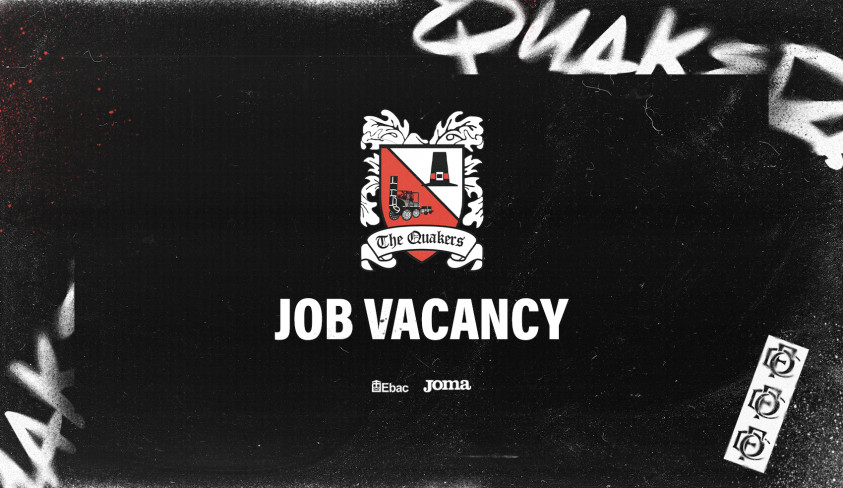 Experienced person required
Darlington FC require a football administrator to join our off-the-field team.
This new salaried role, reporting to the club secretary, has been created to provide efficient clerical administration to all the functions within the football club.
The individual will be tasked with providing comprehensive administrative support to the Club Secretary, Head of Media, Playing Staff, Mens' and Womens' teams and Academy structures.
Roles and responsibilities
The roles and responsibilities will include but are not limited to: -
Efficient file management of all required player documentation both in hard copy and electronically.
Assisting with first team travel and accommodation requirements and planning.
Liaising with opposition clubs and match officials with regards to match arrangements
Communicating to key internal colleague regarding match arrangements.
Recording financial payroll information.
Assisting the Club Secretary with their roles and responsibilities.
Supporting with the management of the FA Anti-Doping requirements
Administration of the DFC Academy and ensuring compliance with League Administrative requirements.
Ensuring media information is passed to Media Manager and general requests for team support and equipment are managed
Assisting with other miscellaneous General Administrative tasks
Skills & Experience Required
Relevant experience of complex administration ideally at a football club or within a sporting governing body but applicants are welcome from motivated individuals.
Experience of working to tight deadlines and being able to prioritise workload.
A good level of verbal and written communication when dealing with internal and external stakeholders.
Able to manage day to day operations diplomatically and confidentially and reflect the standards expected within the club policies.
Excellent IT skills and a high proficiency in Word, Excel and Outlook, & web-based applications.
Ability to work under pressure, to plan and organise own workload.
Able to work effectively as part of a team and independently using own initiative.
A high level of discretion needed when dealing with sensitive and highly confidential information and awareness of GDPR requirements.
Safeguarding to ensure compliance with the company's safeguarding policy and undertake personally relevant clearances.
Working hours: 35 hours per week plus attendance at all home fixtures
Salary: Dependant on experience
Applications, complete with CV, should be sent to media@darlingtonfc.org by Friday 22nd October.