Job Vacancy: Head of Academy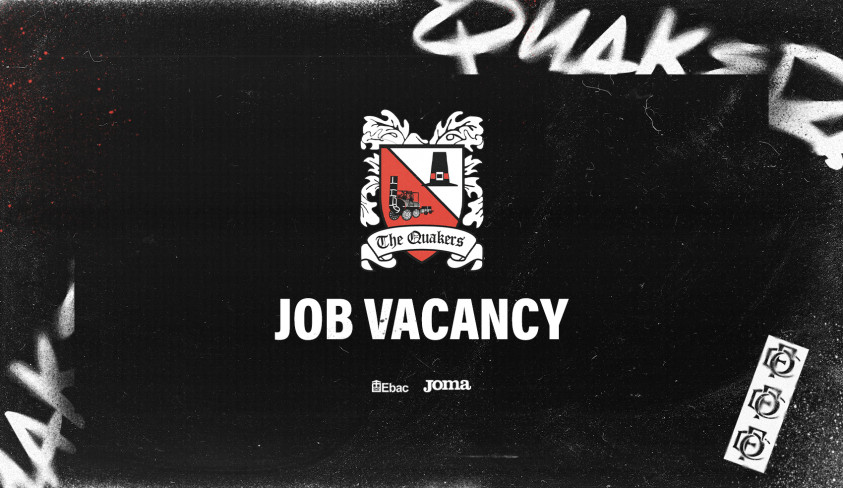 Role re-advertised
Darlington FC is looking for a new Head of Academy.
This post is being unexpectedly re-advertised having selected a candidate who has now withdrawn.
Darlington FC is an inclusive club, so we welcome applications from all candidates regardless of gender, sexual orientation, ethnicity or any of the other protected characteristics. All we seek is a love of football and a genuine desire to develop outstanding talent within our Academy team to progress to first team football, drawing on the excellent work so far and within the Darlington FC Youth teams.
About the role:
The role includes working closely with the DFC First Team Manager and has overall responsibility for the football development of players in the academy from 16-18yrs. The role will ensure that players transitioning into the First Team squad have the required technical ability and tactical knowledge to make an impact and continue their football pathway. Due to the very recent introduction of the DFC Senior Womens Team, it is likely that the Academy will be open to male and female players in the future.
The role also includes excellent management and liaison with the education providers to ensure all non-coaching elements of the Academy are fulfilled to the highest standards.
Training is based at the Queen Elizabeth 6th Form College Abbey Road Sports Complex and the education courses for the 2021/22 season are provided by SCL Learning and Darlington College.
Who we're looking for:
The successful candidate will be a leader who has experience, an in-depth knowledge of young player development and a proven track record in developing young players, preferably in professional football.
Overall Objectives include:
To deliver and implement the strategic and operational plan for the DFC Academy and provide leadership, management and monitoring to all aspects of the Academy, working closely with the education providers, managing coaches, players and regular liaison with other relevant stakeholders in Darlington Football Club
To uphold the vision, values and ethos of Darlington Football Club at all times
Academy values:
The successful candidate must adhere and communicate the academy values to stakeholders whenever the opportunity arises.
Integrity: able to act in an ethical manner at all times, treat individuals with respect and demonstrate trustworthiness and honesty at all times.
Innovation: able to be forward thinking and strive to continuously improve our work.
Inclusive: be welcoming to all and create an environment of openness.
Professionalism: the ability to maintain professionalism and a calm demeanour at all times.
Pride: take pride in your actions and decisions and exhibit enthusiasm and excellence.
A commitment to continuing professional development.
Requirements:
Hold minimum UEFA A or evidence of working toward this in the near term
Must have a current FA DBS check or obtain one before commencement
Extensive experience and proven track record in developing young players
Experience in leading and managing staff
Complete a Basic First Aid for Sport (unless one has already been completed).
Complete a FA Safeguarding Children Workshop (unless one has already been completed).
To view the full job description, please click here:
https://darlingtonfc.co.uk/about/head-of-academy-job-description
Contract Type: Permanent
Hours Per Week: A flexible approach to working hours, including match days and such hours as necessary for the full and proper performance of the role, taking into consideration the non-coaching elements of the Academy, particularly a daily commitment to work closely with and provide support to, the education providers.
Darlington Football Club is an equal opportunities employer, and we positively welcome applications from all candidates regardless of age, disability, gender identity or expression, sexual orientation or any other protected characteristic.
Darlington Football Club is committed to safeguarding and promoting the welfare of children and young people and expects all staff to share this commitment. As such, you may be subject to a satisfactory enhanced disclosure via the Disclosure & Barring Service and prior to taking up any role.
If you feel you have the qualities and experience we are looking for, please apply by sending a CV, along with a covering letter, by email to dave.mills@darlingtonfc.org
Closing date: 5pm on Monday 23rd August 2021 Shortlisted candidates will be selected shortly after the closing date and will be invited for interview.