Join Hodgy on the Ride for Freedom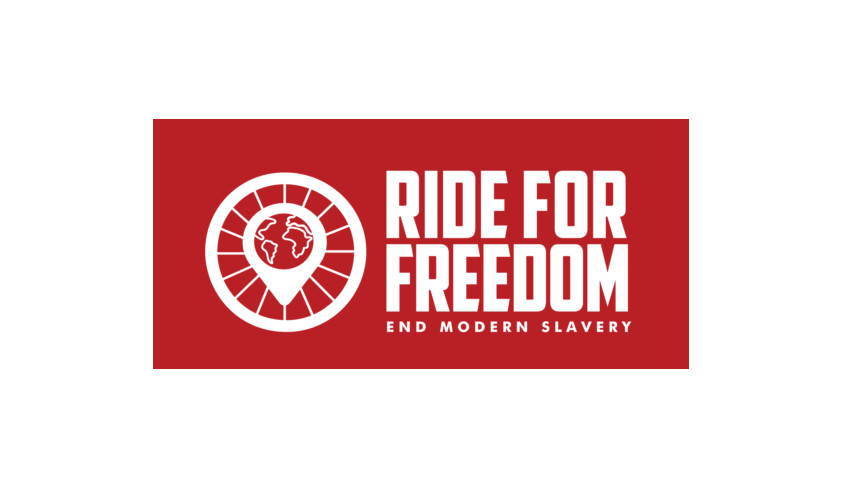 Friday 19th August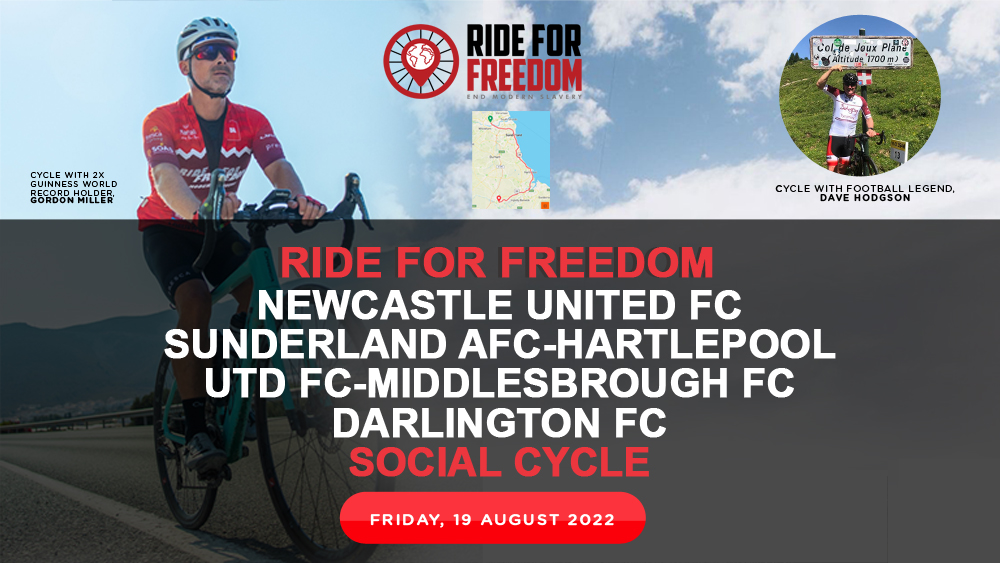 To mark the UN World Humanitarian Day, on 19 August, North East football legend, Dave Hodgson, who played for Liverpool FC, Sunderland AFC and Middlesbrough FC and Gordon Miller, Ride For Freedom Founder and Team Leader and 2x cycling Guinness World Records Title Holder, will lead an awareness and fund-raising cycle from Newcastle United FC via Sunderland AFC, Hartlepool Utd FC, Middlesbrough FC to Darlington FC.
The 100km (62 miles) ride will involve colleagues from the clubs and their charitable foundations as well as their supporters. The cyclists are raising awareness of modern slavery (specifically human trafficking in the name of football ) and fundraising for Freewheel by Ride For Freedom, a programme that empowers survivors – women, children and men – of modern slavery to cycle by giving them bikes, accessories and cycling proficiency and road awareness training. Freewheel's outcomes support the service users physical and mental health and wellbeing.
Hodgy, who managed Darlington FC in three spells over a decade from 1995-2006, said: "I am delighted to support the Ride For Freedom North East Social Cycle on 19 August. Modern slavery is all too present in our communities – and is an issue the impacts football – and I stand behind Gordon and Ride For Freedom in their mission to harness cycling to raise awareness of it as well as to support survivors to cycle through their Freewheel programme."
Miller said: "There are more than 40 million women, children and men worldwide in some form of slavery on any given day, according to the Global Slavery Index. The Trafficking in Persons 2020 Report notes that 'within Europe's soccer industry alone, it is estimated there are 15,000 human trafficking victims each year'. Many of them are youths. They are trafficked to Europe by bogus promises of the opportunity of trials with professional football clubs that will lead to untold riches. Our cycle between the professional North East football clubs 'shows a red card' to this crime."
The significance of the ride taking place on the UN World Humanitarian Day is its focus on a theme, bringing together partners from across the humanitarian system to advocate for the survival, well-being and dignity of people affected by crises, such as climate change. The impacts of climate change are documented as providing conditions for modern slavery and human trafficking to exist.
Miller cycled to Newcastle United FC last year as part of a 1,000km ride he undertook between all 20 Premier League clubs from 27 June-11 July 2021, during the Euro 2020 tournament. He set a new Guinness World Record "Greatest distance covered by an electric bicycle in one week" last year. He cycled 1706.85km (1,060 miles) the length of Spain in 1 week, from 1-8 October 2021. He had previously set a Guinness World Record when he cycled 620.5 miles around England, in October 2020, to spell the words 'end modern slavery'.
You can learn more about Ride for Freedom here:
https://rideforfreedom.org.uk/football-clubs-north-east-england-social-cycle/
There's a handful of places left to join the Ride For Freedom - check out and register here:
https://rideforfreedom.org.uk/football-clubs-north-east-england-social-cycle/