Kit Vote – And the winner is…….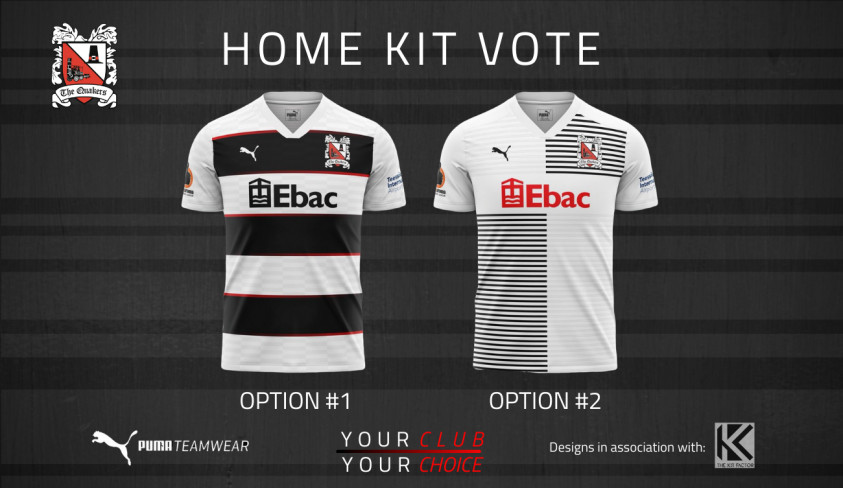 Four options for the 2020/21 Darlington FC home shirt were open to a vote.
The vote for the 2020/21 season home shirt
The voting period for the 2020/21 season home shirt has now closed with a record 1,800-plus votes cast, whilst lots of interesting comments were received via social media and email – Thank You.
The winner of the vote, which was very close, was Option 3 with 33% of the votes.
It has always been abundantly clear that the choice of playing kit is a hugely emotive subject for Darlington supporters, which is demonstrated by the large number of votes we receive each year. In addition, the feedback we received via various social media channels is a good barometer of the general feeling of our fanbase and as always we take a keen interest in everyone's views and try to give a balanced response to the varying opinions.
Whilst the commercial aspect of the playing kit is very important to a club of our size, operating on limited resources, it should also be balanced with the need to create and maintain a clear identity. Throughout our 137 year history Darlington FC has played in many different shirt designs, hoops (or horizontal stripes) being the recent trend. We felt that offering the non-hooped options for vote, was an opportunity to celebrate an alternative period in the club's history.
DFCSG Chair Chris Stockdale said: "Taking all the feedback on board, we have come to the conclusion that a decision to move away from hoops should be one for the fans to make. To this end, we have been working with the excellent Kit Factor designers and our kit manufacturer Puma Teamwear to create a new hooped option which will go up against the winner of the non-hooped vote, in a final vote."
The winning shirt design will be teamed up with black shorts, white socks and the rear of the shirt will also be white.
Voting for your final choice is now open and will run until Sunday 2nd Feb at 5pm.
Please note the shirt designs are illustrations only at this stage and subject to final design refinement at the production stage